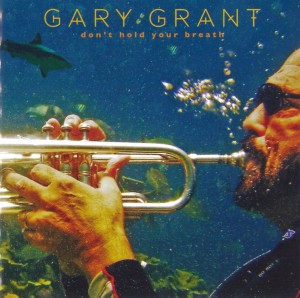 Don't Hold Your Breath
Gary Grant
Independent GG-2010
www.garygrantmusic.com
You may not be familiar with his name, but you've heard him on a host of recordings with, for example, Barbara Streisand, Michael Jackson, Celine Dion, Frank Sinatra and Natalie Cole and movie and TV sound tracks such as First Wives Club, Eraser, Forest Gump, Grumpier Old Men II, The Simpsons and Tales From the Crypt, to name only a few.
This CD of original jazz/Latin jazz compositions is his second album under his own name and it's a good one.
I must confess that when I see a programme of all original compositions it sometimes raises a little red flag, but in this instance the compositions are interesting, full of imagination and beautifully played. He has with him an assortment of hugely talented musicians including Dan Higgins, alto and tenor saxophones, Vinnie Colaiuta, drums, Wally Minko, piano/keyboards, Wayne Bergeron, trumpet, Brian Bromberg, bass and Johnny Friday, drums.
If you are into Latin flavoured jazz this release will be an addition to your collection which will stand up to repeated listening. There is an informative booklet describing each track. One of my favourites is a beautiful ballad by pianist Wally Minko, I Still Hear You, featuring Grant's flugelhorn playing, but there is plenty of high energy playing throughout the album as in Get It Straight and American Native.
"Don't Hold Your Breath" can be purchased online at CDBaby.