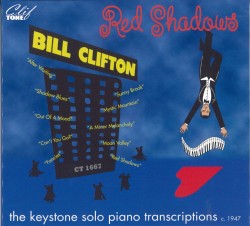 Red Shadows
Bill Clifton
Cliftone Records CT 1667 (billcliftonpiano.com)
Toronto-born Bill Clifton is hardly a household name but at a time when some pianists were exploring a more modern approach to their playing using advanced harmonics, Clifton was one of them. Oscar Peterson, in his autobiography A Jazz Odyssey, makes mention of Clifton, describing his playing as "noticeably introspective, having an intuitive, languid Debussy-esque feel to it." And indeed the ten original compositions on this CD have the feel of a series of etudes with strong jazz content.
Clifton's playing is sensitive without being overly sentimental and repeated listening heightened the pleasure I derived from his music. The one standard, the final track on the album, a popular song called Little Girl by Al Jolson, is performed before an audience and given a straight-ahead jazz treatment. The mood of the rest of the album is suggested by the titles of the pieces – Sunny Brook, Mystic Mountain, A Minor Melancholy and Moon Valley being a few examples. They suit late-in-the-day listening and give an insight into the composer's contemplative and searching mind.
If you are interested, you can learn more about Bill Clifton in my Jazz Notes column this month.