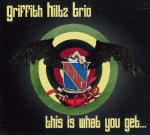 This Is What You Get…
Griffith Hiltz Trio
Independent (ghtrio.com)
In complete contrast to the Swainson/Thompson CD we have a much more extroverted offering from this group – excellent musicianship, obvious empathy and a wide range of influences with hints of Celtic, Norse and Eastern regions as well as a tip of the hat to R&B and Ornette Coleman, all of it with a strong melodic content.
Reed-player Johnny Griffith is a very accomplished musician and one of my favourite tracks is The Rainbow Connection which features him on bass clarinet. It is pensive and beautifully haunting including the guitar solo from Nathan Hiltz. Other highlights for me include the quirky Strawman and Steppin' Out.
As a group all three have an obvious shared pleasure in their music and a cohesiveness in which they become greater than the sum of the parts. I feel somewhat remiss in singling out Hiltz and Griffith because drummer Sly Juhas is a major factor in the success of this group's music and the feeling of unity.
If you are looking for a conventional jazz recording this isn't it – but if you are willing to open your ears to something a little different and innovative I would recommend This Is What You Get… You might just like what you do get.