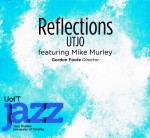 Reflections
Mike Murley; University of Toronto Jazz Orchestra; Gordon Foote
U of T Jazz
Recorded April 8 and 9, 2013 at Revolution Recording Studios, Toronto.
Everybody forgets about the arranger. For example jazz enthusiasts know about the Thelonious Monk big band concert in 1963, but how many know or care that arrangements for much of that great music were by Hal Overton. Or that the landmark recording by Basie of "April In Paris" was arranged by Wild Bill Davis?
The reason for this preamble is that on listening to this album I realized just how essential the arrangements are; so hats off to Mike Murley, Terry Promane, Jef Deegan and John MacLeod who lay down the rich layers of sound which add so much to the original compositions of Mike Murley. If you listen carefully to the final track, "Can't You See," you might just recognize the chord changes of "It's You Or No One." Murley is the featured soloist displaying his usual formidable talent along with members of the U of T Jazz Orchestra. I am constantly amazed at the technical proficiency of so many of today's young musicians, talents that are amply demonstrated on this recording, with seven members of the orchestra sharing solo honours with Murley.
The CD will be available through Indie Pool, Amazon and will have distribution on iTunes.