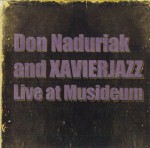 Live at Musideum
Don Naduriak and Xavierjazz
Independent
Don Naduriak piano, Bill McBirnie flute, Russ Little trombone, Duncan Hopkins bass, Joaquin Hidalgo drums. All compositions and arrangements by Don Naduriak.
Don Naduriak has been active in establishing Latin music in Canada with his bands Salsa Con Clave and his current group Xavierjazz. This CD was recorded before an audience at the Musideum. For those of you who are not familiar with the venue, created by composer Donald Quan, it is quite unlike any other in that it is also a retail store situated in downtown Toronto at Richmond and Spadina and stocked with rare and unusual instruments. As a venue it is unique and as a store it is certainly worth visiting even if there is no performance scheduled.
Now to the CD. If you like your music Latin, this is for you. The two horn players handle the ensemble passages fluently and those of you who are familiar with the playing of Russ Little and Bill McBirnie know that the solo department is in good hands. That said, one of the most enjoyable tracks for me, "Big Joe Beam" — nice pun — is a feature for Don Naduriak. This is music performed by gifted artists who are very much at home in the genre and is well worth a listen.