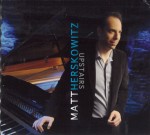 Upstairs
Matt Herskowitz
Justin Time JUST 249-2
www.justin-time.com
This CD was recorded before an audience at the Upstairs Jazz Bar & Grill in Montreal where Matt Herskowitz has made his home since 2000 and the first thing that struck me was the phenomenal technique possessed by this Albany-born pianist.
The varied program begins with a long — over 13 minutes — interpretation of the Dave Brubeck composition, Dziekuje which means "thank you" in Polish, and was modelled on Chopin's Prelude in E Minor. He also includes Cantabile by Michel Petrucciani, Traumerei by Robert Schumann, music by J.S. Bach, two originals, Waltz In Moscow and Bella's Lament plus a couple of Gershwin songs for good measure — But Not For Me and I've Got Rhythm.
Herskowitz' classical training permeates the music, sometimes at the expense of "jazz feeling" but then there are also passages of delicate beauty as shown in Bella's Lament and Traumerei.
To make a comparison between visual art and music, Herskowitz is like, say, a Dali rather than a Mondrian.
I have a non-musical complaint on behalf of all of us with less than perfect eyesight. The liner notes are in deep blue against a black background, making them all but impossible to read. I, and a few others I have spoken with, find it extremely frustrating. Designers of CD sleeves please take note.