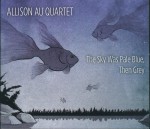 The Sky Was Pale Blue, Then Grey
Allison Au Quartet
Independent
allisonau.com
Recorded May 30 and June 6 and 13, 2012, at Inception Sound Studios, Toronto, this disc features Allison Au, alto saxophone; Todd Pentney, piano, Rhodes and Hammond B3; Jonathan Maharaj, acoustic and electric bass; Fabio Ragnelli, drums and auxiliary percussion; Felicity Williams, vocals.
There is no doubting the wealth of young musical talent playing contemporary creative music and Allison Au is certainly among that number. This debut CD is a program of original compositions showcasing the playing of this talented group. The music is not "easy listening" and you have to be able and willing to broaden your listening boundaries if you belong in the more traditional category of listeners; but it is an opportunity to venture into pastures new.
There is a strong melodic feel to her compositions; La-Da-Dee and Tired Face, co-composed with pianist Pentney, are good examples. And speaking of Pentney I have to acknowledge the first-rate playing of the rhythm section which makes a major contribution to this recording.
Interesting footnote: the album title piece is intercut with excerpts from a discussion between John Cage and Morton Feldman which is interesting first time around but could be a bit intrusive with repeated listening. Just my opinion.
That said, I think you'll hear more of Allison Au in the future. This CD is available on iTunes, CD Baby and Amazon.