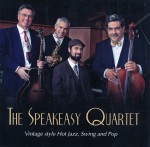 The Speakeasy Quartet –
Vintage Style Hot Jazz, Swing and Pop
Speakeasy Quartet
Independent WJS004
hughleal.com
Hugh Leal may not be well known in Toronto but he has been a significant force for jazz in the Windsor area since the late 70s. He has been a real catalyst for the music as a guitarist/promoter/record producer; between 1983 and 2000 his Parkwood Records label recorded such veteran musicians as Doc Cheatham, J.C. Heard, Art Hodes, Franz Jackson and Sammy Price.
On this latest CD he features the Speakeasy Quartet in a program of jazz standards from the 20s and 30s including a couple of Bechet compositions, Egyptian Fantasy and the rarely heard Premier Bal, East St. Louis Toodle-oo and The Mooche by Ellington, Jubilee, Willie The Weeper, two trio numbers where the cello lays out, Wrap Your Troubles In Dreams and Indian Summer plus three originals by saxophonist Ray Manzerolle whose impressive playing is featured throughout the album. There are also fine solos from cellist Mike Karoub and pianist Mike Karloff.
All in all an enjoyable album from four musicians who respect and understand the traditions of the music. As the back of the jewel case accurately says: "Classic jazz with a unique fresh sonority." Thank you Hugh for your seemingly tireless dedication to the jazz of an earlier era. To buy the CD contact lealjazz@gmail.com. $15 and it's yours.