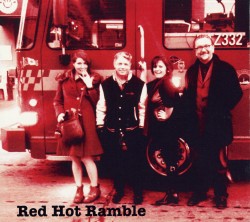 Red Hot Ramble
Red Hot Ramble
Independent RHR001 (www.redhotramble.ca)
Recorded at The Canterbury Music Company, Toronto, March 30, 2012 with Roberta Hunt, lead vocals, piano, Alison Young, baritone and alto sax, Glenn Anderson, drums, percussion and Jack Zorawski, bass. All three also sing background vocals. They are joined by Andrej Saradin, trumpet and Jamie Stager, trombone on some of the numbers.
Roberta Hunt and Red Hot Ramble have established a following in Toronto with their New Orleans influenced brand of jazz and this CD is a good representation of their entertaining approach to the music.
The music is infectious and I particularly enjoyed the soloing of Alison Young. The music is a mix of material ranging from Doctor Jazz by Joe "King" Oliver to Horace Silver's The Preacher and all of it with a contemporary New Orleans feel. Purists might raise an eyebrow or two at the chord changes of Lonesome Road, the 1927 song by Nathaniel Shilkret and Gene Austin, but with repeated listening I got accustomed to this version.
The band is propelled along nicely by Glenn Anderson and Jack Zorawski. Anderson's playing, for example, on the Eddie Harris number Cold Duck Time shows a real understanding of the idiom. Roberta herself lends her own distinctive styling to the proceedings and the overall result is like party night in a friendly bar.