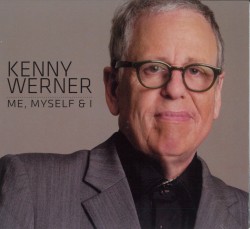 Me, Myself & I
Kenny Werner
Justin Time Records JUST 248
Kenny Werner has been around for a long time, is a brilliant pianist, accompanist, composer and educator, and yet somehow has never received the public recognition he deserves. This album was recorded at the Upstairs Jazz Bar & Grill in June 2011 as part of the Montreal Jazz Festival and the choice of music ranges from such standards as Round Midnight, Blue in Green and Giant Steps, to Joni Mitchell's classic I Had a King and the pianist's own gem, Balloons. There is an ethereal quality to the music right from the opening bars of the first cut which is sustained throughout the album.
Balloons is literally inspired by the life and death of helium balloons. Balloons bought for his daughter's birthday would float up and touch the ceiling, but eventually they'd come down. So the tune is sort of a musical joke — a balloon from the party to its end. If you recognize something familiar in the performance of Balloons, it has the recurring strain of Barbara Allen, a 17th century Scottish ballad inserted a couple of times, perhaps because the Werner original is about the life and death of a helium balloon and the ballad is about the death of a young love.
Giant Steps turns into a flight of fancy while A Child Is Born is a delicate, introspective voyage of sensitivity taken with haunting simplicity. There is nothing negative to say about this CD. I have been a Kenny Werner fan for many years and I have never heard him play better than he does on this recording.