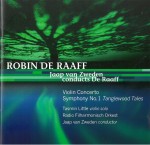 In recent months I've written about Elliott Carter and George Crumb, two giants of 20th-century composition whom I had the opportunity to meet through my position as general manager of New Music Concerts and my association with founding director Robert Aitken. Over the past two decades, I've also had the opportunity to meet innumerable outstanding mid-career and emerging composers. Further on in these pages you will find Michael Schulman's review of two new releases by a Dutch composer recently featured by New Music Concerts, Robin de Raaff, who celebrated his 49th birthday while in Toronto. De Raaff's star is definitely on the rise, with numerous significant commissions in recent years in both Europe and North America, including the upcoming premiere of a chamber version of his Second Violin Concerto "North Atlantic Light" at Carnegie Hall in June. It is rare enough for any composer to have two recordings released in a single year, but in fact de Raaff has had three. The one I kept for myself is the latest of four etcetera discs devoted to orchestral and operatic works of this outstanding composer. Jaap van Zweden conducts Robin de Raaff (KTC 1593 etcetera-records.com) – includes his Violin Concerto and Symphony No.1 "Tanglewood Tales" performed by the Radio Filharmonisch Orkest. The violin soloist is Tasmin Little, for whom the concerto was intended.
Reclassified as Violin Concerto No.1 "Angelic Echoes" to reflect the fact that de Raaff is currently at work on a second concerto, I am actually pleased that this recording did not include the subtitle because I like my first listenings to be unencumbered by programmatic references or musicological explanations. So I was listening blind, so to speak, when I first encountered this work. Right from its opening notes I had the distinct impression that I was hearing an homage to one of the great concertos of the past century, and one of my favourite works, Alban Berg's Violin Concerto – "To the Memory of an Angel." Reading the comprehensive notes (from two different recordings) later confirmed this for me, and further explained how de Raaff had accomplished this by mirroring Berg's composition without directly referencing his melodic material. Where Berg had used a Bach chorale, de Raaff composed one of his own and then treated it in a similar fashion. In both works the notes of the open strings of the violin – a cycle of fifths – play an important role, and by stacking these (G-D-A-E) de Raaff takes the interval of a sixth thus created (G to E) to derive much of the material for his piece. Open strings also play another important role in that he has the second violin section of the orchestra tune a semitone below the pitch of the first violins (F-sharp-C-sharp-G-sharp-D-sharp), giving eight (instead of the usual four open pitches) and increasing the overtone possibilities accordingly. Inspired by techniques from Gregorian Chant, de Raaff uses these overtones to create "angelic" countermelodies which seem to arise out of the orchestral textures. In another parallel to Berg's iconic work – dedicated to the memory of Manon Gropius, daughter of Alma Mahler and Walter Gropius – de Raaff uses his work to eulogize a close friend who died during its composition. Saxophonist William Raaijman is immortalized with the unexpected entry of two alto saxes towards the end of the concerto. Like its forebear, this is a gorgeous work, and beautifully played.
De Raaff has had an ongoing relationship with Tanglewood – the summer home of the Boston Symphony Orchestra – since his first residency there in 2000. There have been five subsequent visits, most recently in 2015. Symphony No.1 began as a single-movement work titled Entangled Tales, premiered by the BSO at Koussevitsky Shed, Tanglewood's premier venue, in 2007. He later added an introductory prequel Untangled Tales in 2011 and ultimately a brief coda was added in 2016. The title refers to a book by Nathaniel Hawthorne, Tanglewood Tales for Girls and Boys, which he wrote while living in a cottage near Tanglewood in 1853. Hawthorne retells several Greek myths but de Raaff's tales are more topical, depicting the site of the summer music festival before and during public performances. The quiet opening portrays the landscape of the estate during which we hear fragments from various rehearsal studios, providing a preview and in a sense an "untangling" of the material which will be developed in the second movement. The subsequent "tangled tales" are livelier, more energetic and complex. The coda returns to the overall sensibility of the first movement, but with a somewhat heightened sense of colour and light.
I treasure the time that I spent with Robin de Raaff during his recent visit to Toronto, especially an evening of socializing at which I got to share some of my own music-making. It was also enlightening to experience the extensive preparations involved in advance of the performance of de Raaff's extremely complex Percussion Concerto with soloist Ryan Scott and the New Music Concerts Ensemble under Aitken's direction. This work has had numerous previous performances and has entered the canon of contemporary repertoire, but de Raaff assured us that the Toronto performance was the best yet. Having had the opportunity to get to know one of his more recent pieces so intimately, it was a great pleasure to get to know some of his earlier work on this very fine CD.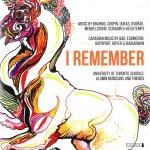 I Remember, featuring University of Toronto Schools Alumni Musicians and Friends (Cambia CD-1247 cambriamus.com), showcases performers, composers and teachers associated with the independent secondary school (Grades 7 through 12) affiliated with the University of Toronto. The music is a range of chestnuts by the likes of Scriabin, Brahms, Dukas and Dvořák, along with premiere recordings of original music by Canadian composers Alexander Rapoport (composer-in-residence at UTS), Ronald Royer (alumnus and UTS music teacher), Sarah Shugarman (UTS music teacher), Alex Eddington (UTS alumnus and TDSB teacher) and Billy Bao (who graduated UTS in 2014 and is now doing a major in Music Performance and a minor in Psychology at Wilfrid Laurier University). Bao is featured as both composer and performer. Other performers include outstanding current UTS students and recent graduates, plus two of Canada's most distinguished musicians, alumni James Sommerville (horn) and David Fallis (singer, conductor, and in this case, narrator).
I Remember is a charming mix of music new and old, performed with precision, passion and aplomb by these fine (mostly) young musicians. Of course the classical selections are beyond reproach, but the highlights for me are the new works: Shugarman's Carousel, a canon-like piece for three violins, two cellos and bass; Rapoport's dark but lush Walberauscht for horn and piano, which he says means "intoxicated by the forest;" Danzon by Royer, a movement from the larger suite Dances with Time in an arrangement for two violins, cello and piano; Eddington's playful Bubblegum Delicious (on poetry by another UTS alumnus, Dennis Lee) for soprano and small ensemble with narrator; and Billy Bao's virtuosic Dance, a brief but thrilling duet for violin and cello. Although there is nothing here that would be considered cutting edge or challenging new music, it is important that the curriculum at UTS is emphasizing to the students that "classical" composers are alive and well, and living in Canada!
I Remember provides not only a "reminder" but also ample evidence of the importance of inspiring and nurturing young performers and the efficacy of doing so within the school curriculum. Bravo to UTS. Let them be an example for us all, especially for the powers that be who make decisions about arts and education. I hope copies will be sent to all the MPPs at Queen's Park.
As the editor of DISCoveries, I see all of the CDs and DVDs received here at The WholeNote – and believe me, that is quite a number, far more than we can cover each month. For instance, there are more than 75 discs covered in this edition, and that is only about half of the number under consideration. I have noticed in recent months an exceptional rise in the number of local and Canadian, mostly independent, jazz releases. In our last issue we covered 24 jazz titles and further on in these pages you'll find another 17. And I still find a backlog of local content waiting for attention. With this in mind, and take it as a disclaimer if you like, as is occasionally the case I am about to venture outside my comfort zone and report on (an important distinction from reviewing) a few of these neglected titles. So with that caveat, here are some discs that I found of interest this month.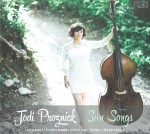 You will find Raul da Gama's take on Laila Biali's excellent eponymous disc in the Pot Pourri section of this issue, but she is also present on a very strong jazz release from stalwart Vancouver acoustic bass player Jodi Proznick, Sun Songs (Cellar Live CL010118 cellarlive.com). Biali's vocals are supported by Proznick's usual quartet, rhythm section partners pianist Tilden Webb and drummer Jesse Cahill, complemented by the melodic alto and soprano sax lines of Steve Kaldestad. The album features eight original Proznick songs, three with co-writers, and her arrangement of Stephin Merritt's The Book of Love. The overall feel of this disc is gentle and melodic and with its emphasis on lyrical songs could be construed as an amalgam of jazz and pop, but to my ear this falls firmly in the jazz camp with no compromise to the world of popular music. Highly recommended.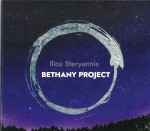 The Bethany Project (iliosjazz.ca) is the brainchild of Toronto-based drummer and composer Ilios Steryannis, who spent his formative years in Bethany, ON "where it snowed a lot, we had a big old fashioned radio, and I loved to gaze up at the stars in the beautiful night sky…" There are 11 original tunes which each have a particular focus and personal link for Steryannis. From the opening The Group of 7 which turns out not to have anything to do with the art collective of that name, but rather refers to the Afro-Cuban groove in 7/4 time over which its melodies soar, through to the closing Soledad, inspired by the Gabriel García Márquez novel 100 Years of Solitude, there are many moods and tributes along the way. The one thing that is consistent throughout is the funky sensibility. And consummate musicianship from contributors Sundar Viswanathan (alto and soprano saxophones), Kenny Kirkwood (baritone sax), Connor Walsh (acoustic and electric bass), Joel Visentin (Hammond organ), Scott Neary (guitar) and Adam Hay and Larry Graves on sundry percussion. While primarily Latin in feel, other influences include John Coltrane, John Scofield and Joe Henderson, music of Steryannis' Greek heritage and African beats from Kenya and Cameroon. Hard to sit still while this CD is on the player!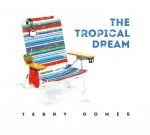 Another disc that lifted my spirits and kept me grooving through the bitterly cold days of early January was The Tropical Dream, a concept album from Ottawa guitarist Terry Gomes (terrygomes.com). With a degree in classical guitar and composition, Gomes is quite an eclectic musician, having worked in rock bands, a classical guitar/flute duo and as a singer/songwriter. On this outing he has surrounded himself with a host of diverse musicians playing a range of percussion instruments, horns, piano, Paraguayan harp, basses, cello, steel pan and vocalizations to complement his own guitars and keyboards. Gomes says "If you live all or part of the year in a cold climate, chances are that you have some sort of tropical dream. This one is mine." This is music that keeps you moving, although not always at a frenetic pace – there are occasional respites and a beautiful bossa ballad. The Tropical Dream would be a perfect accompaniment to a pitcher of margaritas or your favourite umbrella drink. I for one was happy to be on board with Gomes on this island cruise.
We welcome your feedback and invite submissions. CDs and comments should be sent to: DISCoveries, WholeNote Media Inc., The Centre for Social Innovation, 503 – 720 Bathurst St. Toronto ON M5S 2R4. We also encourage you to visit our website, thewholenote.com, where you can find enhanced reviews in the Listening Room with audio samples, upcoming performance details and direct links to performers, composers and record labels.

David Olds, DISCoveries Editor
discoveries@thewholenote.com