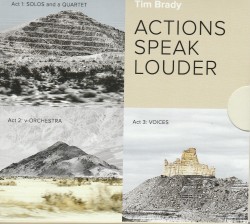 During the pandemic I have been spending some of my enforced stay-at-home time digitizing material from my archives, specifically composer interviews recorded during my tenure as producer and host of Transfigured Night on CKLN-FM (1984-1991). One of the earliest I have unearthed comes from January 1986, on a show previewing an event marking the 15th anniversary of the founding of New Music Concerts (NMC). On that occasion I devoted an hour to young composer and guitarist Tim Brady who discussed, among other things, the Chamber Concerto – commissioned by NMC – which would be premiered during that celebratory concert. That was Brady's first of many appearances with NMC over the ensuing years, and my first encounter with one of this country's most prolific and eclectic composers and musical entrepreneurs. His discography includes some 25 compact discs and the pandemic has not succeeded in slowing him down. Most recently he released a virtual edition of Instruments of Happiness 100 Guitars 2021 produced in isolation (youtube.com/watch?v=yODkTMXqFKg) and a three-CD set of mostly new material Tim Brady – Actions Speak Louder (redshiftrecords.org).
Act 1: Solos and a Quartet, is subtitled "Simple Loops in Complex Times," which describes not only the process involved but also the temporal context in which the seven works were composed. Brady is a master when it comes to the technology available to extend the potential of the electric guitar. It's hard to conceive of these works as solos with all the multi-layering and timbral complexity on display, but I realize that Brady can indeed perform these works by himself in real time using a plethora of looping devices and effects pedals. The final piece, Uncertain Impact (Quartet), was recorded one month into the COVID quarantine, with distanced, virtual performances featuring the members of his guitar quartet, Instruments of Happiness. On Act 2: v-Orchestra: Triple Concerto "Because Everything Has Changed", Brady is joined by Helmut Lipsky on violin and Shawn Mativetsky, tabla and percussion. The three improvising soloists are known collectively as Of Sound, Mind and Body. Brady says the title of the concerto "refers not only to the nature of the social and political landscape of 2020, but also to how our relationship to music is continuing to be transformed by technology." The virtual orchestra consists of sound files produced by Brady using NotePerformer 3.3.2 (an artificial intelligence instrument) to which the soloists reacted with improvised harmonies, melodies and rhythms recorded in their home studios. The result is a stunning reimagining of the orchestral experience in the context of current lockdown protocols. Act 3: Voices: Revolutionary Songs / As It Happened is comprised of an archival recording from 1995 of Brady's setting of poems inspired by the Russian, Angolan, French and Nicaraguan revolutions featuring Bradyworks with soprano Nathalie Paulin; and an orchestrated radio documentary using a 2000 CBC interview with Linda MacDonald, who had been the subject of horrific drug and shock therapy experiments funded by the CIA at the Allen Institute in Montreal in the 1960s. The latter, Brady's most ambitious studio production to date, is a powerful and devastating document that has to be heard to be believed. Actions Speak Louder may well be Brady's own motto. It's obvious that it will take more than a global pandemic to stifle his creativity.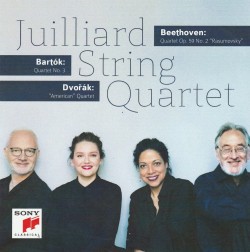 Juilliard String Quartet – Beethoven: Quartet Op.59 No.2 "Razumovsky", Bartók: Quartet No.3, Dvořák: "American" String Quartet (Sony Classical juilliardstringquartet.org) marks the 75th anniversary of the founding of the iconic group. The Juilliard made history in 1949 as the first quartet to publicly perform all six Bartók quartets, committing them to disc the following year. By the time of their second recording of the cycle in 1961, founding second violinist Robert Koff had been replaced by Isadore Cohen and cellist Arthur Winograd by Claus Adam. By the mid-70s, when I had the seminal experience of hearing them perform the cycle at the Guelph Festival, the only remaining original member was Robert Mann who would continue to sit in the first chair until 1997, when he retired after more than half a century at the helm. Over the years there have been nine different violinists, three violists and four cellists, but always with a substantial overlap of personnel whenever changes were made. Now the "old hand" is Ronald Copes who was enlisted as second violin in 1997 when Joel Smirnoff moved from second to first upon the departure of Mann. The other members are Roger Tapping, violist since 2013, Astrid Schween, cellist since 2016 and the new first violinist, Areta Zhulia, who joined in 2018. This is their first recording together, but there is no sense of that in the performances; they sound as if they have always been together, a testament to the group's ongoing legacy. The introductory notes explain the choice of repertoire. Franz Kneisel, a young German hired as concertmaster of the Boston Symphony in 1885, would later became the first head of the violin department of the Institute of Musical Arts in NYC that would evolve into the Juilliard School. His Kneisel Quartet gave the premiere performance of Dvořák's "American" string quartet in Boston in 1894. Bartók's Third was the first of the cycle that the Juilliard learned shortly after their founding in 1946, and Beethoven has always been an integral part of their repertoire, including two complete recordings of his legendary 16 quartets. The performances are fresh and convincing, everything we've come to expect over the past three quarters of a century from this masterful ensemble.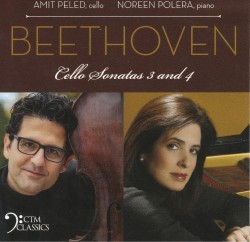 Speaking of Beethoven, last issue I mentioned Heinrich Schiff and his out-of-print recording of the cello sonatas. I'm pleased to note that a very fine new recording arrived on my desk this month, Beethoven Cello Sonatas 3 and 4 performed by Amit Peled accompanied by Noreen Polera (CTM Classics amitpeled.com). The Israeli-born cellist is on the faculty of the Peabody Institute in Baltimore and has a dozen previous recordings as soloist and chamber musician to his credit. Peled's Giovanni Grancino instrument (c.1695, on loan from the Roux Family Foundation) provides the perfect depth and range of sound for the lyrical and dramatic Sonata No.3 in A Major, Op.69, in perfect balance with Polera's deft touch on a modern grand piano. Together they shine on the Sonata No.4 in C Major, Op.102 No.1, the two movements of which each begin in a contemplative slow tempo, much darker in mood than the sunny key signature might suggest. The clouds roll away, however, during the Allegro vivace finale of the second movement bringing this recital to a playful end.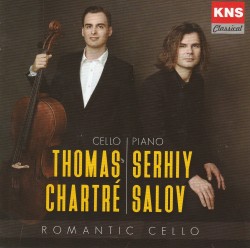 Beethoven's late works form a bridge from the Classical era to the Romantic, and the next disc has some striking works for cello from this latter period. Romantic Cello on KNS Classical features works by Schumann, Brahms and Brahms' only composition student, Gustav Uwe Jenner, performed by young Toronto-based cellist Thomas Chartré (thomaschartre.com) and Ukrainian-born pianist Serhiy Salov (serhiysalov.com). Among Chartré's accolades is a first prize in the Canadian Music Competition, the Sylva Gelber Award, and the loan of the "Gand Père" cello from the Canada Council Instrument Bank in 2016. He currently plays a Giovanni Battista Ceruti cello (1815) on loan from Canimex which is perfectly suited to the repertoire on display here. Salov also has many achievements and awards, but surely a highlight of his young career was touring South America with the Montreal Symphony Orchestra and Kent Nagano, as soloist in Liszt's Second Piano Concerto. I must confess that Jenner's name was new to me, but what a wonderful expansion of my knowledge of the period. It was thanks to a recommendation from Brahms that Jenner was appointed music director at the University of Maltburg in 1895, a position he held until his death 25 years later. The Sonata in D Major was first performed by Jenner and cellist Hugo Becker in 1904, and although quite Brahmsian in its sensibility, it is infused, in Chartré's words, "with Jenner's distinctive artistic voice." The three-movement work in the traditional fast-slow-fast form is lyrical and at times dramatic, if a bit anachronistic – nothing forward-looking here. Of particular note is the Andante con variazioni played with tasteful expression and restrained use of vibrato. Jenner's piece is followed by Schumann's Adagio and Allegro Op.70 composed in 1849. Although originally for French horn, a relatively new invention at the time, and taking advantage of the chromatic possibilities of that valved instrument, the composer also intended it for performance on violin, viola or cello. It works especially well in the warm, rich range of the cello in the hands of Chartré. Brahms' Cello Sonata No.1 in E Minor, Op.38, completed in 1865, brings the disc to a suitably Romantic close. This is a promising maiden voyage from a young duo that I hope to hear more of.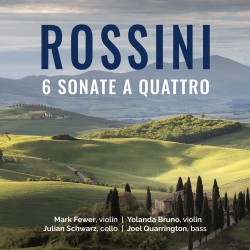 Rossini – 6 Sonate a Quattro (leaf-music.ca) features two musicians who need no introduction, violinist Mark Fewer and bassist Joel Quarrington, and two rising stars, violinist Yolanda Bruno and cellist Julian Schwarz. They were recorded in conjunction with residencies at the Lunenburg Academy of Music Performance in Nova Scotia in 2017. I had the pleasure of working with Bruno in May 2018 when her Iris Ensemble participated in New Music Concerts' "Zipangu!" as part of the 21C Festival. On that occasion she played both violin and viola. Coincidentally, she was the recipient of the loan of the Stradivari Taft violin (1700) from the Canada Council Instrument Bank the same year that Chartré had the "Gand Père" cello. Schwarz, scion of the famed American musical family, made his US touring debut in 2010 with the Moscow Radio Symphony Orchestra and was the recipient of the first prize at the inaugural Schoenfeld International String Competition three years later. Rossini's sonate a quattro are youthful works, disavowed by the composer as "dreadful sonatas composed […] at a most infantile age, not even having taken a lesson in accompaniment." That being said, they are charming works that must be a lot of fun to play – it certainly sounds like these musicians are having a good time at any rate. Written at the estate of Rossini's friend Agostino Triossi at the age of 12, the unusual instrumentation – two violins, cello and contrabass – reflect the resources available there: Triossi played the bass, his cousins violin and cello, and Rossini took second desk. Rossini's scorn notwithstanding, these pieces have been in the repertoire ever since he wrote them. They were first published as traditional string quartets and later in an arrangement for wind quartet; it was not until 1954 that the original manuscript came to light. These performances use the 2014 Critical Edition published by the Fondazione Rossini Pesaro and as such I am willing to declare them definitive. Although there are few indications of the operatic writing to come from one of the giants of that form, these are delightful works played with a twinkle in the musicians' eyes and a sparkle in their step. One more personal note: after reading Vikram Seth's An Equal Music which mentioned a "lost" string quintet arrangement of one of Beethoven's piano trios, I had the temerity to ask Fewer whether he would be willing to read through the piece with me and a group of my friends. He agreed and it remains one of the highlights of my amateur music making to have spent an afternoon working on this rarely performed piece with such a consummate musician. As I recall, he did not think very highly of the string writing adapted from the piano part, but was gracious about it all and the afternoon provided me a treasured memory.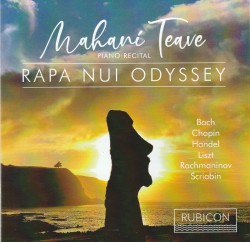 Although I've never been to the South Pacific, there is a connection for me with the next disc, Rapa Nui Odyssey (Rubicon RCD 1066 rubiconclassics.com). Last issue I mentioned Liszt's transcription for piano trio of Vallée d'Obermann from one of his Années de pèlerinage. I was not familiar with the original and wondered how all that was going on between the piano, violin and cello could have been realized in a solo piano performance. My answer came in the form of this double CD featuring Mahani Teave performing that work by Liszt and other staples of the repertoire by Bach, Handel, Scriabin, Chopin and Rachmaninoff. Teave was born on Easter Island (Rapa Nui) to an American mother and a local singer/songwriter. Music was in her blood, so to speak, and when the opportunity came to study piano – there was none on the island until a visiting teacher brought one when Teave was a young girl – she took to it like wildfire. The teacher, a violinist by profession, did not have any simple piano music and Teave's introduction to the instrument was Mozart's Sonata in C Major – considered easy, but by no means a beginner's piece – and Beethoven's Für Elise. She practised incessantly and advanced to such a degree that just a few months after those lessons Roberto Bravo, a well-known pianist from Chile who visited the island and heard her play, suggested she move to the mainland to study. She spent nine years there, receiving a degree from the Austral University of Chile in Valdivia and eventually won first prize at the Claudio Arrau Piano Competition in 1999. Teave left Valdivia with the intent to study in Europe, but a stop off in the US for a masterclass turned into a six-year stint at the Cleveland Institute of Music as a pupil of Sergei Babayan. From there she was off to Berlin to build her performing career under the wing of Fabio Bidini. This is certainly the stuff on which major careers are built, but after a few years of successful concertizing in Europe Teave decided it was more important to return to her native island to give back to the land that fostered her interest and her talent in the first place. Since then she has established an arts and culture centre to serve all the children of Rapa Nui. Her crusade for musical culture could be favourably compared to Venezuela's El Sistema in my opinion, but her vision goes beyond culture to encompass ecology and to making the island self-sufficient. There is a wonderful film by John Forsen, Song of Rapa Nui, available (exclusively unfortunately) on Amazon Prime Video that I highly recommend. It documents her life in music, but more importantly her vision for the future of Rapa Nui and its people. Fortunately, her work there has not compromised her own performance abilities and this wonderful 2CD set, recorded in Seattle in November 2018, is a fine testament to her art.
We invite submissions. CDs, DVDs and comments should be sent to: DISCoveries, WholeNote Media Inc., The Centre for Social Innovation, 503 – 720 Bathurst St. Toronto ON M5S 2R4.
David Olds, DISCoveries Editor
discoveries@thewholenote.com