As The WholeNote celebrates the stellar achievement of 25 years of publication, I note that the DISCoveries section has entered its own 20th year. There have been a number of changes since our first modest column back in July 2001 with just 13 discs reviewed by eight writers. In the interim we're had contributions from 125 reviewers and, with the current issue, have covered more than 8,800 CDs and DVDs. In recent years we've seen an enormous growth in the number of independent releases, physical and digital, primarily by jazz and contemporary artists, as evidenced in our burgeoning Jazz & Improvised and Modern & Contemporary sections. But all sectors remain very active and we receive two or three times the number of discs we actually have room to cover. A large part of my job entails collating and prioritizing the enormous number of releases that arrive each month. It's a daunting but satisfying task, especially when it comes to matching selected titles with appropriate writers, some of whom have particular interests and specialities and some who constantly amaze me with the breadth of their knowledge and eclecticism.
Looking back at the first edition of DISCoveries it was interesting to note that Bruce Surtees' first review was of an EMI reissue of Schoenberg's Gurrelieder with the Danish Radio Symphony Orchestra under the direction of János Ferencsik. In his Rimsky-Korsakov review further on in these pages Bruce relates an anecdote about advice given to a fledgling record producer: "Look for the composition that has the most recordings and make one more." I chuckled when I realized that Bruce has reviewed 12 different recordings of Gurrelieder for The WholeNote, evidence that the old adage still applies. But Gurrelieder is far from the most reviewed title in our archives. Other greatest hits include The Goldberg Variations tied with Das Lied von der Erde and Winterreise at 18 versions each, Bach's Six Suites for Solo Cello (15), Mahler's Symphony No.2 (12), the complete Der Ring des Nibelungen and Pictures at an Exhibition (11), and Le Sacre du Printemps and Symphony Pathétique with ten…
I took a bit of a cheap way out last issue writing, "What to say about yet another recording of the Bach Cello Suites?" in regards to Alisa Weilerstein's release. I'm about to do it again with Yo-Yo Ma The Bach Project (Cmajor 754408 naxosdirect.com), but in this instance I feel excused by the fact that Ma does the talking for me. The two-DVD set includes one with an outdoor concert performance of all six Bach suites and a separate disc of Ma speaking about Bach, the suites, and their importance in his own life. It's quite an extraordinary extrapolation of his thoughts about Bach as scientist and psychologist/philosopher. He is very articulate and thoughtful, and his ideas are both intriguing and enlightening.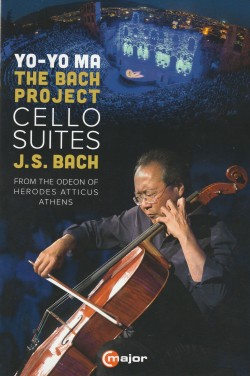 The website bach.yo-yoma.com tells us that "In August 2018, Yo-Yo Ma began a two-year journey to perform Johann Sebastian Bach's six suites for solo cello in 36 locations around the world, music that is among the first he ever learned when he began playing the cello at age four. The project is motivated not only by his six-decade relationship with the music, but also by Bach's ability to speak to our shared humanity at a time when our civic conversation is so often focused on division. For Yo-Yo, Bach's 300-hundred-year-old music is one extraordinary example of how culture connects us and can help us to imagine and build a better future, but he believes there are many, many more. And for Yo-Yo, culture includes not just the arts, but everything that helps us to understand our environment, each other, and ourselves, from music and literature to science and food. The Bach Project explores and celebrates all the ways that culture makes us stronger as individuals, as communities, as a society, and as a planet. Alongside each concert, Yo-Yo and his team partner with artists and culture makers, cultural and community organizations, and leaders from across sectors to design conversations, collaborations, and performances. These public events and creative experiences are different in every location; they aspire to local relevance and global significance; they demonstrate culture's power to create positive change; they inspire new relationships, connect partners across locations, and ask us all to keep culture at the centre of our efforts to build a shared future."
This DVD set is Ma's fourth release of the suites. The first dates back to 1983 on vinyl for Columbia Records and subsequently released on CD. I don't think it has ever been out of print. The second was his reimagining of them in collaboration with artists from a variety of fields for the TV series Inspired by Bach produced by Toronto's Rhombus Media in 1997, later released on DVD by Sony Classical. It is a lasting legacy of this series that the city acquired The Toronto Music Garden, on the waterfront, designed by Julie Moir Messervy when plans to build it in Boston fell through. The third iteration was a studio recording in 2018 released on CD by Sony as Six Evolutions – Bach: Cello Suites.
This CD release was a direct precursor to The Bach Project represented here by live concert footage of one of the 36 recitals that took place between 2018 and 2020 over six continents featuring Ma's current interpretation of the suites. It was recorded on June 30, 2019 in the open air at the Odeon of Herodes Atticus, a stone Roman theatre structure completed in 161 CE on the southwest slope of the Acropolis of Athens, Greece. The set is stunning with the stage backlit by a wash of purple light on the Acropolis and the surrounding terraces filled to their 5,000 seat capacity in the evening darkness. The audience is silent, in rapt attention until breaking into thunderous applause at the end of each suite.
The DVD is edited so that we hear the entire cycle without breaks (although there are cues for each movement for selective viewing). In a way this is a shame because during the applause after each suite we see Ma bend down to pick up a microphone to address the audience, but never get to hear what he says. This is especially unfortunate after the second suite, because during the last movement the audio is interrupted by a strange metallic noise that is unexplained in the booklet. With the help of the distributor's publicist – thanks Paula Mlyn – I was able to find out that, as sometimes happens on a hot summer night, it was not a mechanical sound but actually a cicada that had landed on the microphone. Knowing that put me in mind of Josquin's El grillo è buon cantore, one of my favourite Renaissance madrigals. Now I know that a cricket and a cicada are not the same thing, but I think this cicada, inspired by the music, was aspiring to be a "good singer" as the song says. We can see Ma smiling in recognition at the sound as he continues undaunted and undistracted through the final two minutes of the gigue, but I would dearly like to know what he shared with the audience after that! Obviously the show went on with no retake and we are presented with an outstanding non-stop performance of nearly two and a half hours of music, played flawlessly from memory.
It was during my years as a music programmer at CJRT-FM that I became familiar with Josquin's madrigal, and also at that time that I got to meet Yo-Yo Ma. The occasion was the filming of Atom Egoyan's Sarabande, the dramatic film of the Suite No.4 from the Inspired by Bach series. I heard there was a call for extras for the scenes that were being shot at The Royal Conservatory and I was happy to find myself chosen. In the holding room in the morning the charming cellist appeared and introduced himself to each extra, mostly RCM students, and asked something about each of us. There were shoots both morning and afternoon, and over the lunch hour he welcomed many of the cello students to play his cherished instrument, which I believe was the 1712 Davidoff Stradivarius. What a kind and generous soul. At the end of the day he turned up in holding again and not only spoke to everyone, but actually remembered what he had learned about us earlier in the day. He is truly a remarkable and gracious man, and I'll let him have the last word. "The shared understanding that culture generates in these divisive times can bind us together as one world, and guide us to political and economic decisions that benefit the entire species. We are all cultural beings – let's explore how culture connects us and can help to shape a better future."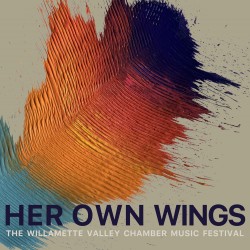 American Gabriela Lena Frank (b.1972) is currently composer-in-residence with the Philadelphia Orchestra who will premiere a major orchestral work of hers in 2021. Featured on the Washington Post's list of the "Top 35 women composers in classical music," Frank was also 2017 composer-in-residence at the Willamette Valley Chamber Music Festival. Her Own Wings (brightshiny.ninja/her-own-wings) grew out of this collaboration, and includes the world premiere recording of Milagros (2010), plus Frank's acclaimed string quartet, Leyendas: An Andean Walkabout.
Identity has always been at the centre of her music. Born in California to a mother of mixed Peruvian/Chinese ancestry and a father of Lithuanian/Jewish descent, Frank explores her multicultural heritage through her compositions. Comprised of eight short movements for string quartet, Milagros was inspired by Frank's mother's Peruvian homeland. She writes: "It has been a remarkable, often difficult, yet always joyous experience for me to visit, again and again, this small Andean nation that is home to not only foggy desert coasts but also Amazonian wetlands. Usually a religious and marvellous occurrence, milagro here refers to the sights and sounds of Peru's daily life, both past and present, which I've stumbled upon in my travels. While probably ordinary to others, to me, as a gringa-latina, they are quietly miraculous." Composed in 2001, Leyendas draws inspiration from the idea of mestizaje as envisioned by the Peruvian writer José María Arguedas, where cultures can coexist without the subjugation of one by the other. As such, this piece mixes elements from the Western classical and Andean folk music traditions.
Recorded in the unique acoustic of a winery barrel room, the performers are Willamette Festival founders Sasha Callahan (violin) and Leo Eguchi (cello) who are joined by violinists Greg Ewer (Milagros) and Megumi Stohs Lewis (Leyendas), and violist Bradley Ottesen. The warmth and clarity of the recording combined with these stunning and nuanced performances makes this a disc to treasure.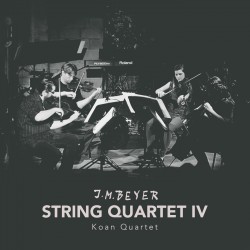 The Koan Quartet has just released its debut recording, J.M. Beyer – String Quartet IV (koanquartet.bandcamp.com). Johanna Magdalena Beyer was a German-American composer born in Leipzig in 1888. The quartet's website tells us that she was an important experimental composer of the 1930s who worked closely with Henry Cowell, Percy Grainger and Ruth Crawford, and wrote the first known work scored for electronic instruments by a female composer (Music of the Spheres, 1938). Beyer died of ALS in 1944 and her work would have been completely forgotten were it not for Frog Peak, a composers' collective, who made her scores available through research and volunteer score copying. There is no record of String Quartet IV having been performed within Beyer's lifetime. It is composed in a very intimate, almost post-Romantic style which differs from some of the other works in her collection.
Koan Quartet, a subset of the Los Angeles experimental performance group Southland Ensemble, brings years of experience presenting thoughtful and meticulously researched performances of rarely heard works to their interpretation. This is an important addition to our understanding of a significant and nearly forgotten voice. The music is playful at times, with hints of children's melodies, but also dark and contemplative, especially in the second movement. The performance is well balanced and the recorded sound pristine.