In the two months since the last issue so much, and yet so little, has happened that it's hard to know where to begin. One true highlight was spending a week savouring Welsh writer and musicologist Paul Griffiths' latest novel Mr. Beethoven. I received an inscribed copy of the small press UK edition sent just before Christmas by the author, but I'll wait to write about that, and the music it led me to, until later this year when the book is released in North America.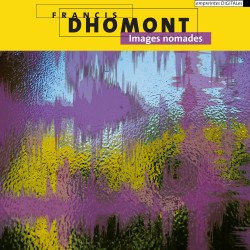 I suppose the best place to start is with old friends. During my tenure as host and producer of Transfigured Night (1984-1991) at CKLN-FM, I became interested in the field of electronic music, to the extent of becoming a founding member of the Canadian Electroacoustic Community (CEC). On a trip to Montreal in 1986, for a conference that led to the establishment of that national organization, I met and became friends with a number of movers and shakers in that rarified field, including Jean-François Denis, who went on to found the internationally renowned empreintes DIGITALes (electrocd.com). At time of writing, the Montreal-based label has 171 releases featuring the most distinguished practitioners of electroacoustics, acousmatics and musique concrète from around the world. While at CKLN, I commissioned radiophonic works from a dozen composers, one of the most successful of which was Figures de la nuit/Faces of the Night by Francis Dhomont. Since the late 1940s working with magnetic wire recorders in Paris – one of the first exponents of what Pierre Henry would later call musique concrète – Dhomont has been a pioneer of electroacoustic composition, and has worked exclusively in fixed media (i.e. magnetic tape and its digital progeny) since the 1970s. From 1978 until 2004, Dhomont split his time between France and Quebec, where he taught for 16 years at the Université de Montréal. I am pleased to see, as witnessed by the recent CD Images nomades (IMED 20167), that at the age of 94 Dhomont is still active in his studio in Avignon, France. This release includes three recent works – a particular favourite is Perpetuum mobile (Pluies fantômes) – plus a cycle of 15 shorter tributes to friends and colleagues such as composers Bernard Parmegiani and Jonty Harrison he calls Ami-versaires – composed between 2002 and 2020. This and the dozen or so discs of Dhomont's music available from empreintes DIGITALes confirm him not only as a pioneer in the field, but also as a master of his craft.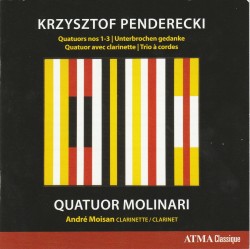 A new ATMA release – Krzysztof Penderecki featuring Quatuor Molinari (ACD2 2736 atmaclassique.com/en) – also feels like an old friend. Although I did meet Penderecki on several occasions, I did not have the opportunity to get to know him. But I have met founding violinist Olga Ranzenhofer and through her the quartet's namesake, the late painter Guido Molinari, both of whom I would consider friends. This latest disc in the Molinari's extensive catalogue includes Penderecki's two early avant-garde string quartets from 1960 and 1968 with their graphic scores and extended techniques, and the much later, more conservative String Quartet No.3 "Leaves from an Unwritten Diary" from 2008, a kind of autobiographical reminiscence replete with references to earlier works. Being familiar with these from a number of recordings, particularly those of Kitchener-Waterloo's Penderecki String Quartet, of more interest to me are the in-between works included here, that give a kind of context to the transition from angry young man of the 60s to the successful gentleman of his later years. They include the brief movement for string quartet, The Broken Thought (1988), the String Trio (1990) and a Quartet for Clarinet and String Trio (1993). The trio opens aggressively but gradually subsides into variations on Penderecki's signature descending-note motif. The clarinet piece begins gently, and even in its more strident moments is playful and melodic. Clarinetist André Moisan proves to be the perfect foil for the members of the Molinari, whose playing, as always, is exemplary in its expressivity. A fitting tribute to Penderecki, who died in late March, 2020 after a long illness (not related to the coronavirus). He was 86.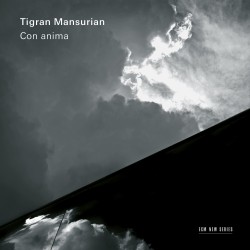 My first exposure to Penderecki's clarinet quartet was on a Sony recording from the 1993 Penderecki Gala celebrating the composer's 60th birthday. That performance featured, among others, the exceptional American violist Kim Kashkashian, who is a key player on one of two recent ECM releases that I've spent a lot of time with over the past two months (ecmrecords.com/shop). Kashkashian is joined by eight other A-list musicians, who mostly share her Armenian heritage, on Con Anima (ECM New Series 2687), devoted to the chamber music of Tigran Mansurian, an Armenian composer born in 1939. Again the highlights include a String Trio and a clarinet quartet, Agnus Dei. The clarinet is accompanied by violin, cello and piano in this instance and this is the only work on which Kashkashian does not appear. The earliest piece on the disc is String Quartet No.3, dating from 1993, which Kashkashian performs with violinists Movses Pogossian, Varty Manouelian and cellist Michael Kaufman. Two recent works from 2015 and 2016 are duos: Die Tänzerin where Kashkashian is joined by Manouelian and Sonata da Chiesa with pianist Tatevik Mokatsian. Mansurian's music is characterized by restrained pointillism, subtle rhythms and delicate impressionistic beauty. Most of his works begin and end quietly, as in the opening Agnus Dei, dedicated to the memory of violinist Oleg Kagan, which sets the tone for the entire disc. Contrary to expectation, the title work Con anima (in a spirited manner), is no exception. Completed in 2007, this string sextet, which adds former TSO principal violist Teng Li and cellist Karen Ouzounian to the string players noted above, is a gloss on Shostakovich's String Quartet No.13 in which the viola dominates. That role is given here to first violist Kashkashian, whose gorgeous dark tone leads the others on a transformative journey. A brilliant, subdued and contemplative disc, perfect for our troubled times.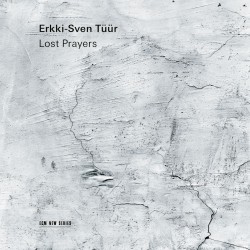 The other ECM release, Lost Prayers (ECM New Series 2666), features chamber works by Estonian composer Erkki-Sven Tüür. I had the pleasure of meeting Tüür several times, when he was in Toronto for the Border Crossings Festival in 1990, and again in 2010 when he was featured on a Soundstreams concert. This disc is bookended by two piano trios effectively performed by Harry Traksmann (violin), Leho Karin (cello) and Marrit Geritz-Traksmann (piano) which are the earliest and latest works presented. The dramatic Fata Morgana (2002) is a quasi moto perpetuo whereas Lichttürme (2017) is relatively introspective. Although rollicking string ostinati echoes of the former work emerge from time to time, the latter begins and ends with a sense of calm. The same can be said of Synergie (2011) featuring violinist Florian Donderer and cellist Tanja Tetzlaff. Written the following year, String Quartet No.2 "Lost Prayers," performed here by the Signum Quartet, is atypical of Tüür's output, at least thematically. His focus is more often identified by "rational-systematic designations" as in his series of Architectonics pieces (the fourth of which was commissioned by Toronto's Sound Pressure and premiered here in 1990). In the quartet, Tüür says, "I tried to imagine a cloud of cries for help – from believers, non-believers, people of different traditions, of different periods of history. Are these cries lost? The music is dealing with the energetic field of the accumulation of these spontaneous outcries." Fitting music for these distressing times, hauntingly performed. With ECM founder Manfred Eichmann's characteristic concern for pristine sound, the disc was recorded in Bremen's acoustically responsive Sendesaal, a venue that gained international attention in audiophile circles in 1973 when ECM released Keith Jarrett's Solo Concerts: Bremen/Lausanne.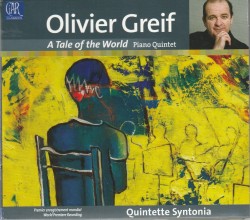 Very different from the quiet and meditative offerings from ECM is a new release from the Centre International Albert Roussel in Bavinchove, France. Olivier Greif – A Tale of the World (CC 002 ciar@free.fr) is a 48 minute piano quintet performed by Quintette Syntonia. It is a truly remarkable work integrating texts in Sanskrit, Elizabethan and modern English, Italian, French and German, meant to be spoken, sung and chanted by the musicians, all while playing their instruments with virtuosity. Greif (1950 -2000) began his studies at the Paris Conservatoire and continued them at the Juilliard School in New York. His first creative period (in the sense of Western art music) lasted from 1961 through 1981 when he became a disciple of the Indian spiritual master Sri Chinmoy. During the next decade, the bulk of his creativity went to composing devotional songs on Chinmoy's texts and writing small piano pieces dedicated to friends. In 1991 he returned to "classical" composition and in 1994 was commissioned to write this remarkable quintet by a festival in Kuhmo, Finland. Originally scheduled for premiere that year, the first performance was postponed for health reasons and A Tale of the World was not heard until 1996 when performed by Jean-François Heisser and the Sibelius Quartet. The Syntonia Quintet was founded in 1999 and had the opportunity to work briefly with Greif before his death the following year. The meeting had a profound effect on the young musicians who were then studying at the Paris Conservatoire. They have gone on to become champions of contemporary music and have recorded a number of Greif's works, including String Quartet No.2 with voice "On Three Sonnets by Shakespeare" and the Ulysses Quartet which they premiered. In 2020, after years of preparation, they felt ready to record A Tale of the World, with its "wall of sound" textures sometimes reminiscent of the Ramayana Monkey Chant from Bali juxtaposed with moments of extreme delicacy and beauty; they realized this goal in late February just before COVID-19 overtook the world. A stunning achievement.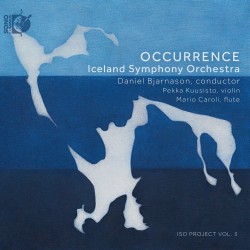 Sono Luminus has just completed its project with the Iceland Symphony Orchestra under Daníel Bjarnason. Volume Three: Occurrence (sonoluminus.com) includes Bjarnason's own Violin Concerto, the atmospheric Lendh by young Canadian expatriate Veronique Vaka and works by Haukur Tómasson, Þuríður Jónsdóttir and Magnús Blöndal Jóhannsson. Bjarnason's concerto opens eerily with the soloist whistling high-pitched tones accompanied by sparse pizzicato notes before the violin melody begins in earnest. Later in the piece the quiet whistling returns, effectively trading off of "whistle tones" produced with harmonics high up the neck of the solo instrument. The effective cadenza was composed by the soloist Pekka Kuusisto. Vaka's body of work "intends to create a poetic context between what she sees, hears and feels in the unspoiled nature" and this is obvious from the dramatic opening low chords of double basses and percussion in Lendh, reminiscent of calving icebergs. After its premiere during the Dark Music Days festival in January 2019, it went on to receive nominations for Composition of the Year in the Icelandic Music Awards and the Nordic Council Music Prize. Whistle tones, mentioned above, are more often created on the flute than on string instruments, and we hear these and other extended flute techniques, along with an insect-like electronic soundtrack, interacting with the orchestra in Jónsdóttir's Flutter with soloist Mario Caroli. The disc ends with its most traditional piece, the breathtakingly beautiful Adagio for strings, celesta and percussion by Jóhannsson, a work that marked his return to composition in 1980 after a troubled decade following the death of his wife. Its quiet grandeur evokes in me visions of a still Arctic landscape during an endless night, and brings this orchestral tribute to the music of Iceland to a fitting close.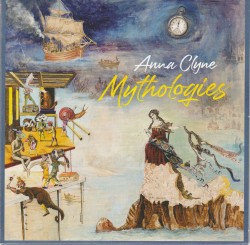 London-native Anna Clyne (b.1980) has impeccable credentials. She has served as composer-in-residence for the Chicago Symphony Orchestra, Baltimore Symphony Orchestra, L'Orchestre national d'Île-de-France and Berkeley Symphony. She is currently the Scottish Chamber Orchestra's Associate Composer and a mentor composer for Orchestra of St Luke's DeGaetano Composer Institute. 2020 saw the release of a portrait disc Mythologies (Avie AV2434 avierecords.com), featuring five works performed live by the BBC Symphony Orchestra under the direction of four distinguished conductors including Marin Alsop and Andrew Litton. It opens with bombastic drama in the form of Masquerade, commissioned by BBC Radio 3 to open the Last Night of the Proms in 2013, and continues in much the same vein with This Midnight Hour. The centrepiece is an intriguing violin concerto titled The Seamstress. Unusual for Clyne, the work is based on a 12-note row, but more interesting is the whispered, almost inaudible recitation of William Butler Yeats' stanza, A Coat, late in the work. ("I made my song a coat/Covered with embroideries/Out of old mythologies…") Jennifer Koh is in stellar form as soloist, with Irene Buckley the speaker. The last two works return to the bombast of the opening with the stormy Night Ferry and the unrelenting <<rewind>>. All in all, an exhilarating introduction to a composer I look forward to hearing more from soon.
We invite submissions. CDs, DVDs and comments should be sent to: DISCoveries, WholeNote Media Inc., The Centre for Social Innovation, 503 – 720 Bathurst St. Toronto ON M5S 2R4.
David Olds, DISCoveries Editor
discoveries@thewholenote.com