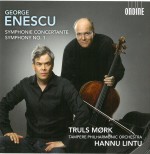 One of the first CDs I ever acquired was a 1987 solo disc with Norwegian cellist Truls Mørk performing works by Arne Nordheim, George Crumb, Ingvar Lidholm and Zoltán Kodály. In his mid-20s at the time, Mørk was playing a 1723 Montagnana cello, with a scroll made by Stradivari bought for his use by the SR Bank. I'm not sure what impressed me most at the time, the young man's incredible technique and musicality, the breadth of style in the contemporary repertoire presented, the gorgeous sound of the instrument or the fact that a Norwegian bank was so supportive of the arts. (It is perhaps an interesting parallel to note that the Canada Council Musical Instrument Bank, now with $41,000,000 in instrumental holdings, began at the initiative of cellist Denis Brott who with the help of W.I.M. Turner, then CEO of Consolidated Bathurst Inc., raised funds to acquire the 1706 Turner-Brott Tecchler cello which is currently on a career loan to Mr. Brott. Instruments acquired by the Canada Council since that initial purchase are loaned on a three-year cycle to deserving young artists as determined by competition.)
Since my first exposure to Mørk I have continued to follow his career with interest, through recordings of the Bach and Britten solo suites, Chopin, Grieg, Sibelius, Prokofiev and Shostakovich sonatas, but more particularly in a discography that includes almost the entire concertante cello canon. Having pretty much exhausted the standard orchestral repertoire, his most recent release sees him performing George Enescu's Symphonie Concertante with the Finnish Tampere Philharmonic Orchestra under Hannu Lintu (Ondine ODE 1198-2). From the dark opening chord with its underlying kettle-drums we are assured of a rich and rewarding experience and we don't have to wait long for confirmation as the cello enters with a warm and powerful melody that carries us on throughout the first movement. Surprisingly this slow movement is followed by another, also marked Assez lent, with the cello in lamentation over muted horns. The finale is labelled Majesteux and the performance lives up to this moniker with uplifting orchestral textures and soaring cello lines culminating with a kind of molto perpetuo cadenza once again accompanied by an undertone of timpani. Although not mentioned in the liner notes, as far as I can find out Mørk still plays the Montagnana cello. Certainly the instrument used here is a treasure, whatever its provenance.
The Romanian Enescu (1881-1955) was a prodigy, entering the Vienna Conservatory at seven and graduating at 13 after which he went on to Paris where he studied with Jules Massenet and Gabriel Fauré. A concert of his works was held in 1897, followed in quick succession by the composition of three orchestral works, Poème Roumain and two Romanian Rhapsodies. Although acclaimed as a violinist he was also an accomplished cellist and it was with the Symphonie Concertante (1901) described above that he first came to international attention. This disc pairs the cello work with the Symphony No.1 (1905), a work which is firmly rooted in the late Romantic style of the age, framed in a traditional three-movement fast-slow-fast form. It is a fully mature work that belies the age of the composer and I find it surprising that his music is not more often performed and recorded. Ondine is doing what it can to rectify this in an ongoing series, including two recent releases with these same forces featuring subsequent symphonic works by Enescu.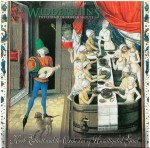 With the exception of the Enescu, my listening has been more "pot pourri" than usual in the past month, with offerings running the gamut of musical styles and a time frame beginning in the Middle Ages, if liner notes are to be believed. I'll begin with the most eclectic of all, Widdershins (pipistrellemusic.com), a project conceived by multi-instrumentalist Kirk Elliott which purports to explore "The Legend of Tristan Shoute," a mythical composer, or at least one of mythical proportions. Puns abound in the extensive album notes which include a quotation from "musicologist Winchurch Stonhill" describing Shoute as "a fiddle, inside a misery, wrapped in an echidna." This latter it seems is an Australian mammal also known as a spiny anteater… I learn something new every day!
We are told that although there is no factual evidence for the existence of Tristan Shoute, "stories have persisted throughout the ages of a talented, yet dissolute musician who curiously pops up time and again, in different locations, even different time periods, the Middle Ages, the Renaissance, colonial America…" If the repertoire included here is any indication his influence (and influences) stretch even further, reflecting a plethora of musickes and instruments including those of the present day (vibraphone, electric bass and electric guitar). A virtual one-man band, Elliott performs here on lute, vielles, citern, assorted bagpipes, rebek, bouzouki, Celtic harp and much, much more, but is also abetted in his mischief by the Orchestra of Unmitigated Gaul comprised of such familiar baroque specialists as Alison Melville, Colin Savage, Margaret Gay and Ben Grossman plus vocalists including Rebecca Campbell, David Fallis and John Pepper to name but a few.
The disc opens with Elliott's arrangement – almost all the tracks are Elliott originals or arrangements – of the anonymous 14th century In Vino Blabitas familiar from the original Carmina Burana collection. Widdershins is a 17th-century gavotte featuring bagpipes, a rhythm section of bass and drum kit and nasal vocalise by Katherine Hill. This is followed by Stone Cold Pilgrims, a roots-style instrumental ballad introduced by a wolf call and featuring slide guitar, harmonica and bird sounds among other folksy turns. Venus Transit with its bagpipe, nyckleharpa, hurdy-gurdy and dumbek is particularly effective in depicting a time long gone, and the medley of a 16th-century ronde/salterelle by T. Susato and the traditional fiddle-tune Cripple Creek is a standout, as is Yolanda Marrakesh with its haunting sitar melody.
Elliott's clever parody (in all senses of the word) offers wonderful entertainment and suggests that Peter Schickele's PDQ Bach has a long-lost brother in arms, now found in a character fondly known as Widdershins.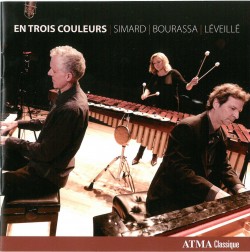 En Trois Couleurs (ATMA ACD2 2709) is another eclectic disc, although one more firmly rooted in the 20th and 21st centuries, featuring music for two pianos and percussion performed, and in many cases composed by, François Bourassa, Yves Léveillé and Marie-Josée Simard. The overall feel of the disc is jazz-ish, with the opening Pantomime reminiscent of the French chamber-jazz style of Claude Bolling, but Alberto Ginastera's In the First Pentatonic Major Mode, Keiko, the group's collective tribute to Japanese marimba virtuoso Keiko Abé and Léveillé's Zone Indigène provide contrast with their explorations of other sonic worlds. Diapasons (tuning forks) is a contemplative group composition with a variety of chime and bell-like sounds complemented by sparse piano textures whereas Mike Mainieri's Self Portrait for vibes and pianos is quite straight-ahead mainstream, almost smooth, jazz. The disc concludes with the title track, perhaps the most adventurous in its sparseness while combining a wide range of timbres, juxtaposing the myriad textures available through the vast array of percussion instruments and extended piano techniques employed. In some ways this is a surprising disc for what is not present. With piano and percussion we might well have expected forays into minimalist ostinati and/or wall of sound banging. Instead we are treated to a thoughtful and often delicate performance offering another side of "struck" instruments.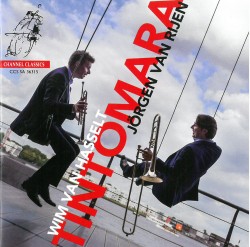 Tintomara (Channel Classics CCS SA 36315) is an eclectic disc involving trumpet and trombone in various combinations; trumpeter Wim Van Hasselt and trombonist Jörgen van Rijen are featured in solos and duets, accompanied by basso continuo, piano and even a brass choir. The disc opens with three Baroque works by Henry Purcell including the famous Sound the Trumpet. My initial reaction was surprise at how mellow these brass instruments sound in the context, especially in Hark, how the songsters of the grove where they manage to blend into the texture of an ensemble that includes two recorders. The title track, by Swede Folke Rabe (b. 1935), is a duet where once again, except for an occasional raucous blat from the trombone, the overall impression is subdued; not a mood I normally relate to the trumpet. Jean-Michel Damase (1928-2013) was a composer rooted in the music of Debussy and Ravel, although he includes the complex rhythms and harmonies we've come to associate with the French school of the mid-20th century. His Trio for trumpet, trombone and piano reflects this in its lushness and integration of contrasting voices, with idiomatic and at times playful writing for the two horns. Martijn Padding's One Trumpet and Florian Magnus Maier's Slipstream for trombone solo and "loop station" are showpieces that allow each soloist to shine, albeit in very different ways. The concluding Eastwind by Jean-François Michel pits the soloists against an ensemble of four trumpets and four trombones and provides a rousing, at times Flight of the Bumblebee-like conclusion to this disc. Concert note: Jörgen van Rijen gives trombone masterclasses on March 9 and 11 at the Royal Conservatory and a free public recital at 7pm on March 10 in Mazzoleni Hall.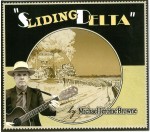 The final disc I will mention this month is one that takes me back to the music of my formative years when I first discovered acoustic blues. I am a bit embarrassed to admit that Michael Jerome Browne, who has evidently been a fixture on the blues circuit for something like three decades, is a new name to me, but in my defense it's been almost half a century since I had my own aspirations in that regard. Indiana-born Browne was raised in Montreal where from the age of nine he accompanied his English-professor parents to the jazz, blues and folk clubs of their adopted city. Enthralled by the roots music of Sonny Terry, Brownie McGhee and Lightnin' Hopkins, he took up guitar, harmonica, and later mandolin, fiddle and banjo. In his teenage years he embarked on a solo career and toured Europe and North America as a one-man band. Returning to Canada he joined the Stephen Barry Blues Band as singer and guitarist and stayed with that storied group long enough to record four albums before returning to a solo career in 1999. Since that time he has recorded six albums of which the latest, Sliding Delta (Borealis Records BCD233 borealisrecords.com), features a wealth of traditional material from such artists as Mississippi John Hurt, Memphis Minnie, Fred McDowell and Blind Lemon Jefferson performed in authentic and utterly convincing renditions. The liner notes give extensive credit and context to the origins of the songs and there is a full-page "Guitar Nerd's Corner" which gives exhaustive details of the instruments used and tunings adopted. For the uninitiated I'll just mention that Browne accompanies his distinctive voice and harmonica playing on various vintage 12- and 6-string acoustic and National "steel" guitars, mandolin and banjo, the pedigree of each of which is thoroughly documented for the cognoscenti. If, like me until now, you are unaware of Michael Jerome Browne and have any interest at all in acoustic roots music, I urge you to check out this disc. You can sample it at michaeljeromebrowne.com.
We welcome your feedback and invite submissions. CDs and comments should be sent to: DISCoveries, WholeNote Media Inc., The Centre for Social Innovation, 503 – 720 Bathurst St. Toronto ON M5S 2R4.
David Olds, DISCoveries Editor
discoveries@thewholenote.com