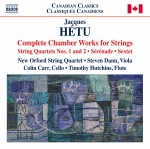 The latest release in the Naxos Canadian Classics line is an important addition to our recorded legacy. Jacques Hétu – Complete Chamber Music for Strings (8.573395) with the New Orford String Quartet and guests features significant works spanning the career of the late Quebec composer who died in 2010 at the age of 71. The Adagio and Rondo, his first work in the string quartet medium, dates from 1960 at the time of his graduation from the Montreal Conservatory and is really a foreshadowing of things to come; as pointed out in the program notes, "motivic and thematic elements from this work can be seen in all of his subsequent chamber works for strings." For this reason I wish that it had been placed first on the disc to give context to the overall program. Instead, the recording begins with the first of his two named quartets, String Quartet No.1, Op.19 from 1972, which "combines 20th-century techniques with neo-romantic harmonic language" – a combination that would be Hétu's signature throughout his distinguished career. A conservative voice that some would consider anachronistic, his music is expressive and extremely well-crafted. While the first quartet is in the traditional four movement form – fast, slow, slow/fast and fast (although it ends in a peaceful calm) – String Quartet No.2, Op.50 (1991) consists of a Vivace somewhat reminiscent of Bartók's "night music" writing framed by two slow movements. The Andante finale is particularly lush in its Romantic sensibility and the members of the New Orford capture the sense of wistful longing with acuity as the music fades in a quiet cello solo.
Written the following year, and placed directly after the second quartet, the Scherzo Op.54 with its re-use of the solo cello theme at first appears to act as an upbeat afterthought to the foregoing work, but this sense is dispelled with the inclusion of a quotation from, and later a pizzicato reworking of, a fragment from Bach's Goldberg Variations. For the Sérénade Op.45 (1988) the members of the quartet – violinists Jonathan Crow and Andrew Wan, violist Eric Nowlin and cellist Brian Manker, themselves principals of the Toronto and Montreal Symphony Orchestras – are joined by MSO principal flutist Timothy Hutchins. Written on commission as an anniversary gift, the work was inspired by Shakespeare's Merchant of Venice. After a gentle Prélude a lyrical, if somewhat melancholy, Nocturne is followed by a boisterous Danse bringing the charming bonbon to a close.
The disc ends with Hétu's final work for strings, the Sextet, Op.71 written in 2004, for which the quartet is joined by former TSO principal violist Steven Dann and cellist Colin Carr. After an upbeat opening the work once again slips into Hétu's familiar sombre lyricism, this time with the texture darkened by the doubled lower strings. This is followed by some playful cat-and-mouse activity with unison voices that alternates with slow, thoughtful passages until finishing in a flurry some 12 minutes later.
The New Orford String Quartet, like its namesake half a century earlier, was founded at the Orford Arts Centre in Quebec in 2009, 18 years after the original quartet disbanded following a distinguished international career that spanned nearly three decades. Despite the fact that their only previous release included Schubert and Beethoven (on Bridge Records, a label otherwise known for contemporary recordings), according to its Naxos bio "the New Orford String Quartet is dedicated to promoting Canadian works, both new commissions and works from the past 100 years." With the quality of their playing – amply showcased here – this is good news indeed for Canadian composers. I look forward to future recordings of repertoire from the current century.
In August the distinguished Australian composer Peter Sculthorpe died at the age of 85. Named a National Living Treasure in 1997 by the National Trust of Australia, Sculthorpe stated that in his music he sought to "find the spirit of the land and the landscape – the sacred, if you like – in nature." A true exponent of the Pacific Rim, he was influenced by Japanese and Balinese culture, but more significantly by the Aboriginal music of his homeland. This is heard throughout his often brooding works; of specific note are the libretto to his 1974 opera Rites of Passage, which is partly in the Aranda dialect of Northern Australia, the orchestral work Earth Cry (1985), Requiem (2004) and four of his late string quartets which include a prominent role for didjeridu.
Sculthorpe – The Complete String Quartets with Didjeridu (Sono Luminus DSL-92181) features Stephen Kent and the Del Sol Quartet. The 2-CD set (with additional Blu-ray audio disc) is prefaced by an extended quote from the composer: "I began to lose interest in the comforting vistas that surrounded me in Tasmania. I found myself drawn, more and more, to the harsher landscapes that I'd left behind in mainland Australia. I was drawn to desert and wilderness places that I'd not then visited. Eventually, the Australian landscapes became one of the major concerns of my music. I set out to give life to the landscape through the sun, and a human dimension to it through loneliness, resignation and death."
Sculthorpe composed extensively for the string quartet medium, his output exceeding even that of Beethoven, Shostakovich and, closer to home, Schafer. String Quartets Nos.12, 14, 16 and 18 all include the didjeridu, a wooden drone instrument indigenous to the far north of Australia. Made out of termite-hollowed branches of large eucalyptus trees, it is thought to have been in use by native cultures for some 1,000 years. The natural drone effect is varied by overblowing which produces a broad spectrum of haunting, growling sounds.
Originally requested to write a work for string quartet and didjeridu by the Kronos Quartet as early as 1991, it was not until Sculthorpe began working closely with the young indigenous musician William Barton ten years later that he accepted the idea. Barton, now widely recognised as one of Australia's finest traditional didjeridu masters and a leading player in the classical world, gave the first performance of a revised version of String Quartet No.12 "From Ubirr" in 2001. The quartet, which was essentially a reworking of the aforementioned Earth Cry, was arranged for strings alone in 1994. First conceived as "quick and joyous music," while working on the piece Sculthorpe came to the conclusion that it would be "dishonest of me to write music that is altogether quick and joyous. The lack of common cause and the self-interest of many have drained Australians of much of our energy. […] Perhaps we need now to attune ourselves to this continent, to listen to the cry of the earth, as its Indigenous inhabitants have done for many thousands of years." Sculthorpe continued to incorporate awareness and concern for Australia's natives in much of his later work. String Quartet No.14 "Quamby" or "Help Me" in the local language, refers to the slaughter which colonial troops inflicted on Aboriginals at a place later named Quamby Bluff. It was composed in 1998 with didjeridu added in 2004.
Although in the preceding works the didjeridu is well integrated with the strings it was not until 2005 with String Quartet No.16 that the indigenous instrument was an integral part of the score from the outset. The opening movement Loneliness combines drones and animal-like cries with plaintiff string melodies and seagull-like harmonic effects. The subsequent movements – Anger, Yearning, Trauma and Freedom – are fairly self-explanatory. String Quartet No.18 (2010), Sculthorpe's last, is also in five movements – Prelude, A Land Singing, A Dying Land, A Lost Land and Postlude. In this instance the work is intended as "a heartfelt expression of my concern about climate change, about the future of our fragile planet." He uses Australia as a metaphor for the whole planet and includes his characteristic bird and animal sounds and didjeridu effects, both in that instrument itself and in the strings.
The San Francisco-based Del Sol String Quartet got its start at the Banff Centre in 1992, but if the convincing performances recorded here are any indication, they seem to feel quite at home in the desolate (musical) landscapes of Australia. British-born Stephen Kent trained as a French horn player but while working in Australia as music director of Circus Oz he developed a profound interest in Aboriginal culture and immersed himself in the didjeridu. He states, "The didjeridu is played with the greatest respect for the Aboriginal Peoples of Australia and the struggle for rights in their homeland."
At the time of recording Peter Sculthorpe was still alive. I can't help but feel that this posthumous release is an appropriate monument to a man who let his art speak for his conscience, with no compromise to either. An important example to us all.
Toward the end of his life and already sick with cancer, Claude Debussy (1862-1918) conceived the project of composing "six sonatas for diverse instruments" of which he completed only three; the first for cello and piano, the third for violin and piano and a second which spawned a whole new genre, for flute, viola and harp. Two recent releases explore the repertoire created for this unusual combination of instruments.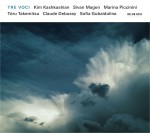 Tre Voci is an ensemble created at the Marlboro Music Festival in 2010 consisting of Canadian-born flutist Marina Piccinini (an internationally renowned soloist now teaching at the Peabody Institute in Baltimore and at the Hochschule in Hannover, Germany), American violist Kim Kashkashian and Israeli harpist Sivan Magen. Their inaugural recording Takemitsu / Debussy / Gubaidulina (ECM 2345) features Debussy's seminal work from 1915 which began it all, and two works which take poetry as their point of departure. The disc opens with And then I knew 'twas Wind by Toru Takemitsu (1930-1996) which takes its inspiration, or at least its title, from a poem by Emily Dickinson. It is a single-movement work composed in 1992 which, like much of Takemitsu's last work, is quite reminiscent of Debussy albeit within the Japanese composer's own quiet and lush sensibility. Following the three-movement Debussy sonata – Pastorale, Interlude, Final: Allegro – the disc concludes with the mostly contemplative The Garden of Joys and Sorrows, by Russian composer Sofia Gubaidulina (b.1931) dating from 1980 which is replete with rich flute tones, "bent" harp notes and Gubaidulina's characteristic overtone-series harmonics from the viola. The work ends with an ad libitum recitation of a poem by Moscow poet Iv Oganov: "When is it truly over? When is the true end? […] Tomorrow we will play another game."
The sound on this disc is as pristine and warmly clear as we have come to expect from ECM under Manfred Eicher's careful supervision, and the performance leaves nothing to be desired. I was a bit surprised however, to find that the 28-page booklet included six photographs of the musicians (and one each of the composers) but no biographical information at all about the performers and only cursory bits about the composers in the otherwise impressive liner notes (in German and English, including the texts of the poems). If it weren't for the press release sent with the recording (which didn't mention Piccinini's Canadian upbringing other than her success in the CBC Young Performers Competition) I would have been left Googling to find out about the players. It seems a surprising oversight, especially considering Kashkashian has been an ECM artist since 1985. The booklet does however credit the abstract cover photo (which I take to be a very stunning cloudscape) to Kashkashian, revealing another side of this accomplished artist.
Canadian Trio Verlaine (Lorna McGhee, flute; David Harding, viola; Heidi Krutzen, harp) released their first CD Fin de Siècle – Music of Debussy and Ravel back in 2008 (reviewed in these pages by John Keillor in May of that year). Although now based in different cities (Krutzen is principal harp of the Victoria Opera, McGhee and Harding now live in Pittsburgh working as principal flute of the Pittsburgh Symphony and professor at Carnegie Mellon University respectively) they continue to perform and record together. Six Departures (Ravello Records RR7895 trioverlaine.com) explores repertoire created on the Debussy model with music by Sir Arnold Bax, Jeffrey Cotton, R. Murray Schafer and André Jolivet.
In addition to Bax's Elegiac Trio and Jolivet's Petite Suite, both staples of the repertoire, the disc includes two world premiere recordings of works written for Trio Verlaine: the title track by Cotton, an American composer who died last year at the age of 55, commissioned by the Seattle Chamber Music Society, and Schafer's Trio for Flute, Viola and Harp, co-commissioned by Michael Koerner, the Ottawa Chamber Music Festival and Music on Main. The first is based on the baroque suite, a set of six dances beginning with a prelude and including two Passacaglia movements. Cotton's lyrical tonal language reflects "the deceptively sunny Los Angeles of his childhood filtered through the haunted German expressionism he encountered as a student of Hans Werner Henze." Schafer's trio sounds particularly French to my ear, perhaps referencing the origins of this instrumental combination. The three movements – Freely flowing; Slowly, calmly; and Rhythmic – are again lyrically tonal in their language with no shortage of Schafer's characteristic playfulness.
Recorded earlier this year, the performances are committed and commendable, the crisp attacks and seamless ensemble playing captured admirably in the warm acoustic of St. Mark's Anglican Church in Vancouver.
We welcome your feedback and invite submissions. CDs and comments should be sent to: DISCoveries, WholeNote Media Inc., The Centre for Social Innovation, 503 – 720 Bathurst St. Toronto ON M5S 2R4. We also encourage you to visit our website thewholenote.com where you can find added features including direct links to performers, composers and record labels and additional, expanded and archival reviews.
David Olds, DISCoveries Editor
discoveries@thewholenote.com