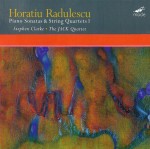 As I have had occasion to mention before, my day job is general manager at New Music Concerts, an occupation with brings me into contact with some of the finest musicians and composers from across Canada and around the world. So in the spirit of full disclosure I will say that I have had professional dealings with the artists involved in the project
Horațiu Rădulescu – Piano Sonatas and String Quartets
. Pianist
Stephen Clarke
has been a frequent performer on our series over the years and in January we had the great pleasure of presenting
JACK Quartet
in conjunction with Music Toronto. Rădulescu (1942-2008) was a Romanian composer active in the French school of spectral composition. He wrote six piano sonatas and six string quartets during a career which saw him based in France, Germany and later Switzerland, after leaving his homeland in 1969. Volume One of this series
(Mode Records 290)
, which will ultimately include all of the sonatas and quartets, presents us with three very contrasting works,
Piano Sonata No.2 Op.82
(1991),
String Quartet No.5 Op.89
(1990-95) and
Piano Sonata No.5 Op.106
(2003)
.
As this is my first exposure to Rădulescu's music it is hard to know whether the difference in approach between the keyboard and string writing has more to do with the nature of the instruments themselves or if it is simply a matter of different concerns in the different works.
Each of the pieces has a subtitle taken from the Tao te Ching of the sixth-century BC Chinese philosopher Lao Tzu. The Second Piano Sonata "being and non-being create each other" is in three movements: Immanence, Byzantine Bells and Joy, in decreasing durations of Fibonacci proportions (we are told in the excellent notes by Bob Gilmore). The overall feel of the piece is contemplative, with even the "Joy" of the third movement seeming contained rather than exuberant. We are even treated to echoes of Beethoven's "fate-knocking" theme from the Fifth Symphony in the closing moments of the sonata. While in his earlier years Rădulescu had treated the piano in a number of unconventional ways – turning it on its side and bowing the strings with rosined cords; retuning the piano spectrally to free the natural harmonics hampered by tempered tuning – with the Second Sonata he seems to have reconciled his language to the use of a conventional concert instrument.
This is not the case with the Fifth String Quartet "before the universe was born," which uses a number of extended techniques to expand the palette of the strings in some unimaginable ways, which is to say that there are some sounds produced that I can't begin to understand the origins of. The 29-minute work is in 29 brief sections, each with a quote from Lao Tzu beginning with "The unnamable is eternally real (darkness, the gateway to all understanding)" and ending "The world is sacred (it can't be improved)." Again contemplation is the mood of the piece, with clouds of quiet sounds, but just past the halfway point things get more aggressive and there is an extended section of quite abrasive sound. Although there are moments of respite along the way, the work ends with insect-like buzzing and gnashing.
The Fifth Sonata "settle your dust, this is the primal identity" returns to modal melodic material. It is based on Romanian folk music and its drone- and bell-like passages are a genuine relief after the dark journey of the Fifth Quartet. Perhaps the subtitle of the third movement tells it all: "Use your own light /and return to the source of light. This is called practicing eternity."
Stephen Clarke, who we know is comfortable in many modern idioms from the gentle, sparse music of Linda Catlin Smith to the aggressive complexity of Pierre Boulez, seems well at home in this largely unknown repertoire. And with their extensive work with Helmut Lachenmann I can't think of another group better suited to the extended demands of Rădulescu's string writing than JACK.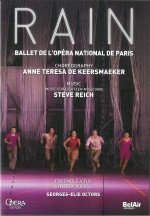 In keeping with the full disclosure of my opening paragraph, it was New Music Concerts who first brought Steve Reich to Toronto back in 1976 and was responsible for my initial exposure to his music. In recent years it has been our colleagues at Soundstreams who have been Reich's premier sponsors in the city and this month they will pay tribute to "Steve Reich at 80" with a performance of, in my opinion, the jewel in the crown of his oeuvre, Music for 18 Musicians.
In October 2014 the Ballet de l'Opéra national de Paris presented choreographer Anne Teresa de Keersmaeker's Rain (BelAir Classics BAC126), a setting of Music for 18 Musicians as performed by Ensemble Ictus and Synergy Vocals under Georges-Elie Octors' direction. I admit to being out of my zone of comfort here, not being well versed, or even particularly interested, in modern dance. But the ten athletic dancers running gazelle-like (or is it Giselle-like?) around the stage in patterns reminiscent of a Samuel Beckett play on speed proved to be almost as hypnotic as the music. The focus of the film is understandably on the dancers, with only occasional tantalizing glimpses of the musicians, but the 5.1 Dolby digital sound is immaculate and the performance is compelling.
Concert Note: On April 14, Soundstreams presents a very ambitious program at Massey Hall, including Reich's iconic Clapping Music, the large choral work Tehillim and Music for 18 Musicians.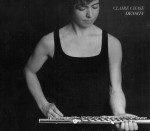 Steve Reich provides the bridge to the next disc, Density, featuring flutist Claire Chase (clairechase.net) which has been waiting patiently on my desk for the past year. It opens with Reich's Vermont Counterpoint for 11 flutes (piccolos, flutes and alto flutes), conceived as a work for flute "choir" or to be overdubbed by one player (as first performed and recorded by Ransom Wilson). As with all the works on this disc, Chase plays all of the parts in studio recordings in which the layers blend seamlessly. All are by living composers with the exception of the title piece Density 21.5 which Edgard Varèse (1883-1965) composed for a solo platinum flute in 1936 (21.5 grams being the approximate density of a cubic centimeter of platinum). The other works all involve multiple flutes and/or electronics.
Of particular note for its rich sonorities is Marcos Balter's Pessoa for six bass flutes. Alvin Lucier's Almost New York for piccolo, flute, alto, bass and contrabass flutes, and pure wave oscillators, takes some getting used to. The pure electronic sounds are quite harsh in comparison with the warmth of the natural flutes, but eventually our ears adjust and the contrast is quite effective. That being said, Philip Glass' homage to Erik Satie, Piece in the Shape of a Square for two flutes, comes as breath of fresh air after 25 minutes of the sterile sounds produced by Lucier's oscillators.
Luciform for flute and electronics by Mario Diaz de León presents a very different electronic soundscape: synthetic layerings and contrapuntal accompaniments to the rich sounds of the flute in its lower register. Again, to my ears, the purely acoustic sounds produced by the platinum flute in Varèse's Density 21.5 are more interesting by far. Nevertheless, Chase is to be congratulated not only for her dexterity throughout the full range of flute family but also for her diverse choice of repertoire, producing a 75-minute homophonic program that holds our interest from start to finish.
Concert Note: To hear all the members of the conventional flute family (contrabass to piccolo) combined in a live flute orchestra I recommend (conflict of interest duly noted) "Flutes Galore," a concert of contemporary music for 24 flutes presented by New Music Concerts on April 24 at Saint Luke's United Church.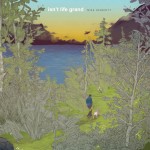 If Claire Chase has shown mastery in combining all the members of one instrumental family through "the magic of the studio," what is to be said of Mike Herriott? On Isn't Life Grand (mikeherriott.com) this consummate musician is responsible for not only the entire horn section (piccolo trumpet, trumpets, flugelhorns, French horns and trombones), but also basses and piano. He is joined by frequent collaborator Richard Moore on drums and percussion throughout, with a (very) few other guests on several tracks. The overall sound is rich and warm and takes me back to the great horn arrangements I heard in my formative years from the likes of Chicago, Lighthouse and Blood, Sweat and Tears. Herriott penned all the tunes and, with the exception of the extended Free at Last arranged by the late, great Canadian flugelhorn icon, Kenny Wheeler, did all the arranging too. Fittingly, Herriott provides a lush flugelhorn solo on Free at Last and is joined by Dave Reid for a bass trombone solo. The style is quite mainstream, and I am left thinking that with some lyrics and a singer like David Clayton Thomas this music could have been top of the charts back in the day. I mean that in the nicest possible way though and am in awe of this one-man big band that is Mike Herriott.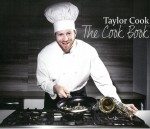 Another disc that spans mainstream jazz and pop sensibilities is Taylor Cook's The Cook Book (taylorcook.com). In this instance though, the composer/leader has some fine Toronto players contributing to his ensemble. This is not to say that Cook is a one-trick pony by any means. The basic tracks see him on alto sax, flute and clarinet, with bandmates Jack Bodkin, keyboards, Brandon Wall, guitar, Justin Gray, acoustic and electric bass, and Robin Claxton, drums. This is complemented by a host of horns and woodwinds on such tracks as the rollicking Biker's Dozen and the sultry Lilia which also includes string quartet. Another track where the ranks swell is Cook's effective arrangement of On the Sunny Side of the Street which features a horn sextet. All of the other tracks are composed and arranged by Cook, including Splainin' with lyrics by Neil Surkan and plaintive vocals by Alex Samaras, with the exception of the closing, soulful Testifyin' by Fender Rhodes-playing Bodkin. In all, The Cook Book provides some tasty recipes, prepared to perfection.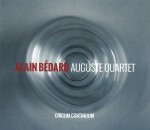 As noted with modern dance above, I confess to being somewhat out of my comfort zone in the world of serious modern jazz. In my formative years however, I did spend quite a bit of time combing the shelves of John Norris' Jazz and Blues Centre down on King St. West and building a collection of the standards of the time: Monk, Coltrane, Hawkins, Rollins, Davis, Parker, Coleman, MJQ, Brubeck and, as mentioned in last month's column, even the Quintet of the Hot Club of France. Montreal bassist Alain Bédard and his acoustic Auguste Quartet take me back to those exciting years of discovery. Circum Continuum (Effendi Records FND 144) features Félix Stussi on piano, Samuel Blais on saxophones, Bédard on contrabass and Michel Lambert on drums. The music is old fashioned in the sense that is reminiscent of the music I was listening to in the 70s and 80s from the pioneers of post-bop jazz: uncompromising yet cohesive, melodic without being tuneful. Often busy in its undercurrents, but overlaid with long lines, and with nothing extraneous – all four members of the machine integral to the process. Bédard composed nine of the 13 tracks with the other members each contributing one of their own. The only "outside job" is Oelo by Gilles Bernard, inspired by Sonny Rollins' Oleo. Lambert's Blue Mitch begins with an enervated extended drum and saxophone duet, eventually tamed by the bass and piano before reestablishing their dominance in a harmolodic-style ending. Blais' Noirceur Passagère features a haunting saxophone melody that gives way to a pizzicato bass solo that segues into Stussi's Garissa evoking a Night in Tunisia sensibility. Bédard's Le Gras Mollet with its block chord melody in the sax, piano and bass over a walking drum and cymbal line brings this excellent disc to a very satisfying conclusion.
David Olds, DISCoveries Editor
discoveries@thewholenote.com