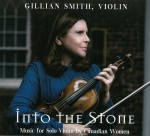 Into the Stone (Leaf Music LM228 leaf-music.ca) is a particularly interesting and timely disc of "Music for Solo Violin by Canadian Women" featuring Gillian Smith, a dynamic East Coast performer who serves as instructor of violin and viola at Acadia University in Wolfville and is head of the upper strings department at the Maritime Conservatory of Performing Arts in Halifax. I suppose it is the adage "never ask a woman her age" that explains the lack of birth years given for the composers in the liner notes. I will not give away any secrets further than saying the five composers involved were born in places as far flung as Hong Kong, Australia, Serbia, Ontario and Quebec in the two decades between 1956 and 1975. The pieces themselves span 1997 (the title track) through 2010 (the opening selection, Alice Ho's Caprice). The latter is a playful work that, in the words of the composer, is "a fancy, a virtuosic piece… [in which the] performer is asked to show both technical skill and musicality." Smith's performance abounds with both. This is followed by Ana Sokolović's Cinque danze per violino solo. The five dances are rooted in the angular and often dissonant folk music of her native Balkan region, although Sokolović says there is no direct quotation involved. Each movement is distinct, although distinctly related, ranging from the somewhat abrasive first to the contemplative, although at times somewhat enervated, finale. "I try to create different climates while keeping material and gesture strongly related." Both the composer and performer succeed in conveying this effectively.
The quiet ending of Sokolović's last dance is a perfect set up for Veronika Krausas' piece that gives the disc its title. It begins gently in the lower register but gradually rises in both pitch and intensity. Krausas says: "The piece is inspired by a line from Canadian poet Gwendolyn MacEwen: 'What lives inside the stone? Miracles, strange light.'" Kati Agócs' Versprechen (Promise) is based on Bach's harmonization of the Lutheran chorale Ist Gott mein Schild und Helfersmann (God is my Shield and Helper). "The piece casts the soloist as the hero in a musical peregrination… [that] traces spiritual yearning, supplication, and redemption, with the chorale melody always present, although at times 'refracted' as if heard through an auditory prism." With this uniting theme there is a continuity to the development, but the refractions are diverse enough that it is a sonic relief when the original melody is revealed toward the end of the eight-minute piece. For Le ciel doit être proche by Chantale Laplante from 1999, no translation is given for the title and neither is there a context in the program note. This makes it unclear whether "ciel" refers to sky or to heaven, but as the piece is built on "the use of intervals slowly introduced in widening order, keeping the perfect fifth as the final step to some serenity" I'm going to translate it as Heaven must be near. This serenity provides a very satisfying end to a stunning debut album by a rising star from the East (coast). Congratulations to Smith and all concerned.
Growing up in northern Etobicoke the Richview library, 20 minutes down the road on the Islington bus route, became a major resource and influence on my musical development. It was there that I discovered such diverse artists as Thelonious Monk, the Modern Jazz Quartet and Terry Riley. I remember bringing home a recording of Riley's seminal modular piece In C – where the musicians are instructed to repeat each of the 53 short phrases as long as they (individually) want before moving on to the next – and putting it on the record player (I don't think we had a "stereo" in those days) in the living room. After about five minutes my mother called out from the kitchen "Your record is skipping." That was my introduction to minimalism and I was hooked, quickly moving on to the music of Philip Glass, who I saw perform with his ensemble for New Music Concerts in 1980 at Walter Hall. It was also through NMC that I first heard Steve Reich's music live, in 1976, when Robert Aitken was able to convince Reich that rather than just his own Steve Reich and Musicians, he should let others play his music, in this case the NMC ensemble, if he wanted it to live on in posterity. 1976 was also the year that I first encountered Kronos Quartet, although that was through a recording of music by Dane Rudhyar rather than a live performance. (They would not perform in Toronto for another seven years when NMC invited them to perform the premiere of Morton Feldman's almost-four-hour long String Quartet No.2.) So you see, even though I have retired from my position as general manager of NMC, it remains an integral part of my musical history.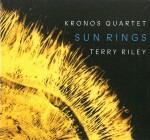 But back to Kronos Quartet. I think it might surprise many people that the Kronos Quartet was active as early as 1976, and also that Rudhyar, a pioneer of modern transpersonal astrology considered by some to be among the most important thinkers of the 20th century, was also a composer of serious modernist works, but I have the vinyl to prove it. Kronos and Terry Riley have collaborated frequently over the decades since their first commission Sunrise of the Planetary Dream Collector back in 1980. Their most recent release, on the Nonesuch label, is titled Sun Rings (nonesuch.com). Twenty years after Sunrise Kronos received a call "out of the blue" from NASA, which had a small budget for commissioning space-based artwork to mark the 25th anniversary of the launching of Voyager 1. NASA also had access to recordings made possible by the engineering feats of scientist Donald Gurrett, who designed special microphones to record in the so-called vacuum of outer space. Riley, with his own interest in astrophysics, agreed to the project, but the 9/11 terrorist attack occurred while composing the new quartet and Riley says his "original, gee-whiz enthusiasm for Sun Rings suddenly felt too much like kid's stuff, shooting rockets into space at an unsettlingly sabre-rattling time." It was only after hearing poet and novelist Alice Walker recite her September 11 mantra, "One Earth, one people, one love," that he realized that "pondering the universe put the problems on Earth into a needed, interplanetary perspective." The 80-minute multimedia work that Riley eventually completed incorporates recordings from both in and out of space crafts – most presented as ambience with a "music of the spheres" feel, but some including words spoken by astronauts and ground controllers – string quartet, the vocal group Volti (in two movements), the voice of Alice Walker repeating her mantra, and visual design by Willie Williams. The result, even as just an audio recording without the visual aspects, is truly stunning.
I could go on and on about how, as a young(ish) cellist I was moved and inspired by the Bach Solo Suites and Beethoven's Cello Sonatas, but suffice it to say that they did, and have continued to, influence my understanding of the instrument. I have spent, literally, countless hours playing the first three Bach suites and movements of the remaining ones, and although I have not yet managed to achieve any measure of success with the Beethoven sonatas themselves other than my favourite movement, the opening of the A Major Sonata, Op.69, I have managed to get one of his three non-sonata offerings, the Variations on "See, The Conquering Hero" from Handel's Judas Maccabaeus – the original being one of my mother's favourites – to performance level. So it was with great pleasure that I received new recordings of both complete cycles this month.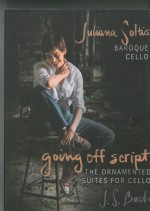 I must admit I was a little wary when I first heard about Going Off Script – The Ornamented Suites for Cello, JS Bach (King Street Records KING001) from Baroque cellist Juliana Soltis (julianasoltismusic.com). My general feeling is that masterworks don't need any improving or personalizing; that it is incumbent on the performer to do their best to realize the composer's intent as written on the page. I learned during my many years at New Music Concerts just how important it is to bring the composer to work with the musicians, to ensure that those intentions are being respected. Of course that is not possible in the case of composers no longer with us, but there is a long history of interpretation and scholarship that tells us what those marks on the page mean and how they should be treated. Soltis addresses this in her very personal notes to the recording. "As musicians, we spend years learning to decipher and interpret these instructions, and as with any good recipe, we trust that everything we need to know is there. But what if we're missing something?" She goes on to say "…those instructions – the pitches and rhythms, the harmonies and articulations – are but a starting point, a simple framework crowning Bach's instruction." The booklet includes some graphic illustrations using fragments of the score of the first suite, with which Soltis makes a case for the "spaces," created by tied or dotted notes, actually being an invitation to "improvise here." Realizing that Bach was a renowned improviser – think of the spontaneous origins of The Musical Offering – I was willing to give her the benefit of the doubt. I am pleased to report that I was not disappointed. Her interpolations are unobtrusive and, as far as I can tell, idiomatically sound and consistent with the spirit of the pieces. Much closer to that spirit than, for instance, the larger-than-life flourish with which Misha Maisky ended the first suite on his 1985 recording of the cycle. To quote Soltis again, "…whenever I thought about the incredible chorus of voices and versions that is the Recorded Bach Cello Suites, I knew that I didn't want to join in that particular conversation unless I had something important to say. And for the longest time I wasn't sure that I did." We can be thankful that she changed her mind and has given us the chance to appreciate her thoughtful interpretation.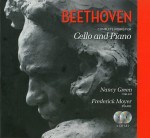 Although not as extensive as with the Bach Suites, there is a wealth of recordings of Beethoven Cello Sonatas, with most "name brand" cellists having contributed to the discography from Casals, through Navarra, Fournier and Rostropovich, to Ma, Harrell, Schiff, Harnoy and Queyras, to name but a few. The latest to enter the ring, Beethoven Complete Works for Cello and Piano (JDI Recordings J143 jdirecordings.com) featuring Nancy Green with pianist Frederick Moyer, is certainly a contender for high honours. Green, who is known for her recordings of both obscure repertoire and staples of the standard canon, enjoyed an outstanding concert career that took her throughout the USA, Europe and the Far East. In 2015 she formally withdrew from the concert stage to devote herself exclusively to recording.
One of the most important aspects of Beethoven's cello sonatas is the way he makes the cello and piano equal partners, as pointed out in the excellent and comprehensive program notes by R. Larry Todd. Before Beethoven, the cello served as either simply part of the continuo "rhythm section" or was the featured voice with accompaniment. Green appears here in a truly balanced partnership with Moyer, himself a renowned soloist who has performed in 43 countries and with such orchestras as Boston, Cleveland and Philadelphia, etc. Together they bring an unmistakable verve to these works which span Beethoven's early, middle and late periods. Green's powerful sound is matched but never overwhelmed by the piano. Her tone is immaculate; light and lyrical in the delicate passages, yet full, rich and meaty as required. It is no wonder that she has been compared to such greats as Rostropovich, Yo-Yo Ma, Leonard Rose and Jacqueline du Pré. The production values are outstanding. This is a very welcome addition to my library.
We invite submissions. CDs, DVDs and comments should be sent to: DISCoveries, WholeNote Media Inc., The Centre for Social Innovation, 503 – 720 Bathurst St. Toronto ON M5S 2R4.
David Olds, DISCoveries Editor
discoveries@thewholenote.com