With the late Labour Day this year at times it has seemed happily like an endless summer. Unfortunately, with the opening of the CNE I am reminded it's time to get my nose back to the grindstone and tell you about some of the most interesting discs to come my way over the past three months.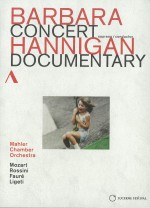 First up is a first-class documentary about Canada's contemporary diva Barbara Hannigan, last seen in these parts as the featured soloist in works by George Benjamin and Hans Abrahamsen at last spring's New Creations Festival hosted by the TSO. Barbara Hannigan – Concert & Documentary (Accentus Music ACC 20327) was filmed in August 2014 at the Lucerne Festival where Hannigan was artiste étoile, singing, conducting and giving masterclasses. The DVD includes concert footage with the Mahler Chamber Orchestra featuring an overture by Rossini, three Mozart arias, Ligeti's surprisingly traditional Concert Românesc, Fauré's Pelléas et Mélisande and Hannigan's signature piece, Mysteries of the Macabre also by Ligeti.
Hannigan is certainly not the first singer to turn to conducting, but I'm not aware of any in the modern era that have undertaken to do both at once. We get insights into the development of this dual career and the particular challenges it offers in the candid documentary I'm a creative animal – Barbara Hannigan directed by Barbara Seiler. We get intimate glimpses of the artist as an accomplished chef (she travels with her own kitchen knives), going for daily runs with pop music in her ear buds, on horseback and in yoga class, but first and foremost as a diligent and dedicated musician with an incredible breadth of vision and accomplishment.
We hear Hannigan in her own words discussing growing up in rural Nova Scotia, her studies at the University of Toronto where her mentor (Mary Morrison, although unnamed in the documentary) opened her eyes and ears to the world of contemporary music, the trials and tribulations of living out of suitcases, the dangers of being revered as a "superhuman" and her aspirations for the future. We also hear from members of the Mahler Chamber Orchestra about working under her direction and from her vocal coach about fine tuning and maintenance of Hannigan's superb vocal instrument. This 45-minute portrait is a stunning look at a stunning artist and consummate musician. Not to be missed. Concert note: Barbara Hannigan returns to the stage at Roy Thomson Hall in the dual role of soloist and conductor in music of Nono, Haydn, Mozart, Ligeti and Stravinsky with the TSO on October 7 and 8.
Review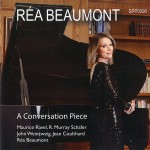 In the tradition of full disclosure I will say that Canadian pianist and musicologist Dr. Réa Beaumont is a colleague whom I often encounter through the activities of the Toronto New Music Alliance (with which I am affiliated in my position as general manager of New Music Concerts) and who is an occasional contributor to WholeNote's DISCoveries section. As a matter of fact you can find her impressions of the new Gryphon Trio compact disc further on in these pages.
That being said I want to tell you about A Conversation Piece, a CD that was released late last year by Beaumont's Shrinking Planet Productions (reabeaumont.com) featuring works by R. Murray Schafer, Jean Coulthard, John Weinzweig and Maurice Ravel. Of particular interest to me is the first track, Beaumont's own Shattered Ice, which combines compositional prowess with her concern for the environment in an ominous work depicting the fragile ecosystem of the Canadian Arctic and the dangers posed by human intrusion.
The first movement of John Weinzweig's 1950 Suite for Piano No.2 gives the disc its title. This dialogue between the two hands is followed by a sombre lullaby and a brief, lively and angular toccata. Coulthard's contemplative Threnody is followed by Polytonality, Schafer's first published work, a sort of homage to Poulenc. Netscapes (2000) is one of Weinzweig's very last works, evidently inspired by the experience of browsing the Internet and discovering a number of melodic fragments, which are juxtaposed in the composer's distinctive wry style.
The second half of the disc is devoted to Ravel's five-movement Miroirs from 1905, an extended work which heralded the French Impressionist movement. It is a perfect companion piece for the selected Canadian repertoire, with its poetic and visual images transferred to the keyboard. Beaumont's touch is well suited to the delicate textures and the intricate passages as well as the quirky rhythms that surface in the Ravel and Weinzweig selections. The program is well balanced and the sound is immaculate thanks to the production by David Jaeger and the team at Glenn Gould Studio.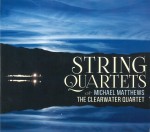 It is always a treat to discover a new Canadian ensemble and this summer I was introduced to the Clearwater String Quartet through its recording of music by Michael Matthews (Ravello Records RR7910 ravellorecords.com). This is not to say that Clearwater is recently formed, but simply that I had not been exposed to their accomplished playing before. Comprised of the principal string players of the Winnipeg Symphony Orchestra they have been performing as a quartet for more than a decade and have a busy schedule as the in-house ensemble for the Winnipeg Chamber Music Society. Matthews is also an integral part of the Winnipeg music scene, having been a founding director of Groundswell, the contemporary music organization which resulted from an amalgamation of the city's new music groups back in 1991. He recently retired Professor Emeritus from the Faculty of Music at the University of Manitoba and also served as Composer-In-Residence with the Saskatoon Symphony Orchestra from 2002 to 2004.
In the extended (six-page) essay by Max Fleischman in the accompanying booklet we are told that Matthews is a voracious reader and a listener whose compositions reflect this. He goes on to say that "Judged against the prevailing 21st-century aesthetic this literateness tars Matthews as deeply conservative in his ethos and art. In particular, his music finds itself at odds both with the rancorous anti-intellectual streak in North American culture and with its sense of 'cool.' This music is serious. It is complicated. It is human, and speaks in the miraculous and improbable language that Europe has been working on since Gregorian times…. This music is earnest: it demands (and deserves!) multiple hearings. And it is sober, speaking the language of Holocaust, totalitarianism and uncertainty, and speaking it like a native, or at least like the literate child of witnesses and survivors." With this emphasis on conservatism and heritage we might expect to hear liturgical-based melodies along the lines of those "Jewish" compositions of Srul Irving Glick, but make no mistake, it is the intellectual rigour of Western art and philosophy that is the focus, and the music is more reminiscent of the Second Viennese School and Shostakovich. That is to say "good old-fashioned new music."
Matthews, who was born in Gander in 1950, seems to have come to the string quartet fairly late in his career. Although his earliest acknowledged compositions date back to the early 1970s, he didn't write his first quartet until 1999, since which time there have been three more, plus a set of miniatures for the medium. The disc includes String Quartet No.3 (2008, revised 2013), a work in four contrasting movements lasting more than half an hour, the eleven Miniatures (2000) and String Quartet No.2 (2003) with its brooding, extended last movement and echoes of Bartók's night music. These are all very strong works immaculately played by some of Canada's finest string players, Gwen Hoebig and Karl Stobbe (violins), Daniel Scholz (viola) and Yuri Hooker (cello). I hope we hear more from them soon.
Review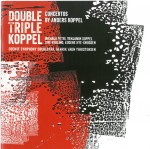 I almost gave the next disc to Toronto's star recorder player Alison Melville to review, but upon listening I found I could not bear to give it up. Never fear though, Alison will be on duty next month to tell us about two more concerto recordings featuring the extraordinary Michala Petri. On Double Triple Koppel – Concertos by Anders Koppel (Dacapo 6.220633) Petri is joined by the composer's son Benjamin Koppel in the Concerto for Recorder, Saxophone and Orchestra (2010) and Koppel teams up with Eugene Hye-Knudsen and Tine Rehling for the Triple Concerto for Mezzo Saxophone, Cello, Harp and Orchestra (2009). I was immediately drawn to the unusual instrumentation of both works, and especially the use of saxophone.
The first time I am aware of having heard saxophone in an orchestral context goes back to a recording of Kabalevsky's Cello Concerto No.2 featuring Daniel Shafran almost four decades ago. About halfway through the piece there is an incredible moment when, seemingly out of nowhere, a saxophone takes over the solo cello line in a cadenza-like flourish. It takes a moment to realize that the new texture is in fact no longer the cello, but rather an alto sax. It was a minor epiphany for me.
Likewise the first time I heard the recorder in a contemporary orchestral context. The occasion was coming across an RCA disc, Moon Child's Dream, in the CJRT library back in 1992. That featured Michala Petri in the title work by Thomas Koppel, brother and uncle of the Koppels mentioned above, plus pieces by Holmboe, Christiansen and Toronto's own Gary Kulesha. I was hooked by the juxtaposition and integration of the shrill timbre of the baroque wind instrument into the texture of a modern chamber orchestra, but, as I am wont to say, enough about me!
The two concertos presented here are dramatic, lyrical works with plenty of rhythmic drive juxtaposed with extended passages of dreamlike calm, especially in the Triple Concerto. Not to be confused with the mezzo saxophone in F produced in the late 1920s by the CG Conn company which rapidly fell into disuse, the instrument employed here is a modern one manufactured by Danish maker Peter Jessen, tuned in G, placing it midway between the E-flat alto and B-flat soprano saxophone. Jazzer Joe Lovano has made extensive use of the mezzo, but this is evidently its orchestral debut. The range and timbre of this saxophone make it a well-matched partner for the cello but from the very first notes there are surprises in store. The cello enters with strident notes in its highest register sounding more like a Chinese erhu than the mellow baritone we normally expect. The harp adds a busy pointillist texture over which the sax and cello soar during the extended cadenza of the Moderato that concludes the work.
Koppel's music, which falls firmly into the neo-Romantic camp with extended melodies and tonal harmonies but always with a modern sensibility, is more innovative in its instrumentation than in its compositional form. The way he combines instruments is truly unusual and extremely well handled. Even after repeated listening I am surprised to realize which instruments are creating the sounds and how well he blurs the lines between even such disparate voices as the recorder and the saxophone. Well worth investigating for yourself.
In Brief: Over the long summer there was of course a plethora of other offerings that held my attention. Orbit – Music for Solo Cello (Pentatone PTC 1586) is a 3-CD compilation comprising material originally released over the past decade by Montreal-based Matt Haimovitz on his own Oxingale label. Even for an aficionado such as myself nearly four hours of nothing but the sound of a single cello in repertoire drawn from a single time period (1945-2014) might get to be a bit "much of a muchness," but I must say that my attention did not wane. From the opening title track, not to my ear sounding anything like other compositions by Philip Glass that I have heard, through such diverse composers as Berio, Golijov, Sokolovic, Ligeti, Carter, Sciarrino, Tremblay, Machover and Rorem the contrasts made for very effective programming and a compelling listening experience. The uncompromising but varied voices of these composers was juxtaposed occasionally with more popular fare – Haimowitz's own transcription of Jimi Hendrix's iconic version of the Star Spangled Banner and Luna Pearl Woolf's take on Lennon-McCartney's Helter Skelter – but even within the "serious" repertoire there was an amazing breadth of style and genre. Haimowitz proved himself up to all the challenges. This is an incredible testament to the accomplishment of a great musician, and an outstanding compendium of music of our time.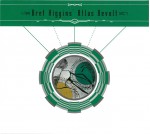 Brett Higgins' Atlas Revolt provided much-needed respite during a stop-and-go drive up Highway 400 on the long August weekend. Double bassist Higgins has been active on the Toronto scene in a variety of genres, as a founding member of the eclectic Beyond the Pale among many other credits. His latest project is an instrumental combo with Aleksandar Gajic (violin), Robbie Grunwald (keyboards), Tom Juhas (guitar) and Joshua Van Tassel (percussion) which encompasses world, Latin and pop influences in a mostly jazz context. The disc, released on John Zorn's Tzadik label (TZ 7813 tzadik.com), is comprised of ten Higgins original tracks in a variety of styles. I was enjoying it so much that I didn't notice it was on repeat play until the third time through the disc. It made sitting in traffic almost worthwhile.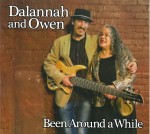 Another bass-centric disc in rotation on my player this summer is Been Around a While featuring Vancouver-based blues duo Dalannah and Owen (Quest QST-009 questrecords.com). This sparse offering consists solely of Dalannah Gail Bowen's smoky, bluesy vocals and the electric bass playing of Owen Veber and except for occasional overdubbing of additional bass lines (or more likely "looping" in this day and age) that's all we hear. And it's enough. There's nothing fancy here, just the blues stripped down to its essentials. About half of the songs are originals, including the title track, plus effective covers of Billy Eckstine, Marvin Gaye, Son House and the duo's reworking of Robert Johnson's Come On In My Kitchen.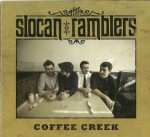 Coffee Creek is the first full-length release by the young Toronto bluegrass band Slocan Ramblers (slocanramblers.com). Mentored by Chris Coole of Foggy Hogtown Boys fame who also produced this disc, the group shows a virtuosity and command of the genre that belies their youth (and geography). The formation is fairly standard – banjo (Frank Evans), mandolin (Adrian Gross), guitar (Darryl Poulson) and double bass (Alistair Whitehead) – with the vocal duties shared and the balance about equal between original instrumentals and traditional bluegrass songs. The band's website testifies to a busy touring schedule, both across the country and south of the border, but unfortunately it seems we won't get to hear them live in Toronto in the immediate future. Readers in Ottawa can catch them on October 24 at Spirit of Rasputin's Folk Club at Westboro Masonic Hall.
Of course my summer was not spent entirely in front of loudspeakers attached to mechanical (or electronic) reproduction devices. There was a generous share of backyard music-making with friends and I attended a number of live music shows. The one that had the most impact on me was at the Summerworks festival, a "musical" unlike any other I've seen. Written and created by Adam Paolozza and Gregory Oh, Melancholia: The Music of Scott Walker drew on five decades of music recorded, and for the most part written, by the former Walker Brother, best known to members of my generation for the 60s hit The Sun Ain't Gonna Shine Anymore. I must confess that I was unaware of Walker's creative development in the intervening years. I was actually surprised to hear that there even was such a person as my understanding was that no member of the Walker Brothers was actually named Walker. But it seems that the baritone "brother," born Noel Scott Engel, adopted the name when he went out on his own in the 1970s. The music that followed was a far cry from the pop ballads that had brought the boy band fame, which for a time rivaled that of the Beatles. Evidently he was profoundly influenced by the music of Jacques Brel and some of his earlier solo work reflects this, including an album of covers of Brel's work. Walker is also well versed in classical music and has given producers such instructions as "I hear Sibelius here" and "I'm thinking of Delius for this." His own songs became darker and darker over the years and although his distinctive, low plaintive voice would not change much, the music behind and at times over top of the lyrics, did profoundly.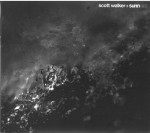 Since experiencing the live local production I have continued to explore the world of this troubled, solitary artist. Although he has not performed live in many years, he did allow cameras into the studio when he was recording the album The Drift. The resulting documentary, Scott Walker: 30 Century Man produced by Stephen Kijak (with executive producer credits to David Bowie who professes to have been deeply influenced by Walker), was released in 2006 and is viewable on YouTube. I highly recommend it. And then skip ahead to his latest release from 2014, Soused (4AD CAD 3428CD) which features five extended Scott Walker "songs" on which the now familiar melancholy voice is accompanied by the Seattle drone metal band Sunn O))). Not for the faint of heart!
We welcome your feedback and invite submissions. CDs and comments should be sent to: DISCoveries, WholeNote Media Inc., The Centre for Social Innovation, 503 – 720 Bathurst St. Toronto ON M5S 2R4. We also encourage you to visit our website
thewholenote.com where you can find added features including direct links to performers, composers and record labels, "buy buttons" for online shopping and additional, expanded and archival reviews.
David Olds, DISCoveries Editor
discoveries@thewholenote.com