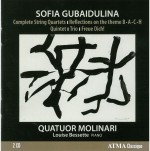 Montreal's Quatuor Molinari has another outstanding release on the ATMA label (ACD2 2689 ), this time featuring the Complete String Quartets and other chamber string music of Russian composer Sofia Gubaidulina (b.1931). The first of two CDs is devoted to Gubaidulina's four string quartets, and the brief Reflections on the theme B-A-C-H. The second presents a piano quintet, a string trio and an extended work for violin and cello. As with their 2013 release Alfred Schnittke – Chamber Music Volume 2, the quartet is joined by justly renowned pianist Louise Bessette for Gubaidulina's Quintet for Piano and Strings, a student work from 1957 which immediately drew my attention. Despite the obvious influence of, and homage to, Shostakovich throughout the work, and a playful second movement theme somewhat reminiscent of Prokofiev's Peter and the Wolf, the young composer displays a distinctive voice of her own. The four movements span just over half an hour and after an extended introspective Larghetto the piece ends with a rambunctious Presto which despite its driving ostinato cello line eventually ends gently, not with a bang, but a whisper.
There was a hiatus of more than a decade between the quintet and the first string quartet, composed in 1971, by which time Gubaidulina's personal language had developed and matured. Gone are the tuneful themes and bouncy melodies. The writing is much more angular and pointillistic, the individual lines quite independent, and we hear suggestions of Lutosławski at his most astringent. Once again the work ends in near silence.
There was another long break before Gubaidulina returned to the chamber string medium, but 1987 saw a flurry of activity. String quartets were commissioned for the Sibelius Quartet in Finland and for the Arditti Quartet by the BBC, and a string trio was written at the request of the French broadcaster RTF. The String Quartet No.2 is a nine-minute, one-movement study in sound production focusing primarily on the note G which eventually gives way to "bowed clusters [which] mingle with melodic fragments against a backdrop of harmonics that rise up to the stratosphere of pitch" in the words of composer Robert Rival who provides the excellent booklet notes. String Quartet No.3, again in one movement, as are all of Gubaidulina's string quartets, is roughly twice the duration of its predecessor. It begins with a sparse pizzicato texture which gradually fills in, but it is not until about the halfway mark that we hear any bowed sounds at all. The piece once again ends gently, with staggered glissandos rising into the ether.
String Quartet No.4 followed a few years later, in 1993, on a commission from the Kronos Quartet. It begins with insect-like buzzing over which sparse melodic fragments gradually emerge, intertwine and build in a dramatic arch that then slowly dissolves back into "night music." At less than 12 minutes it brings the complete cycle of Gubaidulina's string quartets to a close with a total duration of about an hour. To this she has added the seven minute BACH piece which was written in 2002 at the request of the Brentano String Quartet, whose tenth anniversary project was to record Bach's Art of the Fugue with ten companion pieces by invited composers interspersed. Gubaidulina chose the final, unfinished fugue of Bach's ultimate work as her theme and as with the original it seems to end in mid-sentence.
The second disc includes the Piano Quintet discussed above and the string trio – a three-movement work once again reminiscent to my ears of Lutosławski – plus Rejoice, a 1981 composition for violin and cello. I first encountered this half-hour elegy in a CBS recording by Gidon Kremer and Yo-Yo Ma as the companion piece for Shostakovich's funereal String Quartet No.15 with its six adagio movements. Again in the words of Robert Rival "The title of the substantial sonata for violin and cello […] ought not to be taken literally, the music less expression of outward joy than metaphoric contemplation upon its stated theme." There are certainly moments of brightness along the journey, but I think that contemplation is indeed the operative word.
The Molinari is to be congratulated for this outstanding release. Recordings of this repertoire are very rare – even the two that boast the complete quartets do not include these other works – and indeed this is the only recording of the Piano Quintet that I have encountered. That being said it is hard to say whether these performances are definitive as there is so little to compare them with, but I will say unequivocally that they are very convincing and a significant contribution to our understanding of this important composer.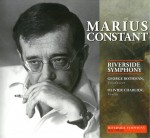 From the moment I put on the Riverside Symphony's new CD Marius Constant (riversidesymphony.org) I felt a warmth of recognition although I'd not heard the repertoire before. This was modern music in the style that I had come of age with; rich and textured, with tonal centres but forward looking, expansive and at times disturbing.
In the words of composer-director Anthony Korf (on the video segment embedded in the CD for computer playback) Marius Constant (1925-2004) "is the most famous obscure composer who ever lived." Andy Warhol claimed we would all be famous for 15 minutes, but in the case of Constant it is more like 30 seconds, the duration of his one claim to fame, the theme from television's Twilight Zone. (Esprit Orchestra conductor Alex Pauk cites Constant as the mentor whose example taught him the importance of maintaining "interlocking interests in composing and conducting." At the final concert of its 30th season in March 2013 Esprit revisited Constant's orchestration of the quirky electric guitar TV theme arranged at Pauk's request in 1989.) As an aside I would mention that as annoying as I find all the hype around the new Crave TV service, I did take advantage of it to track down an episode of that seminal TV show to listen to the catchy theme again and must admit it's still as effective as ever.
Be that as it may, the Riverside recording does not include that earworm but rather focuses on full-length orchestral scores. Its timely release coincides with that of the cinematic biopic Mr. Turner; Turner, the first piece on this disc, was inspired by three canvases by that celebrated 19th-century painter. Composed in 1961, it is the earliest work presented but shows the mature voice of an established artist already comfortable in his soundworld. As a matter of fact, the 1992 Brevissima which follows, a fully formed four-movement symphony that unfolds in a mere ten minutes, is unmistakably from the same rich palette. The violin concerto 103 Regards dans l'eau from 1981 is somewhat more angular and at times abrasive, with extended solo passages and cadenzas for the violin. The oft-times turbulent work is divided into four main movements, but is actually constructed of 103 "poetic celebrations of water" which are only revealed in the score as "stages and guides for expression" for the soloist and conductor. French violinist Olivier Charlier gives an impassioned and nuanced performance of this rarely heard work.
Co-founded in 1981 by conductor George Rothman and composer/artistic director Anthony Korf, New York's Riverside Symphony is a professional orchestra devoted to unusual repertoire – music by young composers, unfamiliar works by great masters and new works by living composers from around the world. If this debut recording on its eponymous label is any indication, they are performing yeoman service in a field all too saturated with the familiar. I wish them continued success and look forward to more intriguing releases in the future.
2014 was a good year for Canadian composer Kelly-Marie Murphy, with recordings of major chamber works by two different ensembles.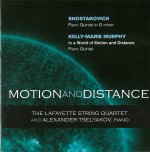 The Lafayette String Quartet (artists-in-Residence at the University of Victoria since 1981) and Alexander Tselyakov (professor of piano at Brandon University since 2003) joined forces for Motion and Distance (tselyakov.com) which features Shostakovich's Piano Quintet in G Minor and Murphy's In a World of Motion and Distance. This latter was written in 2014 on commission from the Pender Harbour Chamber Music Festival and is dedicated to these performers who play this whirlwind work with aplomb. The opening Agitato and the Presto finale are both molto perpetuo in nature and the excitement never lets up. Thank goodness the inner Dolente with its sombre cello melodies, chiming piano accompaniment and rich harmonies gives us a brief respite before the rollercoaster ride begins anew. I also welcome this dynamic new recording of the Shostakovich quintet, one of my absolute favourites!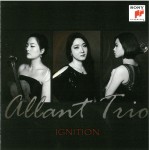 The Allant Trio includes Canadian cellist Alina Lim whose studies began at the Royal Conservatory and who has served as the principal cellist of the Toronto Symphony Youth Orchestra. Violinist Anna Park and pianist Beth Nam were both born in Korea but educated in America. They met Lim at the Juilliard School and formed the trio in 2010. This young ensemble has performed extensively in the United States, had a residency at the Banff Centre, were finalists at the Trondheim Chamber Music Festival in Norway and through the sponsorship of the U.S. Ambassador made a number of appearances in Seoul. Their debut CD Ignition (Sony Classical Korea) includes accomplished and idiomatic performances of Haydn's familiar "Gypsy" trio and Mendelssohn's lovely Piano Trio No.1 in D Minor, Op.49 (another one of my favourites) along with Murphy's exhilarating Give Me Phoenix Wings to Fly. Murphy wrote this piece for Toronto's Gryphon Trio in 1997, since which time it has become a standard in the repertoire. Inspired by the myth of the phoenix rising from the ashes and poetic fragments from John Keats and Robert Graves, it features Murphy's signature furioso tonal style in its opening and closing movements, with a hauntingly ethereal central section. I highly recommend this disc and although currently Sony only distributes the recording in Korea, it can be ordered by contacting the trio: allant.trio@gmail.com.
Concert note:On February 6 at Heliconian Hall genre-bending violinist/fiddler Anne Lindsay will launch her latest CD Soloworks (Violindsay Music anne-lindsay.com). It has been a delight listening to this eclectic disc over the past few weeks, and an education of sorts. I was not previously familiar with the nyckelharpa, a wonderfully resonant traditional Swedish viol-like instrument that it turns out, as my ears suspected, is closely related to the hurdy-gurdy; with manually bowed strings that are "fretted" by pushing down mechanical keys (which explains the at first confusing clicking sounds on the recording). I also learned that what I thought was a Beatles classic, You've Really Got a Hold On Me, was actually written by Smokey Robinson (who recorded it first with the Miracles in 1962) and that Smokey's given name was William… but perhaps you knew all that already.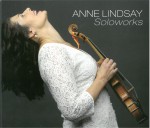 Soloworks includes 13 tracks, most of which are original compositions and all but one performed by Lindsay alone on violin, the above-mentioned nyckelharpa, piano and beautifully pure soprano voice. The one exception is Lindsay's Tour en l'Air, a lilting quasi-baroque prelude for solo cello lyrically performed by Amy Laing. (The amateur cellist in me wonders if sheet music for this lovely piece is available. Perhaps I'll ask at the launch.) My only qualm about the inclusion of this piece is that after the lush resonance of Laing's instrument the entry of the violin in the next piece sounds shrill and almost grating, although that impression is quickly forgotten as the song progresses. And speaking of songs, it impresses me no end that Lindsay can sing and play the violin at the same time. We're certainly used to that from guitarists and keyboard players, but it seems a rare feat while playing a bowed string instrument. And to add to my wonder, I get the distinct impression that in The Cold Told a Tale the piano is not overdubbed. In my mind's eye I can see her sitting on the piano bench with her foot on the sustain pedal striking a chord, bow in hand and violin under her chin, playing the fiddle line without hesitation and breaking into song, all at the same time.
One of the most effective tracks is a tribute to the late Toronto violinist Oliver Schroer who Lindsay says was her mentor. It begins with bird songs, Swainson's thrushes recorded at Clayoquot Sound, which provide a bed track for two of Schroer's compositions – Roro and Swedish Seven – performed on nyckelharpa with wordless vocals. A truly moving experience. The disc ends with Lindsay's sparse arrangement for piano and voice (and distant bells) of the timeless Amazing Grace. Amazing indeed.
We welcome your feedback and invite submissions. CDs and comments should be sent to: DISCoveries, WholeNote Media Inc., The Centre for Social Innovation, 503 – 720 Bathurst St. Toronto ON M5S 2R4. We also encourage you to visit our website thewholenote.com where you can find added features including direct links to performers, composers and record labels, and additional, expanded and archival reviews.
David Olds, DISCoveries Editor
discoveries@thewholenote.com