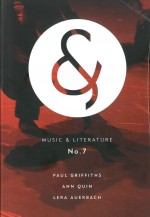 I have mentioned before that one of my great joys is when my two passions, music and literature, come together. The most recent example of this was occasioned by an email from someone I consider an old friend even though I only met him in person a year and a half ago. I'm speaking of music critic, librettist and novelist
Paul Griffiths
, who dropped me a modest note mentioning that the latest edition of the journal
Music & Literature
(No.7, ISBN 978-0-9888799-6-6)
had devoted more than a 100 pages to his creative writings. I began reading Griffiths on contemporary music some 40 years ago when I was first getting interested in "the music of our time" and found in him a welcome guiding hand through the oft-times murky waters of modern and post-modern fare. Some years later I encountered his novels
Myself and Marco Polo
and
The Lay of Sir Tristram
and was intrigued by how well he captured the voice and the spirit of distant times in a contemporary way. I was aware of his collaboration with Elliott Carter as the librettist of that American icon's one-act comic opera
What Next?
in 1999
and most recently that his novel
let me tell you
had been the source of the text for Hans Abrahamsen's orchestral song cycle of the same name. It was this latter work which brought about our meeting.
In March 2015 the Toronto Symphony Orchestra brought Abrahamsen, Griffiths and soprano Barbara Hannigan, who had been instrumental in commissioning the work, to participate in the New Creations Festival. During his time here, Griffiths gave a lecture at the University of Toronto and graciously agreed to participate in "An Evening with Paul Griffiths," a fundraising event at Gallery 345 to benefit New Music Concerts, at which portions of Carter's opera were screened. It was through my position as general manager of New Music Concerts that I had the privilege of meeting and getting to know Paul and his wife Anne West Griffiths. Anne is one of the contributors to Music & Literature No.7 in the form of a series of email exchanges with Hannigan documenting the gestation of the let me tell you project. It grew from the idea of a set of songs with piano accompaniment to commemorate Griffiths' 64th birthday, to ultimately become a half-hour-long orchestral cycle commissioned jointly by the Berlin Philharmonic Foundation and the Danish Arts Fund. The journal also includes a number of articles about that work and the texts for the three movements which Griffiths extracted from his novel.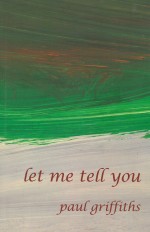 The premise of the book, and the songs, is the telling of Ophelia's backstory in her own words, using only the 483-word vocabulary which Shakespeare gives her in Hamlet. It is a sparkling achievement, but more to the point, it is moving, poetic and compelling, as I was reminded when I re-read let me tell you (ISBN: 978-1-874400-43-1) upon finishing the journal. Having been at the Toronto performance I can vouch for the haunting beauty of Abrahamsen's lush setting and I was pleased to find that there is a recording with Hannigan and the Bavarian RSO under Andris Nelsons which I have ordered from Amazon (I could not find a local source). I had hoped it would have been delivered by the time of writing this article but for now I must content myself with a YouTube excerpt from the Berlin Philharmonic. (The whole concert is available on their Digital Concert Hall.)
The scope of Music & Literature No.7 is much broader than this one work however, with several of Griffiths' unpublished fictions and writings about such musical subjects as Bach's solo violin pieces, in memoriam György Ligeti, Hearing György Kurtág reading Samuel Beckett and a (thus far) unproduced opera based on Gulliver's Travels utilizing invented languages, with composer James Wood. As is the usual format of the Music & Literature series, there are three subjects included in this volume, with extensive treatments of British avant-garde novelist Ann Quin (1936-1973) and Russian composer/pianist/poet/artist Lera Auerbach (b.1973). Well worth exploring!
Other old friends I re-visited this summer were more in the folky vein. Allan Fraser and Daisy DeBolt were a duo of adventurous singer-songwriters who performed together from 1969 until 1974 and produced two albums which were very influential in my formative years. Evidently I was far from the only one impacted by their quirky style and Fraser's Them Dance Hall Girls has become something of a cult classic still frequently heard from myriad performers on folk festival stages around the continent.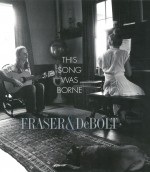 DeBolt died in 2011 and over the past five years Fraser has been compiling and cleaning up the available archival material from their time together. The result is the double LP set Fraser & DeBolt – This Song Was Borne (Roaratorio roar39 roaratorio.com) which includes 19 previously unreleased original songs and a cover of Bob Dylan's I Threw It All Away. The collection is a mix of studio recordings, live performances and radio broadcasts and the audio quality is varied but generally quite presentable. Although perhaps of most interest to existing fans of the duo, this new release paints an intriguing picture of a seminal time in the development of the Canadian folk scene. Their music included strange transitions and surprising chord progressions, atonal interludes – especially those featuring violinist Ian Guenther – and strident harmonies combined with sweet melodies and country rhythms. Highlights for me, and recently added to my own repertoire, are The Snowdrift Song and Dandelion Wine – with Calypso Joe and Doors Will Appear (…And Swing Open) soon to be added.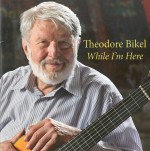 The final old friend who "stopped by" this summer was singer/actor/storyteller Theodore Bikel (1924-2015). He feels like family because Bikel is one of my mom's favourites and I grew up listening to his albums. It nearly broke her heart when she was unable to get tickets to a tribute show in conjunction with the Jewish Film Festival earlier this year. While I'm Here (Red House Records RHR CD 286 redhouserecords.com) is a marvellous 2-CD set which is being released in conjunction with the Ashkenaz Festival at Harbourfront where there will be two events honouring Bikel on September 4 (ashkenaz.ca). Disc One features a surprisingly strong-voiced 90-year-old Bikel telling stories of his life's journey from pre-war Austria to Palestine, England and ultimately the U.S.A.; warm and funny and serious and inspiring all at the same time. Disc Two is a compilation of live performances in several languages, often with witty introductions, and studio recordings spanning four decades. The highlight for me is Come Away, Melinda (Before the War), the song for which my youngest sister was named. Also worthy of note is Phil Ochs' poignant anthem When I'm Gone and Rodgers and Hammerstein's Edelweiss which they penned especially for Bikel and the original Broadway production of The Sound of Music with Mary Martin. This is a set my mother (and I) will treasure.
We welcome your feedback and invite submissions. CDs and comments should be sent to: DISCoveries, WholeNote Media Inc., The Centre for Social Innovation, 503 – 720 Bathurst St. Toronto ON M5S 2R4. We also encourage you to visit our website
thewholenote.com where you can find added features including direct links to performers, composers and record labels, "buy buttons" for online shopping and additional, expanded and archival reviews.
David Olds, DISCoveries Editor
discoveries@thewholenote.com