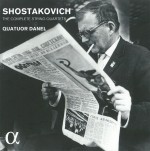 My first thought when I opened a package from Naxos and found
Shostakovich – The Complete String Quartets
with
Quatuor Danel (Alpha 226)
was, here's something for Terry Robbins' Strings Attached column. Although I love them dearly, I already have half a dozen sets of the quartets and after all, how many is enough? But then I made the mistake of opening the (Pandora's)
box
. So, sorry Terry! I was immediately immersed in the sound world that has captivated me time and again, since my first exposure almost 50 years ago with the Borodin Quartet's Melodiya-Seraphim vinyl set of the then complete quartets
Nos.1
through
13
(now available in a digitally remastered four-CD set from Chandos). I also remember being deeply moved by the Beethoven Quartet rendition of the 13th in a pairing with the late
Violin Sonata
performed by David Oistrakh and Sviatoslav Richter. That one-movement
Adagio
quartet, written in 1970, seemed at the time to be the epitome of darkness and quiet despair. As had been the case earlier in the cycle, Shostakovich followed this morose work with the almost playful
String Quartet No.14 in F-Sharp Major, Op.142
in 1973. But as we know, especially in his final years, playfulness was at a premium and the final work in the mammoth cycle returns to doom and gloom, if perhaps with quiet resignation. The
String Quartet No.15 in E-Flat Major, Op.144
(1974) is in six movements –
Elegy
,
Serenade
,
Intermezzo
,
Nocturne
,
Funeral March
and
Epilogue
– every one of which is
adagio
in tempo with the single exception of the
Funeral March
marked
adagio molto
(very slow). As I mentioned, there is much gentle resolve in this work with only occasional abrasive interjections reminding us that Shostakovich was not entirely willing, in the words of Dylan Thomas, to "go gentle into that good night."
When I started to write this I did not know what form my words would take. Having spent most of the past month revisiting these great works I have had various responses to this particular set. I initially assumed it was a new recording, but careful examination of the booklet – annoyingly printed in white text on a pale green background – reveals that it was actually recorded from 2001 to 2005 by the Bayerischen Rundfunk, and a search on the internet turned up that it was initially released on the Fuga Libera label a decade ago. Although there are extensive program notes – thankfully printed in legible black text – including an encomium by Frans C. Lemaire and a 16-page essay about the quartets themselves by David Fanning, nowhere in the 50-page bilingual booklet is there a word about the ensemble itself. Fortunately they have a comprehensive and up-to-date website (quatuordanel.eu) from which I was able to glean that one of the two Danel brothers, cellist Guy, and the violist Tony Nys, have since left the quartet. The violinists Marc Danel and Gilles Millet remain and their commitment to Shostakovich is ongoing with live performances of the quartet cycle in Manchester and Lyon in recent months. The group was founded in 1991, is based in Belgium and has a particular interest in modern and contemporary repertoire – Rihm, Lachenmann, Gubaidulina, Dusapin Jörg Widmann and Bruno Mantovani – although their upcoming recording projects focus on Tchaikovsky, Franck and late Beethoven.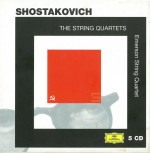 Regarding the Shostakovich set itself, I found the performances nuanced, idiomatic and convincing and at about $35 the Alpha reissue is excellent value. I have mixed feelings about the order in which the quartets are presented however. Rather than a chronological presentation, each of the five discs presents three quartets from more or less different periods. I found this most satisfying on the final disc where Quartet No.1 is followed by Quartet No.10 and then the ultimate Quartet No.15, effectively giving an overview of the composer's oeuvre in 77 minutes. Less effective was the opening disc on which we find Quartets Nos. 2, 7 and 5. Certainly for shorter listening sessions, one disc at a time, this is a well-balanced approach. But for binge listening, as I am prone to, I prefer to experience them in the order they were written. For this sort of total immersion I recommend spending just a few dollars more for the Decca reissue of the 1999 Deutsche Grammophon recording Shostakovich – The String Quartets by the Emerson String Quartet (475 7407).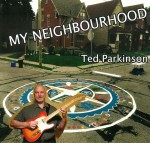 The next entry doesn't go back quite as far as my discovery of the string quartets of Dmitri Shostakovich, but I have known multi-instrumentalist, singer/songwriter Ted Parkinson for about 35 years. He is a dear friend, so unlike my usual "professional conflict of interest disclaimer," I must say outright that this relationship goes much deeper than that. A frequent participant in my backyard and house party jams, Ted always has something to add to the mix, whether it's his jazz-inspired hollow-body guitar complements to the songs of others or his own quirky compositions which run the gamut from basic blues, to pop rock and alternative ballad stylings. I have known that Ted has been working on his debut solo CD for the past four years and I've heard various mixes during that time. I am pleased to say, as are Ted and his long-suffering (no, let's just say very patient) wife Joan, that the finished product My Neighbourhood (tedparkinson.com) is now available. Like many first releases it is a compendium of many decades of creativity and, not surprisingly, many stylistic variations. Although Ted is adept at guitar, keyboards, reeds and drums, he has enlisted "professional help" for this project. His main collaborator is producer/engineer Fred Smith who suggested supplementary players to fill out the mix. Smith himself adds a couple of instruments dear to my own heart, tenor banjo and mandola.
Ted, a native of Whitehorse, came to Toronto, and later Hamilton and now Kitchener, via Victoria, B.C. The songs reflect various aspects of his geographic and emotional development. I can only assume that February Spring is a remnant of his days in Victoria. And speaking of his time on the West Coast, while doing some spring cleaning a couple of days ago I unearthed a relic of Ted's years at the University of Victoria in the form of An exciting, new, four song E.P. by The Tumours released in 1980. This punk-edged, new wave band with heavy-metal lead guitar featured my old buddy on saxophone and backing vocals. After moving to Toronto in the mid-80s Ted was for a while a member of the proto-punk band Violence and the Sacred. Not much of his "angry young man" roots remain in the songs collected on My Neighbourhood, but it was a fun trip down memory lane to listen to the long lost tracks which took me back to my own time at CKLN-FM in its heyday. Highlights of the new album include the title track, My Brother's a Mormon, Discovery and University Town. You can watch a live performance of this last on Ted's website.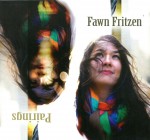 I mentioned that Ted Parkinson is a frequent flyer at my backyard music parties and last summer he brought a friend, well a Facebook friend anyway. It seems that in the ever-shrinking world of social media Ted came across another Whitehorse native, jazz singer Fawn Fritzen, and when it turned out that she was spending a few months of professional development in Toronto, he decided my backyard would be a good place to meet in person. So on a couple of occasions last season we were graced with her strong, warm voice and our folky ramblings expanded to encompass some jazz standards and torch songs.
I was pleasantly surprised when Fritzen's CD Pairings (fawnfritzen.com) appeared on my desk a couple of weeks ago. Recorded in Whitehorse and at Toronto's Canterbury Sound, the disc was produced with her longtime collaborator Daniel Janke. As the title suggests, Pairings is primarily made up of duets and features a number of iconic figures including George Koller, Reg Schwager, David Restivo, Steve Amirault, a trio comprised of Richard Underhill, Kelly Jefferson and Shirantha Beddage, and of course, producer Janke. Fritzen shows herself adept in languages with lyrics in English, German and French and a comfort zone that embraces standards (Gershwin, Caesar and Youmans, Berlin and Porter), bluesy originals, a swinging arrangement of Burton Cummings' Straighten Out and a growly Please Send Me Someone to Love. This is quite a brave project: accompanied in most instances by only one instrument (double bass, piano, jazz guitar or percussion), and occasionally in sung duet with the accompanists, Fritzen's voice benefits from this exposure and rises to every occasion.
Concert Note: Fawn Fritzen will launch Pairings with intimate performances in Toronto at Jazz Bistro on May 8, St. Catharines at the Mahtay Café on May 9, Waterloo at the Jazz Room May 10 (where accompanists will include Ted Parkinson) and Ottawa at the Steinway Piano Gallery May 11.
Shameless self-promotion: In one final note I would like to tell you about a performance coming up on Wednesday, June 15. I have often mentioned my administrative association with New Music Concerts and also the music parties in my backyard (and elsewhere). In a surprising act of bravado I will be donning my folky duds to host a fundraiser on behalf of New Music Concerts at "Coffee House 345" (aka Gallery 345 on Sorauren). I will be bringing my eclectic repertoire, 6- and 12-string guitars and a few musical friends along for the ride. Thanks to NMC's board of directors, there will be complimentary snacks and libations. More details will follow in the June edition of The WholeNote, but for advance reservations you can call 416-961-9594.
We welcome your feedback and invite submissions. CDs and comments should be sent to: DISCoveries, WholeNote Media Inc., The Centre for Social Innovation, 503 – 720 Bathurst St. Toronto ON M5S 2R4. We also encourage you to visit our website thewholenote.com where you can find added features including direct links to performers, composers and record labels, "buy buttons" for on-line shopping and additional, expanded and archival reviews.
David Olds, DISCoveries Editor
discoveries@thewholenote.com