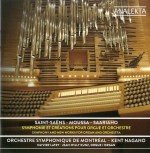 When the Orchestre symphonique de Montréal moved into its new home, the Maison symphonique in the Place des Arts in 2011, the reviews were enthusiastic for both the aesthetics and acoustics of the hall. In May 2014 the crown jewel of the edifice, Le Grand Orgue Pierre-Béique, was unveiled in concerts which included the Saint-Saëns "Organ" Symphony No.3 and new works by Montreal-born Samy Moussa and Finnish composer Kaija Saariaho. Kent Nagano was at the helm of the orchestra and the soloists were OSM organist emeritus Olivier Latry in the Saint-Saëns and Saariaho and current organist-in-residence Jean-Willy Kunz in the Moussa. The stunning performances were captured in exquisite recordings that can be found on a recent Analekta CD (AN 2 8779).
In earlier years the OSM made many of its recordings in Église de St. Eustache which offered a good acoustic and a fine organ. As the sound on this new CD attests there is no longer any reason for the OSM to leave home to make a recording, and the arrival of the new organ by Casavant Frères is the icing on the cake. The organ was designed in collaboration with the hall's architects Diamond Schmitt + Ædifica to specifications developed by Latry (now organist at the Notre-Dame Cathedral in Paris). It comprises four mechanical action keyboards, with electrical assistance, 109 registers, 83 stops, 116 ranks and 6,489 pipes.
The Saint-Saëns, the benchmark against which all other works in the genre must be measured, is well enough known that I will not go into details here. It will suffice to say that orchestra, soloist and instrument are all in splendid form and under Nagano's direction it's hard to imagine a finer performance. The new works, both commissioned by the OSM (in conjunction with Orchestre national de Lyon and London's Southbank Centre in the case of the Saariaho), are dark works that explore the sound/colour spectrum available through the combination of full orchestra and the vast resources of the "King of Instruments." Moussa, is a 30-year-old with a flourishing career in Quebec and in Germany. His A Globe Itself Infolding is a one-movement work that slowly unfolds, gradually combining dense textures with only moments of punctuation and no real melodic development but is effective and compelling. It is conceived as a stand-alone piece but also as the prelude to a possible future full-length concerto. Saariaho's Maan Varjot (Earth's Shadows) is in three movements. The first, Misterioso ma intenso, is just that, mysterious and intense without much development. This is followed by a Lento calmo in which prominent, if sparse, trumpet phrases are echoed and embellished by the organ. The final Energico opens with a blasting cadenza from the organ which is taken up and sustained by the orchestra, eventually giving way to quiet bass drum "footsteps" and a high, soft organ chord that gradually dies away. Although she has not written extensively for the instrument, Saariaho was an organist in her student years and her understanding of the medium is displayed in an effective work that brings this excellent disc to a close.
I first met Erkki-Sven Tüür at the quadrennial Estonian World Festival which was held in Toronto in 1984. At just 25 years old, he was a young composer emerging from the world of rock and roll where he was something of a star. I have followed his development in the three decades since then, both through recordings and live performances, as he has become a fully mature contemporary composer.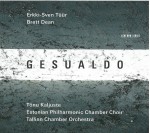 Tõnu Kaljuste, who conducted a work of Tüür's a few years ago in Toronto for Soundstreams, was the instigator of a recent recording which features Tüür and Australian composer Brett Dean. The title Gesualdo (ECM New Series 2452) refers to the Italian Renaissance composer and prince, Carlo Gesualdo, best known for his intensely expressive chromatic madrigals and for brutally murdering his first wife and her lover after finding them in flagrante delicto. The Estonian Philharmonic Chamber Choir and the Tallinn Chamber Orchestra perform under the direction of Kaljuste, who transcribed the opening track, Gesualdo's Moro lasso, for string orchestra. Dean's Carlo for choir and strings begins with a quotation from Moro lasso and other Gesualdo motives in the choir which are gradually displaced by the orchestra as we are led into a 20th-century sound world. Toward the end of the piece, in the composer's words, "Gesualdo's madrigals are eventually reduced to mere whispers of his texts and nervous breathing sounds. These eventually also grow in dramatic intensity into what may be seen as an orchestral echo of that fateful night in Naples."
At Kaljuste's request Tüür arranged Gesualdo's O crux benedicta for strings (adding some "fragile sound clouds" to the original material) and composed L'ombra della croce especially for this recording. The latter reflects the sensibility of Gesualdo's music with its sombre mood and slowly descending melody, with a brief light and joyous section just past the mid-point before returning to the murky depths.
The disc concludes with Psalmody, an earlier work which has its roots in Tüür's prog-rock band In Spe (1979-1982). Although not composed until 1993, Tüür says it was "a retrospective commentary on the music I had created in [those] years." It stands in marked contrast to the other works on the disc. Originally written for mixed chorus and the early music ensemble Hortus Musicus, it was conceived as a vehicle to bring together a minimalist diatonicism and complex atonality. In its several incarnations the atonal aspects were excised and in 2012 it was re-orchestrated and reworked for choir, double winds and brass, percussion, keyboard and strings. It is a joyous and energetic work in which the composer "aimed to step into a dialogue with the mainstream of minimalism that originates from America." I think fans of Steve Reich and John Adams would be suitably impressed. I know I was.
The other discs to pique my interest this month were a direct result of my association with New Music Concerts over the past 16 years. I first encountered the composer and clarinet virtuoso Jörg Widmann in October 2005 when Robert Aitken invited him to curate a concert of his own music on the series. He was just 32 but well on his way to a stellar double career. Since then he has returned to Toronto several times, at the invitation of the Toronto Symphony in 2012 to take part in the New Creations Festival with conductor/composer Peter Eötvös and again in 2014 for another portrait concert with NMC and to rehearse with the TSO for their European tour.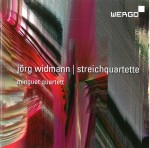 On that first NMC concert he played music of Alban Berg with pianist David Swan and three works of his own with our musicians. The highlight of the concert for me however was the Accordes' performance of Widmann's Jagdquartett – String Quartet No.3 with its vocal and extra-musical interjections and flamboyant gestures. That came right back to me while listening to a new Wergo 2CD set Jörg Widmann – Streichquartette which features all five numbered string quartets plus two short early works for the strings performed by the Minguet Quartet (WER 7316 2). The Minguet has worked extensively with Widmann over the past decade. This is actually their second recording of his quartet cycle so I think we can consider these definitive performances of very challenging works that employ myriad extended techniques.
The quartets are presented in chronological order and, as discussed extensively in the comprehensive liner notes, treated as five movements of one large work. In this way I am reminded of the Orford Quartet recording of the first five quartets of R. Murray Schafer as recorded for Centrediscs back in 1990. At the time producer David Jaeger suggested the same thing about Schafer's cycle with its interlocking themes and motives. There are other parallels between the Widmann and Schafer quartets, particularly with the vocal outbursts in both third quartets and the use of soprano (albeit much more extensively by Widmann – Claron McFadden is superb) in their respective fifths. Of course Schafer has gone on to expand his set to an even dozen, all interconnecting and all recorded by Quatuor Molinari for ATMA (atmaclassique.com). I wonder if Widmann will continue in the same fashion. At 42 he certainly has time to consider it, but he is currently booked for years in advance with opera and orchestral commissions. It has been a decade since he composed his fifth quartet and so, for the time being, we must content ourselves with this testament to the outstanding contribution to the genre by a young composer who has moved on to larger projects. The set also includes the youthful Absences for string quartet and a brief moto perpetuo movement entitled 180 beats per minute for the somewhat unusual combination of two violins, viola and three cellos. A marvellous "portrait of the artist as a young man."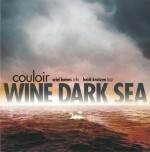 The most recent New Music Concert featured the Turning Point Ensemble from Vancouver, a large group whose members include cellist Ariel Barnes (featured in a concertante role in Linda Catlin Smith's Gold Leaf) and harpist Heidi Krutzen (not present for the Toronto performance). Together these two formed the ensemble Couloir in 2011 and have since commissioned a number of works for this somewhat unusual combination. Released in 2013 but previously unknown to me, Wine Dark Sea (Revello Records RR7879 couloir.ca) presents three of these original works: Three Meditations on Light by Jocelyn Morlock; Drifting Seeds by Baljinder Sekhon; and A monk, dancing by Glenn Buhr.
The disc opens with Vancouver composer Morlock's Meditations. The birds breathe the morning light begins quietly with the harp providing pointillistic accompaniment to a high, falling melody in the chanterelle range of the cello which gradually develops denser textures without ever losing its contemplative mood. Bioluminescence, the subtitle for which gives the album its title, while still gentle is a more dance-like movement with rhythmic harp motives shimmering under the lyrical cello melodies. Absence of Light – Gradual Reawakening begins, as we might expect, in darkness and the depths of the instruments' registers but eventually leads us back to the light with some bird-like sounds along the way, ending in warm long tones from the cello.
Sekhon is a composer and percussionist living and teaching in Florida. There are world music influences and extended techniques in his 2012 Drifting Seeds which he says "explores the social and cultural connections between individuals and societies. … While composing this work I was very interested in the idea that we are all different versions of each other." He does this by juxtaposing, layering and ultimately eliminating materials from a "collection of musical fragments. They appear at different speeds, transposition levels, and with different timbres throughout the work." It is very effective.
Kitchener-based Buhr says, "A monk, dancing is a good metaphor for a composer. We composers spend much of our time alone in our studios (monastic cells), but the task is to imagine music; so in our minds, we dance." After a long contemplative section rife with rich melodic chant-like lines in the cello, an arpeggiated transition leads to the "dance" – "bright and happy, with a beat a monk could dance to…" – before returning to contemplation.
While there is a certain sameness to the lush timbres and textures produced by harp and cello in all of the pieces, there is enough diversity to sustain interest throughout this fine recording.
At the Turning Point concert I was particularly impressed with the sound Barnes produced from his cello which he told me is a modern Portuguese instrument. On this CD he is playing another gorgeous-sounding cello, the 1730 Newland Johannes Franciscus Celoniatus on loan from the Canada Council Musical Instrument Bank. I am left with the feeling that any cello would sound great in his hands.
The only piece of music by Isang Yun that I have ever heard performed live was Novelette for flute, harp, violin and cello, presented in the context of New Music Concerts' Portrait of Toshio Hosokawa that also included Hosokawa's Memory (In memory of Isang Yun) back in May 2000. The story of Yun is an intriguing one. He was born in what is now Tongyeong, South Korea in 1917, long before the division of North and South. Yun studied and settled in Germany where he was the first Asian composer to integrate aspects of the music of his homeland into the Western Art Music tradition. Yun was a strong believer in the reunification of Korea. While living in West Berlin, along with a number of compatriots, he was in contact with North Korean representatives in East Germany trying to open cultural relations between the two Koreas. Accused of being a spy, Yun and his colleagues were kidnapped and taken to South Korea where they were imprisoned and tortured. After a year, pressure applied by the German government resulted in Yun's release and return to Germany, where, despite hoping to one day return home to a unified Korea, he remained until his death in 1995. Since that time his music has been championed in both North and South Korea where there are institutes, competitions and festivals in his name, although he is still seen as a dubious character by some.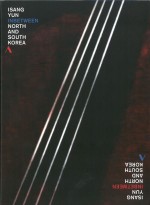 Of course there is much more to the story than that, some of which is told in Isang Yun Inbetween North and South Korea, a film by German director Maria Stodtmeier which has been released by Accentus (ACC 20208). It is an excellent introduction to the man and the music, with extended excerpts of performances of his challenging and virtuosic compositions – of special interest to me was the extremely demanding Cello Concerto – as well as moving reminiscences of him as a teacher, mentor and composer of popular school anthems, which continued to be performed anonymously during the period when his music was banned in his homeland.
We welcome your feedback and invite submissions. CDs and comments should be sent to: DISCoveries, WholeNote Media Inc., The Centre for Social Innovation, 503 – 720 Bathurst St. Toronto ON M5S 2R4.