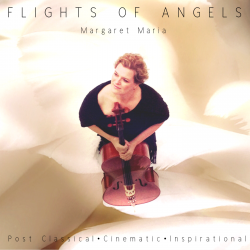 While I don't personally put much store in celestial beings, in these dire times I concede that we need all the help, comfort and support we can get anywhere we can find it. It seems that the extraordinary cellist Margaret Maria firmly believes in angels, and they are an ongoing source of inspiration in her work. Her latest, Flights of Angels (enchanten.bandcamp.com), once again creates an orchestral texture by combining many layers of sounds generated by her solo cello. From the artist's website (enchanten.com) we learn this is meant to be: "Healing music being released into a broken world. Music created from otherworldly energies and the spirit world that can only be felt when you open your spirit to the invisible that exists just beyond what we can see. This music represents my spiritual journey in finding my music and moments of subconscious/dream states where I felt compelled to move in a certain direction, as if guided by a light towards an idea or emotion…"
Beginning with Snow Angel, "overjoyed by the dancing snowflakes as they descend upon her wings," we embark upon a journey that takes us through many states of being and consciousness: An Impossible Gift (to feel everything, to be a channel for both the dark and the light); An Angel for Maria (a special angel or spirit... one of the most beautiful Angels); Another World Opens (limitless, timeless, expansive); Tears of an Angel (listening to the sadness in the world); Passing Through (reality passes in and out of consciousness and finally, through); Breathtaking Light (a liminal light... made of half earth and half heaven); What If (...what if / In your dream / You went to heaven / And there plucked a strange and beautiful flower...); Floating Hope (the strongest emotion that keeps propelling me forward is hope...); And They Kept Kissing (heaven on earth to my tortured soul); Be Love (...a place where I can float in a space of love) and finally Princes of Heaven (I have been sent four Archangels in my life...).
Having disclosed my scepticism of celestial creatures I must consider it a coincidence that as I write this on April 21 while listening to Snow Angel I am enchanted to find myself watching a veritable blizzard outside my window. It has now passed and it's a beautiful, albeit blustery, sunny day. Hopefully, like the late season snow, the COVID-19 virus too shall pass quickly. In the interim I take heart from Margaret Maria's music. It does have healing powers, if the calm and gentle invigoration I've been feeling while listening is any indication.
As with almost everyone I am sure, self-isolation (with my dear wife Sharon) has curtailed much of my activity, foremost that of making music with other people. As regular readers will know, I am an avid amateur cellist, and in the months before this lockdown my string quartet had been working on several movements from Richard Krug's arrangement of Schubert's Winterreise. We were almost ready to bring in a singer to work with us when the pandemic reared its ugly head and all bets were off for the moment. I first encountered the string quartet version several years ago when I received a recording with baritone Johan Reuter and the Copenhagen String Quartet, of which Krug is the cellist (you can find my April 2018 review at thewholenote.com). Last fall, in my first outing following knee replacement surgery, I had the pleasure of experiencing a live performance by Daniel Lichti and the Penderecki String Quartet, during which I found myself thinking, hey, I could play (at least some of) that! I contacted Krug and purchased the score and parts to his arrangement and shortly after began to rehearse with my friends.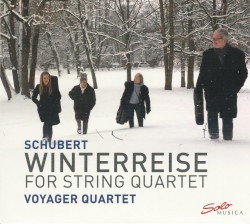 I look forward to getting back to rehearsal as soon as this crisis is over, but in the interim another interesting transcription has come my way. Winterreise for string quartet (Solo Musica SM 335 naxosdirect.com) is a purely instrumental version of the classic song cycle arranged by Andreas Höricht, violist of the featured Voyager Quartet. Höricht has taken half of the original songs and linked them with intermezzi of his own design to make a 50-minute suite (the entire cycle spans about 75 minutes). I have mixed feelings about the result. While it works quite well in its own right, and of course Schubert's tunes are among the finest, I still miss the singer and the emotional content provided by the words. And I miss some of the songs, most particularly two of the ones my group has been focused on, Die Wetterfahne and Erstarrung, this latter presenting the most difficult challenge to the cellist in Krug's arrangement and the one on which I have spent the most time and effort. That being said, Höricht's interludes provide useful bridges between the selected songs and bring a contemporary sensibility without being particularly jarring. He has chosen seven songs from the first 19 of the cycle, but presents the final five in sequence ending, of course, with the Der Leiermann (The Hurdy-Gurdy man) in a suitably haunting performance.
I say "of course" but in another transmogrification of Winterreise this was not the case. In January of this year Philippe Sly and the Chimera Project brought a live performance of their stunning Klezmer/Roma arrangement for baritone, violin, clarinet, trombone and accordion to Koerner Hall. In their rendition – fully staged and performed entirely from memory – the evening begins with a surprisingly peppy instrumental version of the opening song Gute Nacht before proceeding through the other 23 songs in order. After Der Leiermann with the singer accompanied by the quartet, instead of being the end of the performance, Sly, alone on the stage, then gave a chilling rendition of Gute Nacht accompanying himself on the hurdy-gurdy. It was unsettling and has stayed with me ever since. You can find Pamela Margles' June 2019 review of the Chimera Project Analekta recording at thewholenote.com.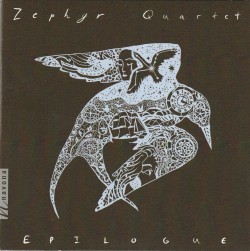 Other than the music of Peter Sculthorpe, I'm not well versed in Australian culture or repertoire, but from the opening strains of Hilary Kleinig's Great White Bird on the Zephyr Quartet's new CD Epilogue (navonarecords.com) I knew I was listening to music from Down Under, with its drones, overtones and distinctive rhythms. Touted as Australia's "leading genre-defying explorers of dynamic cross-artform, multi-focused collaborations," Zephyr was founded in 1999 and has since garnered numerous awards and accolades. The members all compose, arrange and improvise and their latest release brings together works written by them between 2013 and 2019. Cellist Kleinig contributes three tuneful works, Cockatoos and Exquisite Peace in addition to the opening number. Violinist Belinda Gehlert is represented by the three-movement tribute to notorious women Femme Fatale and the concluding title track. Violinist Emily Tulloch and violist Jason Thomas each contribute a pair. Tulloch's Blindfold Gift starts as a gentle pizzicato meditation which turns into a minimalist lilting jig of sorts. Much like the disc itself, Thomas' Time's Timeless Art, the longest selection, is one extended harmonious arch in which time indeed seems to stand still. A balm for these troubled times.
Treasures from the New World (Somm Recordings SOMMCD 0609
naxosdirect.com) features piano quintets by Amy Beach (1867-1944) and Henrique Oswald (1852-1931) performed by Clélia Iruzun and the Coull Quartet. Beach's Piano Quintet dates from 1908 and had more than 40 performances during her lifetime. She premiered it with the Kneisel Quartet, with whom she had previously performed the quintets of Schumann and Brahms. While exhibiting both a distinctive and mature voice, the work acknowledges the early influence of those two masters.
Although Beach has been receiving well-deserved attention recently and recordings of her music are proliferating – there are currently 19 titles listed on Grigorian.com – Henrique Oswald is a new name to me. He was born in Brazil of Swiss and Italian parents and after early studies in São Paulo he travelled to Italy to study and remained in Florence for some 30 years. He returned to Brazil in 1902 where he accepted the post of director of the Instituto Nacional de Música in Rio de Janeiro. His influences were primarily the French Romantics and he was dubbed "the Brazilian Fauré" by his friend Arthur Rubinstein. Composed in 1895, toward the end of his sojourn in Florence, the Piano Quintet reflects not only his fondness of French idioms, its outer movements look back to the music of Robert Schumann, making a wonderful pairing with Beach's quintet.
The charming disc also includes a short work for piano and ensemble by Brazilian Marlos Nobre (b.1939) who says "I can say I am a contemporary composer still capable of writing a beautiful melody," and Beach's celebrated Romance for Violin and Piano with Iruzun and Roger Coull. The performances throughout are idiomatic and compelling.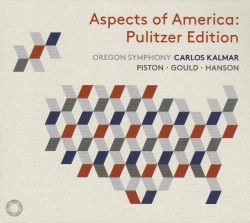 The final disc that caught my attention this month also features music from the New World, in this case mid-to-late century works by distinguished American composers. Aspects of America: Pulitzer Edition (PentaTone PTC 5186 763
pentatonemusic.com) features Pulitzer Prize-winning works by Walter Piston, Morton Gould and Howard Hanson performed by the Oregon Symphony under Carlos Kalmar. It was Hanson (1896-1981) that drew me to this disc, as he was the one to convince Canadian icon John Weinzweig to pursue a master's degree at the Eastman School of Music in Rochester NY, where he studied under Bernard Rogers in the years before WW2. Although not a result of the formal teaching he received there, this period proved seminal in Weinzweig's development by virtue of his exposure to 12-tone composition through the works of Alban Berg which he found in the school library. While he didn't become a strict serialist, Weinzweig did incorporate dodecaphonic principles into his own compositions, seemingly the first Canadian to so, and later passed them on to his own students at the University of Toronto.
Hanson, himself, was considered a neo-Romantic composer by his peers. He personally rejected the serial approach although he did incorporate some dissonance and bi-tonality in his work. He won the Pulitzer in 1944 for his Symphony No.4, Op.34 "Requiem." This is one of seven symphonies and Hanson claimed it as his favourite. It's in four movements, named for parts of the Catholic Mass for the Dead: Kyrie, Resquiescat, Dies irae and Lux aeterna. Although the earliest work here, it is placed last on the program, with its "eternal light" providing an uplifting and ethereal closing to the disc. There is no mention in the notes as to whether the symphony references the global war that was raging at the time of composition.
Chronologically next, Piston's Symphony No.7, is the first selection on the disc. Piston (1894-1976) studied in France with Nadia Boulanger and Paul Dukas after attending Harvard, where he later taught from 1926 until retiring in 1960. His illustrious students included the likes of Elliott Carter and Leonard Bernstein. His textbook, Harmony, was published in 1941 and is still in use today. The Pulitzer he won in 1961 for the Seventh Symphony was actually his second, the first being awarded for his Third Symphony in 1948. The Seventh starts ponderously but soon develops into a driving Con moto before receding quietly. This is followed by a meditative Andante pastorale movement; the symphony finishes with a boisterous Allegro festevole.
The most recent work is Stringmusic by Morton Gould (1913-1996) which won the Pulitzer in 1995. It was written for Mstislav Rostropovich and "showcases all the possible sounds and colours of a string orchestra," although anyone familiar with Penderecki's Threnody for the Victims of Hiroshima might disagree. It's a lyrical five-movement work – Prelude, Tango, Dirge, Ballad and Strum (perpetual motion) – which serves as a fitting monument to the life of a man whose eclectic career spanned vaudeville and Tin Pan Alley to Broadway and concert halls around the world. This excellent disc is part of an ongoing tribute to American music from PentaTone and the Oregon Symphony.
We invite submissions. CDs, DVDs and comments should be sent to: DISCoveries, WholeNote Media Inc., The Centre for Social Innovation, 503 – 720 Bathurst St. Toronto ON M5S 2R4.
David Olds, DISCoveries Editor
discoveries@thewholenote.com