I have enjoyed the extended hiatus since the last issue and took advantage of the break to spend almost a month away from my computer and my stereo system; a kind of purge during which the only music I experienced was the sound of waves pounding the shore of Lake Erie, loon calls across Canning Lake and the wind in the trees in my backyard accompanying the chattering of squirrels and chirping birds. Oh, and some homemade string music with a few friends. It was lovely to be "unplugged."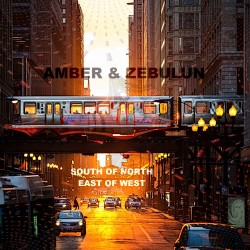 When I was back at my desk, I found solace in a unique recording by two (now) local musicians Amber & Zebulun whose self-described "ambient instrumental post-rock music" provided a perfect background as I faced the daunting task of editing nearly a hundred reviews that had been filed in my absence. South of North, East of West (amberzebulun.bandcamp.com) also rewards as foreground listening, but its gentle ambience was just what I needed to help keep me focussed. Born in Yellowknife NT, and raised in Marysville ON, Amber Walton-Amar is a classically trained cellist. Husband Zebulun (Zebulun X Barnow, although I had to do some Googling to find that out), originally from Marquette MI via Chicago IL, is a multi-instrumentalist who seems to be responsible for the plucked and bowed bass lines, drum kit and melodic mallet instrument layers here. They have been making music together for more than a decade since first getting together in a Chicago-based Tom Waits cover band (an unusual context in which to find a cello). The liner notes tell us "South of North, East of West is about who you are, as defined by where you are. […] The meaning of each of [the] four directions is defined by its opposite, its relationship to the others. If we remove the meaning of our origin, of our destination, we are either lost or exactly where we should be." With intriguing titles such as Cognitive Dissonance, Advice by Coincidence and Forgiving Garden, the music itself is mesmerizing; mellow and melodic, generally slow-paced with long cello lines, often in tandem with bowed double bass, soaring over compelling rhythm beds. It did indeed place me "exactly where I should be."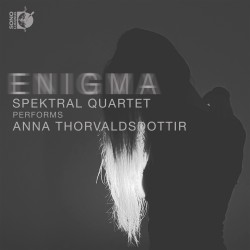 A disc that I had spent some time with before my self-imposed exile from technology provided a welcome re-entry into the craggy world of contemporary string writing upon my return. Icelandic composer Anna Thorvaldsdottir has embarked on a long-term multidisciplinary project with the Spektral Quartet and video artist Sigurdur Gudjonsson entitled Enigma. Ultimately there will be a 360-degree immersive film magnifying the music when it is performed in the Adler Planetarium in Chicago and later taken on a national planetarium tour, but like so many current projects that has been put on hold during COVID-19. What we have at this point is a Sono Luminus audio recording of the striking three-movement, half-hour-long quartet (DSL-92250 sonoluminus.com). Like much of her music, which has garnered the Nordic Council Music Prize, the New York Philharmonic's Kravis Emerging Composer and the Lincoln Center's Emerging Artist Awards, Enigma is replete with extended techniques, extra-musical effects, unusual timbres and juxtapositions. There are few melodies per se, but rather moments and strings of events that constantly surprise and command rapt attention. Ranging from near silence, eerie harmonics and glissandi to percussive bursts, scratches and scrapes, there is also a meditative final section reminiscent of medieval harmonies that gradually rise in pitch and fade into breath sounds or, perhaps, the gentle lapping of waves upon a shoreline. The three-time Grammy-nominated Spektral Quartet is obviously well within its comfort zone with this challenging though beautiful music, even while the listener is sometimes left discomfited.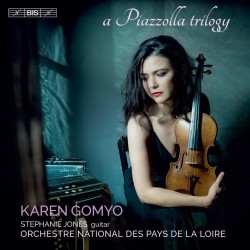 The final disc this month is the most traditional, although there was a time not too long ago when the music of Astor Piazzolla (1921-1992) was considered outside the mainstream. There has been a wealth of discs released in recent months in celebration of his centenary – you'll find Tiina Kiik's appraisal of one of them in the Modern and Contemporary section of this issue. Another is A Piazzolla Trilogy (BIS 2385 SACD bis.se) which features violinist Karen Gomyo who was born in Tokyo, raised in Montreal and studied at the Juilliard School at the invitation of Dorothy DeLay, before embarking on an international career as soloist and chamber musician. She is heard here performing a selection of unaccompanied Tango Etudes (1987), joining guitarist Stephanie Jones in Histoire du Tango (1986) and as soloist and director of L'Orchestre national des Pays de la Loire in Cuatro Estaciones Porteñas (The Four Seasons of Buenos Aires).
Among the interesting biographical information included in Eric Johns' extensive essay in the program booklet is that, at its first performance, Piazzolla's Sinfonía Buenos Aires Op.15 (1951) "scandalized the audience to the point of fistfights and shouting, supposedly in response to the inclusion of two bandoneóns [concertinas] in an orchestral work." It seems that he managed to alienate the tango community as well, with his introduction of classical stylings, techniques and instrumentation to the traditional form. Eventually, as we know, his Nuevo Tango style became widely accepted and is now lauded in concert and dance halls alike. Although originally written for flute, both the Etudes and Histoire are published in alternate versions for violin, and are well suited to the stringed instrument which, along with bandoneón and flute, was a staple in the traditional tango ensemble. In fact, again from Johns' notes, "When performed on violin, Etude No.5 allows for the inclusion of double-stops, impossible on flute, to outline the alternation in the rhythmic pattern between 3+3+2, 3+2+3 and 4+4."
Cuatro Estaciones Porteñas was originally scored for Piazzolla's quintet of violin/viola, piano, electric guitar, double bass and bandoneón but is heard here in a string orchestra arrangement by Leonid Desyatnikov. It is the earliest work presented here, having been written between 1965 and 1970. It was not originally conceived of as a suite – the first movement Verano (Summer) was written as incidental music for a play by Alberto Rodríguez Muñoz – nor evidently as a tribute to Vivaldi, but there are a number of quotations from that Baroque master's own Quattro Stagioni and it certainly serves as one.
Gomyo's playing is stellar throughout, full of idiomatic nuance and enthusiasm, with a rich warm tone in the lilting melodies, but suitably gruff as the sometimes gritty music requires. The same is true of Jones' guitar, lyrical and percussive by turns. There is a lovely cello solo in Otoño Porteña (Autumn) superbly performed by Paul Ben Soussan, but the highlight of the movement is Gomyo's extended and extravagant cadenza. A fine disc, and a wonderful centennial tribute to the Argentine master.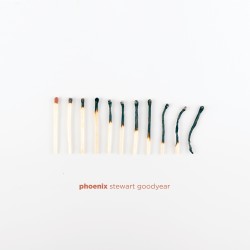 Well, I thought that was all I had this time around, but as I was putting the finishing touches on my screed I received an advance copy of the latest from Toronto (former) wunderkind Stewart Goodyear. Phoenix (Bright Shiny Things BSTC-0154 brightshiny.ninja) will be released on October 8 and adds a glimpse into yet another side of this many-faceted musical force to an already impressive discography. The press release tells us that "The ashes from which Phoenix rises are, as the pianist says: the 'soundworld, past traditions, and gestures of Franz Liszt' [who was] thought to have had a profound influence on Debussy and Ravel, the latter of whom famously orchestrated Mussorgsky's Pictures at an Exhibition." Mussorgsky's masterwork, masterfully performed in the original solo piano version, is the centrepiece of this impressive sonic essay. The disc is bookended by unaccompanied renditions of original works by Goodyear himself – the quasi moto perpetuo Congotay, recently released as a single with his jazz quintet, and the ebullient Panorama, extracted from Callaloo, a Gershwin-inspired work for piano and orchestra – both based on his half-Trinidadian heritage. Jennifer Higdon's Secret and Glass Gardens, called by the composer "a journey of wonder and discovery" that "reflects the paths of our hearts," is contrasted by Anthony Davis' more introspective and ultimately tumultuous Middle Passage, inspired by a poem of Robert Hayden that, according to Davis, "speaks to the essential irony of our people and culture born of the horror of slavery." Middle Passage includes two sections in which the performer is instructed to improvise and this recording marks Goodyear's debut as an improvising pianist. Two works by Debussy, L'isle joyeuse and La cathédrale engloutie, complete a thoughtful and fascinating disc.
We invite submissions. CDs, DVDs and comments should be sent to: DISCoveries, WholeNote Media Inc., The Centre for Social Innovation, 503 – 720 Bathurst St. Toronto ON M5S 2R4.
David Olds, DISCoveries Editor
discoveries@thewholenote.com