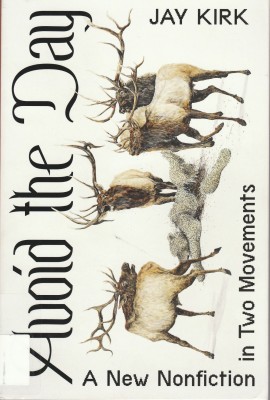 This month, once again, a good book has brought me back to some of my favourite music and provided a few discoveries. Avoid the Day: A New Nonfiction in Two Movements by Jay Kirk (Harper Perennial harpercollins.ca/9780062356178/avoid-the-day) is an intriguing read on many levels. The two "movements" have completely different settings and contexts: the search for the autograph score of Bartók's String Quartet No.3 which takes us to the University of Pennsylvania, the city of Budapest and ultimately to Transylvania; and a luxury eco-cruise to the land of the midnight sun. This latter is ostensibly for the purpose of producing a documentary for a travel magazine, but the author's and director's creative impulses kick in and the project turns into a horror film, referencing Frankenstein's monster's banishment to the Arctic and various Hollow Earth theories, with a nod to Thomas Pynchon's Against the Day. Each adventure conveniently provides Kirk with an excuse to "avoid" spending time with his father, on his deathbed back in the United States. Somewhat reminiscent of Karl Ove Knausgaard's autofiction My Struggle, although at 370 pages only about ten percent of its length, Avoid the Day is a no-holds-barred exposé of some of Kirk's seedier sides – alcohol and barbiturate abuse being primary preoccupations. This would not normally be of interest to me, but the tales are so well written and cleverly layered that I found it compelling. And of course the musical references were like so many bread crumbs for me to follow.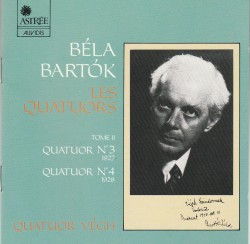 Music is the major focus of the first movement and I found myself digging deep into my vinyl collection to find recordings of some of the works mentioned, including Bartók's Bluebeard's Castle and Cantata Profana – talk about dark nights of the soul! – and his final work, the Third Piano Concerto. It must be 30 years since I listened to any of these pieces, well, 28 for Bluebeard, because I did attend the COC's original presentation of Robert LePage's production in 1992. I found I had two recordings of the Cantata. The Romanian legend of The Nine Enchanted Stags tells the story of a widowed father's shiftless sons, whose only skills are hunting and hanging out in the woods, who are transformed into magnificent animals with enormous racks of antlers, and of the subsequent confrontation with their father. I was surprised to realize that my Turnabout Vox recording is sung in English. It seems Bartók translated the Romanian story into Hungarian and added some texts of his own to provide the libretto and although it was completed in 1930, its premiere was in London in 1934, performed in an English translation. The Cantata was not presented in Hungary in Bartók's original translation until 1936 and it is this version found on the Hungaroton Bartók Béla Complete Edition. In both performances the lead stag's solos – tenors Murray Dickie in English and Jószef Réti in Hungarian – are stunning. My 1973 Angel LP of the Third Piano Concerto features Daniel Barenboim as soloist, with Pierre Boulez conducting the New Philharmonia Orchestra. Need I say more?
My first exposure to Bartók's six string quartets was the historic 1959 recording – the first American recording of the cycle, I believe – by the Fine Arts Quartet, which I found on the budget Concert-Disc label at Sam the Record Man around the time I began collecting in the early 70s. The music was an epiphany for me and provided one of my earliest entries into the world of "contemporary" music, notwithstanding the fact that Bartók had died almost three decades before. This was soon followed by the Juilliard String Quartet's 1963 Columbia cycle, on vinyl at the time but now available on Sony CD, and then, under the tutelage of Eddie Santolini, my mentor at Sam's, the (perhaps) definitive 1972 recording by Quatuor Végh. The quartet's leader Sandor Végh had completed his studies at the Franz Liszt Academy of Music in Budapest in 1930 and worked with Bartók on the Hungarian premiere of the String Quartet No.5 as a member of the Hungarian String Quartet before the composer fled Europe for the United States in 1939. Végh founded his own quartet the following year. Since that time almost every string quartet of note has undertaken to climb these legendary peaks and you can find reviews of some of the most notable ascents in our archives at thewholenote.com, including those of the Vermeer, Penderecki, Hungarian, Guarneri, Alexander, Chiara, Arcadia and Takács Quartets.
I have twice in my life had the pleasure and privilege of hearing all six Bartók quartets performed live over a two-day period, once by the Juilliard at the Guelph Spring Festival in my formative years and about 15 years ago by the Penderecki at the Kitchener-Waterloo Chamber Music Society. Both were incredible experiences and I recommend the recordings of these ensembles, but for me, the ultimate is still the Quatuor Végh which I am sorry to say I never had the opportunity to hear in person. They disbanded in 1980 and Végh died in 1997 in Salzburg where he had taught at the Mozarteum for the last two and a half decades of his life.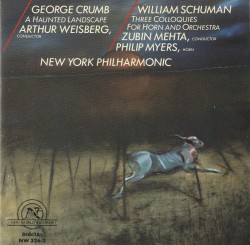 George Crumb makes an appearance in Avoid the Day as part of Kirk's quest for the Bartók score, and the music that is mentioned is Songs, Drones and Refrains of Death and, one of my favourites, the orchestral masterpiece A Haunted Landscape. I came to know the latter from a New World Records vinyl release featuring Arthur Weisberg and the New York Philharmonic – who commissioned it and gave the premiere performance. There is also a fine CD recording available from Bridge Records featuring the Warsaw Philharmonic under the direction of Thomas Conlin. It is an ethereal, mysterious and at times bombastic work in which a low B-flat drone by two scordatura double basses, sustained throughout the work, adds to the eerie ambiance. The composer tells us A Haunted Landscape "is not programmatic in any sense. The title reflects my feeling that certain places on the planet Earth are imbued with an aura of mystery…" He goes on to say "contemplation of a landscape can induce complex psychological states, and perhaps music is an ideal medium for delineating the subtle nuances […] that hover between the subliminal and the conscious."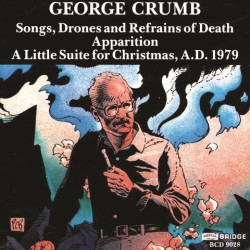 Songs, Drones and Refrains of Death is the fourth in a cycle of eight chamber settings of poetry by Federico García Lorca which Crumb composed between 1963 and 1970. Although I do know the four books of Madrigals that make up half of the series, and the 1986 postscript, Federico's Little Songs for Children, I was not previously familiar with this work and I would like to thank Bridge Records for graciously providing me with a recording to facilitate this article (bridgerecords.com /products/9028). Songs, Drones and Refrains of Death is scored for baritone (in this case Sanford Sylvan), electric guitar, electric contrabass, electric piano/harpsichord and two percussion, performed by members of Speculum Musicae. As with many of Crumb's works the dynamic range extends from barely audible to ferocious explosions of sound, and the vocal lines are often angst ridden, reflecting the nature of the texts. As William K. Bland tells us in his program note, "Throughout the entire range of Crumb's compositions symbology has been a central aspect of his communicative language. [Here] several musical and philosophical symbologies are present. These range from the overt musical 'illustrations' of the text […] to the cycle-spanning metaphysical implications of the Death Drone. […] Like many of Mahler's works, Songs, Drones and Refrains of Death has its beginning in the contemplation of Death, and its ending in the affirmation of the promise of a peace-filled transfiguration." Incidentally, I had the pleasure of meeting and spending time with George Crumb and his family during the preparations for a New Music Concerts performance which included the Canadian premiere of Federico's Little Songs for Children with soprano Teri Dunn, Robert Aitken (flute) and Erica Goodman (harp) at Glenn Gould Studio in 2003.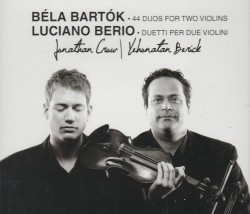 That already seems like a lot of listening to come out of the reading of a single book, one not ostensibly about music, but I will add a couple of footnotes before I move on from this nearly month-long journey. The first involves Bartók's 44 Duos for Two Violins, written in 1931 just after completion of the Cantata Profana and four years after String Quartet No.3. When Kirk travels to Hungary in Avoid the Day his translator is "Bob," originally from Teaneck, New Jersey via the Bronx, but who has lived in Budapest for 30 years. Kirk tells us that Bob's "main thing is klezmer. Not the honky-wonky clarinet-heavy wedding band American klezmer. His specific niche: Carpathian klezmer. He spent years tracking down the sacred-original stuff in Transylvania." After learning what he can at Béla Bartók Memorial House in Budapest, Kirk is dragged off into the wilds of Transylvania by Bob to experience some of the authentic music that Bartók spent several years collecting on wax cylinders a century ago, research that would profoundly affect his own music and ultimately the art music of the 20th century. Although he assimilated the influences of these hundreds-of-years-old folk songs seamlessly into his own concert works, many of the peasant melodies and rhythms can be found in a more unadulterated form in Bartók's pedagogical works, especially the Mikrokosmos collection for piano(s) and the violin duos. It was a real pleasure to discover on my shelf a recording that I had forgotten about of these duos. In 2008 violinists Yehonatan Berick and Jonathan Crow recorded the Bartók along with Luciano Berio's Duetti per due violini for the XXI label (yehonatanberick.com/recordings). I knew the Bartók on vinyl from the Hungaroton Bartók Béla Complete Edition but was unfamiliar with the Berio until this release came my way a decade ago. While Bartók organized his duets in order of difficulty as a primer for violin students, culminating in the challenging Pizzicato, Allegretto, reminiscent of the fourth movement of the String Quartet No.4 and Transylvanian Dance (Ardeliana), Berio's set (1979-1983) is arranged chronologically by date of composition. Each brief piece is named for a friend or colleague and the set begins appropriately with Béla (Bartók). Other names I recognize are Vinko (Globokar), Pierre (Boulez), Mauricio (Kagel), all of whom I had the pleasure of meeting during my years at New Music Concerts, Henri (Pousseur), Bruno (Maderna) and Igor (Stravinsky). As with the Bartók, the pieces are at various levels of difficulty, but rather than being performed progressively Berio envisioned a stage performance by at least a dozen pairs of violinists of varying degrees of skill. The rousing final piece, Edoardo (Sanguineti), is conceived for violin choir where all of the performers join in on the two lines of the duet. Currently concertmaster of the Toronto Symphony Orchestra, at the time of this recording Crow was teaching at the Schulich School of Music at McGill University where he had previously obtained a Bachelor of Music in Honours Performance studying with Berick. In this performance of Edoardo the two are joined by a host of violinists who (I assume) are their colleagues and students from McGill.
The final note is about an anachronism that stuck out in Avoid the Day, when Kirk was musing while on the eco-cruise ship about the last minutes of the Titanic. Legend has it that the resident string quartet was playing Nearer My God to Thee as the ship sank, but he wonders if they wouldn't have played something "more important, like Berg's Lyric Suite." I realize that this is just wishful speculation and he does not suggest that they actually could have played that piece, but it struck me as a strange choice since Alban Berg would not write his suite until more than a dozen years after that maritime disaster. Nevertheless, it sent me back to the library to dig out my Lasalle Quartet recording of the string quartets of the Second Viennese School to find another old friend in the Lyric Suite. Once again I have the Deutsche Grammophon set on vinyl, but for convenience sake I chose the CD reissue.
To put closure to all this, I also revisited my vinyl collection to find Gavin Bryars' chilling The Sinking of the Titanic with the Cockpit Ensemble on Brian Eno's Obscure label. That haunting performance can now be heard on YouTube (youtube.com/watch?v=2oVMRADOq5s).
We invite submissions. CDs, DVDs and comments should be sent to: DISCoveries, WholeNote Media Inc., The Centre for Social Innovation, 503 – 720 Bathurst St. Toronto ON M5S 2R4.
David Olds, DISCoveries Editor
discoveries@thewholenote.com