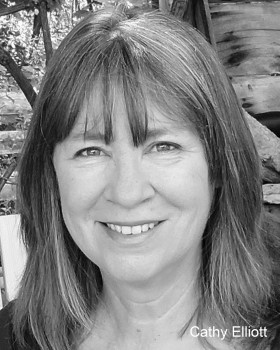 I first met Cathy Elliott back in the early summer of 2004 when I stage managed her in an experimental musical production at the Toronto Fringe Festival. The days were long and intense, yet Cathy's spirit shone through all of the stress with her laughter-infused genuine warmth and caring for everyone in the company.
More recently, when I started to adapt and direct Shakespeare plays for the DAREArts Foundation's summer camps our paths crossed again, as Cathy wore many hats for DA in marketing and publicity as well as her now almost legendary work with the foundation in First Nations communities in Northern Ontario. One memorable summer she came to our rescue when the artist in charge of teaching our campers about set design was called away at the last minute. Cathy was there, ideas and plans ready to implement, energy to burn and to spare, to make everything work out well.
In mid-October of this year I heard with delight that she had just completed a very successful first workshop of the new musical Starlight Tours at Sheridan College, and Facebook was full of glowing posts from the participants about the inspiration of working with her. Created by Cathy with Leslie Arden, this musical, like a lot of her most recent work, combined two central themes in her life – her brilliant talent as a musical theatre creator and her desire to honour and share her heritage as an Indigenous artist and proud member of the Mi'kmaq nation.
The next day, October 16, I was shocked to hear that she was gone, killed the night before by a car while walking near her home in Alliston, Ontario. This was even more of a shock since her career was just beginning to soar, with her acclaimed performance this year in Corey Payette's new musical about the residential schools, Children of God, at Urban Ink in Vancouver and at the National Arts Centre in Ottawa. There was also the successful workshopping of Starlight Tours, her recent one-woman musical Moving Day, and another new musical very close to her heart, Lonecloud, about to begin its public journey at Native Earth Performing Arts' Weesageechak Festival this week.
This past Sunday, November 19, there was a beautiful celebration of Cathy organized by her partner, Leslie Arden, and Native Earth, at their performance space at Daniel's Spectrum in Regent Park. It was an amazing evening, not only moving but joyous, full of love and laughter, many stories from her friends and family, and performances from her musicals.
It was also a showcase of her work over the years: several songs from The Talking Stick commissioned by the Charlottetown Festival in 2011, the first all-Indigenous musical performed there; a sweet and moving solo from Silas Marner sung by the ageless Glynis Ranney; scenes from Lonecloud featuring Herbie Barnes in the title role of the Mi'kmaq medicine man who performed in Wild West shows; and excerpts from Fireweeds: Women of the Yukon from 1993, the musical she researched while performing as Diamond Tooth Gertie in the Yukon. The songs from this musical were feminist and galvanizing – why isn't this a more widely known classic of Canadian musical theatre? The evening wrapped up with a magical rendition of "Stories Have Souls" from the in-progress Lonecloud sung by Arden, and then Cathy herself in a recorded version of From the Heart from The Talking Stick, to a final video photo montage (created by Michael Morey).
These last two songs can be seen as theme songs for Cathy, combining as they do the use of music to tell stories, the content of those stories being rooted in her Indigenous heritage and her desire to explore and share that heritage with the world – and, even if those stories begin in darkness like Starlight Tours, always looking for messages of love and hope.
These goals seem to have really begun when Cathy was the first Indigenous artist invited to join the charitable foundation DAREarts, as they headed up north to Webequie for their first time working with Indigenous youth, using arts, story and song to give confidence and inspire leadership. This was a partnership with Cathy that continued for ten years, only stopped by her passing, and would include her directing a documentary film about the experience, Fill My Hollow Bones, narrated by Graham Greene.
Marilyn Field, founder and director of DAREArts, has spoken about how that first trip for Cathy "was the beginning of her embracing and finding her Indigenous self," that she seemed to find "her voice coming from deep inside herself." Laura Mackinnon, lead teacher for DAREArts, who worked with Cathy for five years travelling all over the remote areas of the North (even to Tuktoyaktuk in the Arctic), put into words what many are feeling: "She taught me so much about Indigenous culture, about artistic generosity, storytelling and the power of a limitless imagination."
Cathy leaves an immense legacy that we are lucky to have.
Sheridan College has established a Cathy Elliott Memorial Scholarship for Indigenous students: Sheridancollege.ca/giving-to-sheridan/ways-to-give/memorial-or-tribute-giving/cathy-elliott-memorial-scholarship.aspx; and DAREArts has created the Cathy Elliott Fund to Empower Indigenous Youth – darearts.com.