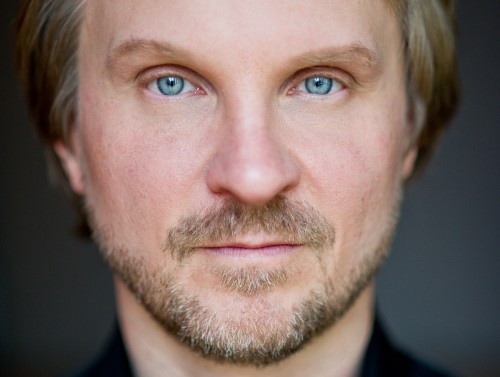 Sometimes unexpected sad news sweeps through a community like a sharply drawn inbreath, collectively held while the news is absorbed, then individually released as, one by one, people respond to what they have heard. Such was the case at the end of June when news of the death of pianist Peter Longworth, at age 53, from kidney cancer was announced.
Among the first to respond, on June 29, was music writer Hye Won Cecilia Lee, in a post for the musical blog Ludwig van Toronto which not only gave details of his musical life and spoke to his role in the community, but also reposted from social media the responses of a range of individuals in the music community whose lives have been shaped by their interactions with Longworth, as collaborator, colleague, mentor, teacher and friend over the course of Longworth's almost three decades of teaching at Toronto's Royal Conservatory of Music, and his active life as a musician, as soloist and as a chamber player.
It was one of that circle of musicians, pianist Richard Herriott, who called to tell me that Sunday October 7 at 4pm, in Mazzoleni Hall at the Royal Conservatory, there will be a concert for Peter Longworth, celebrating his life. This way, Herriott said, WholeNote readers who knew him, personally or through his music, would hear about the event in time to be there if they want to.
As Peter Longworth's wife, violinist/violist Sheila Jaffé explained it to me, the event will consist mostly of music, "as the best way to express Peter's effect on his community, and for the musicians who will be participating to expressing his effect on us."
How many people will want to attend is impossible to gauge. Since Mazzoleni Hall seats only 237 people, an Eventbrite page has been set up where up to 200 people can "buy" a free ticket to be assured a chair. "I am not sure what the policy is on standing room yet," Jaffé says, "but I would encourage people to come even if there is no more room. I intend to try to provide screens in the lobby in case there are too many people."
The choice of Mazzoleni Hall is apt. "Peter performed in Mazzoleni Hall a great deal," Jaffé says. "He spent most of his time at the Royal Conservatory, having worked there for so long. The hall is intimate and ideal for chamber music. Peter loved chamber music deeply. He and I shared that. I can speak for him with confidence about his love for it. We both loved nothing better than sharing the music we love with the people we love. At our wedding, we played music instead of dancing! So music is the best way to celebrate his life and mourn his untimely death."
The nature of the event and the way it has come together speak to the place that Longworth occupied in his musical community — in his various capacities. "He was open, curious and eloquent as a person and as a pianist" Jaffé says. "His powerful drive as a musician attracted those who had the opportunity to work and perform with him and I think many of his collaborators would agree that he 'carried' the performance in a way that made his colleagues feel safe and free. As a teacher, he was attentive, curious, respectful, direct and ever learning. The way his career built itself over the years was a testament to his talents and nature. He led the way musically, unerringly — where a phrase goes, where the beat is, where a tune sits. Those who worked with him all know that. I think that with his passing, we are losing a great musical mind and heart. As a pianist and teacher, his colleagues and students depended on him greatly for guidance and inspiration. I think we will all feel his absence in our musical lives in the years to come, and realize what a large place he had in the community as a musical leader. His friends and family who are performing at the memorial will all be trying to communicate this and do justice to his musical expression in every way we can.
With limited time available, it will be impossible to let everyone play who wants to, she says, "so I tried to make a good enough selection without upsetting too many people. It is not easy and I hope no one will be insulted! Peter felt a great affinity for Brahms, so, safe to say, there will be Brahms on the program."
Among the personal reflections compiled in the blog by Hye Won Cecilia Lee cited at the beginning of this piece of writing, violinist Mark Fewer wrote this:
"Peter Longworth was as great a friend as you could ever hope for. I was blessed to have known him for 31 years, during many of which he was indeed my best friend. He was like a brother and I loved him.
"We both arrived in Toronto in 1987 — he from Chicago and I from St. John's. In December of that year (I was 15, he was 23) he was recommended to me as an 'accompanist' for an audition I was taking. He was a far better pianist than I was a violinist, and his presence at the piano helped me that day – and in days and years to come – to succeed. Six years later we joined forces with cellist Thomas Wiebe and formed the Duke Piano Trio, which stayed intact until Peter's passing. We were three very different people from three very different backgrounds. But music brought us together, and over the years our friendships deepened to the point where we felt (and behaved!) like family.
"As a musician, he was a fully engaged human. Every ounce of his being went into the notes he played. In rehearsing together, he loved discovering things in the score and seeing how they would sound. Sharing that delight with audiences was his greatest desire. Chamber music may have been his first musical love, but he was also a formidable soloist, with credits that included performances with the Chicago Symphony, the Vancouver Symphony, the Kitchener-Waterloo Symphony and countless others. The fact that he was best known as a collaborator is something I interpret symbolically as a reflection of his skills in friendship.
"If Peter experienced something he wished you to experience as well, he would say 'I recommend it, highly.' Thank you, my dear friend for sharing your immense gift with us. Our hearts are broken, but from what you gave, we are better for it. For those who want to hear you again, your Brahms recording will give us your voice that we know so well. I recommend it, highly."