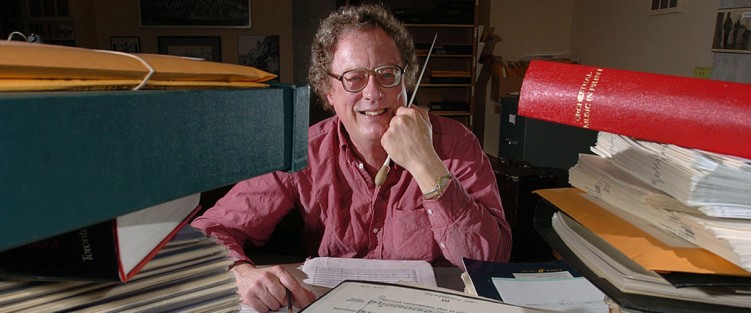 Errol was an elegant battler of ALS – possibly the worst affliction a human being can have. The brain stays sharp while gradually losing control over the body. It's a cautionary tale that, toward the end of life with everything else stripped away, we become more like our true nature than ever before. Errol loved music and he cherished friendship, and those who volunteered at the benefit concert for ALS research in St. Andrew's church earlier this year [June 13, 2019] witnessed this firsthand. ~ Gary Corrin (principal librarian, TSO).

Composer, educator, conductor, music librarian, studio and orchestra trombonist, pianist, Errol Gay was a consummate musician. In the course of his rich life he held positions at several universities, was a conductor and chorus master with the Canadian Opera Company, assistant musical director at the Charlottetown Festival, music advisor/conductor for the Hart House Orchestra (U of T), music director of Orchestra Toronto, co-conductor of the High Park Choirs of Toronto, co-conductor of the Canadian Children's Opera Company Youth Chorus and a frequent guest conductor with leading orchestras in the USA and Canada, including the Toronto Symphony Orchestra. He was the TSO's associate music librarian for 24 years.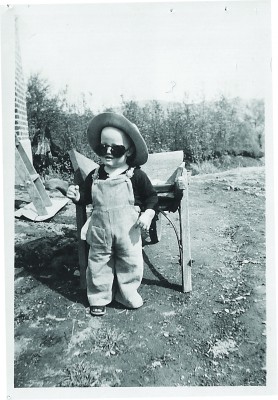 Profiled in The WholeNote's We Are All Music's Children in May 2015, Errol Gay shared a generous first-person account of his youth in British Columbia, with parents who loved music, actively supported it in their community, and encouraged it in their son.
More biographical details are included in First the Child, Then the Music – Paula Citron's April 2015 feature about his wife, Ann Cooper Gay. Here's a sample: "Cooper Gay met him when he was assistant conductor on a COC North American tour of Cosí fan tutte (she sang 100 Despinas in two years). Cooper Gay was elected by the cast to get Errol Gay to slow down the tempi of his conducting. The singers secretly taped a performance, then Cooper Gay was to invite Errol Gay to a room party where he would hear the tape from the hallway. As they passed the door, he stopped and said, "That's too fast!" The tempi problem was solved and a 40-year relationship began. …"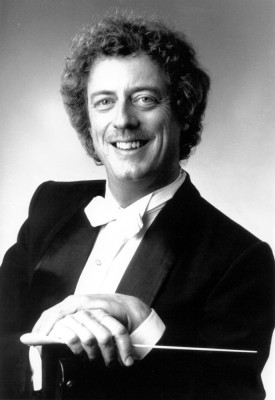 Married to Ann Cooper Gay – opera singer, educator, conductor, and former artistic director (now retired) of the Canadian Children's Opera Company – Errol Gay also leaves behind two daughters, four grandchildren, and a grieving music community that keenly shares this loss.
The back issues referenced can be found by visiting kiosk.thewholenote.com.
---
Mention Errol Gay's name in a random roomful of music-loving people and affectionate smiles will erupt all around you – an echo of his own infectious grin and warm, generous nature, and a reflection of the way he valued friendship. The excerpts below are from a flood of memories – some from social media, some shared by Ann Cooper Gay and many offered directly to The WholeNote.
... My memories of Errol will be with me always. His passion for music and clarity and insight in pursuing it, wearing whichever of his countless hats, has left an irreplaceable impact on the musical life of Canada and beyond. Some people in our wonderful world take librarians for granted. I have never been of their number! As I conjure him now I see the quizzically raised eyebrows and hear his laugh! ...
~ Sir Andrew Davis, interim artistic director of the TSO, served as their music director from 1975 to 1988, when he was named conductor laureate. [In a letter to Ann Cooper Gay]
I think I knew Errol Gay longer than any other musician I've known in Toronto. We first met in 1968, in the claustrophobic pit of the Royal Alex, Errol playing trombone and me playing bassoon in the band for Anne of Green Gables, conducted by the late Fen Watkin. It was my first major gig in Toronto, and Errol was the best mentor I could imagine in negotiating the requirements of a union contract and the expectations and requirements of a pit band.
I saw less of Errol during my 20 years in the Toronto Consort, though we sometimes showed up on the same gig, including occasional concerts with the Hart House Orchestra, which Errol was conducting. I particularly remember a fine Mahler 4, with Errol conducting and Ann singing the solo in the last movement. I frequently loaned early instruments to Errol and Ann in their expanding work with children, especially the Canadian Opera Children's Chorus.
I retired from the Consort in 1992 and picked up my bassoon again, a few years later joining Orchestra Toronto. I was delighted when, in 2002, my old friend and mentor Errol Gay was appointed conductor, and we had the joy of playing together for the next eight years. Errol's tenure with Orchestra Toronto included performances of the full range of symphonic repertoire, spiced with some major rarities: Amy Beach's Symphony, the Khatchaturian violin concerto with Catherine Manoukian, the Miaskov bandura concerto, and Elizabeth Raum's Legend of Heimdall. I have particularly fond memories of playing the Richard Strauss first horn concerto with Errol's daughter Erin as soloist. Errol was also responsible for the transition of the orchestra from a local ensemble, the East York Symphony, to a major GTA group. This change also saw Orchestra Toronto installed as the resident orchestra of the (then) Toronto Centre for the Arts, in its superb George Weston Recital Hall. Errol was the driving force behind the establishment of Orchestra Toronto as the orchestra it is today; not a concert goes by without our feeling his influence.
~ David Klausner, professor emeritus of English and Medieval Studies, U of T; principal bassoon of Orchestra Toronto since 1998.
Errol came to the Toronto Symphony in 1982 as associate principal librarian and was the other finalist when I got my job here. I never felt a moment of resentment from him – he was a real gentleman that way. Rather, for 12 years I was the direct beneficiary of his considerable and varied musical abilities. Errol began as a trombonist and learned to play passable double bass from which he developed an uncanny knack for bowings. He was an accomplished pianist who could play jazz and could also reduce open scores at sight. He was a composer and arranger whose works were performed by the TSO and by the Canadian Children's Opera Company Chorus. He knew voice types and opera roles inside out. He served as a conductor for the Canadian Opera Touring Company as well as for this orchestra, once stepping in at the last minute to conduct a Pops concert with the Chieftains. Errol also served as extra percussionist with the TSO – famously chastised by a concert reviewer for 'reading a book' during a performance. He was following the score.
~ Gary Corrin, principal librarian, Toronto Symphony Orchestra
Errol had so many musical gifts – conductor, composer, musician – but I also know he was passionate about words, their meaning and usage, and proper grammar, as am I. I remember phone conversations with you [Ann] while Errol commented in the background about various aspects of our English language. He was always very complimentary to me about my writing and I always breathed a little sigh of relief when we agreed about a certain grammatical 'rule' because I knew that he was a stickler. I also remember one phone conversation, can't remember what we were discussing, but I could hear him ask, "Is that Suzie?" and then, as you moved closer to him with phone in hand he began to play a beautiful piece on the piano, undoubtedly his own composition, just for me. What an honour! I will never forget that. Another memory I have is after a great performance of one of his children's operas, Laura's Cow, a title that always makes me smile. The audience and choristers had stepped outside of the darkened theatre into the sunlight of a radiant spring day. When you and Errol arrived you were immediately surrounded by children and adults alike, and there was such a lovely feeling of shared community and the simple love of music. I also remember the way you both looked at each other with that same shared love. A very special moment. I am so glad he is no longer suffering and I know his spirit lives on through the wonderful music he gifted to us as well as through his incredibly strong and loving family.
~ Suzanne Vanstone, senior communications manager, editorial at the Canadian Opera Company, now retired. [From a letter to Ann Cooper Gay]
36 years ago I had that absolute pleasure performing Howard Blake's The Snowman with the Toronto Symphony. The conductor was maestro Errol Gay. This was my TSO debut at 12 years of age and Errol treated me like a son. He is no longer with us and we must all pay homage to the incredibly gifted musician he was … Errol – thanks for trusting a redneck treble to create with!
~ James Westman, baritone [from Facebook]
Errol taught me to listen.
I was lucky enough to serve as concertmaster in the early 90s with the Hart House Orchestra. Thanks to Errol, I learned how to hold a section together, how to tamp down ego, how to fall back into an ensemble and really let music emerge. His ferocious passion for everything we played was infectious. And it was ferocious. You could never lose focus, or you'd have Errol looming over you, just screaming at you for playing forte in a piano section. The beautiful thing was that all of us knew his ferocity came from love, and after rehearsal, we'd go for too many beers together, laughing about the hysterics of the rehearsal. His care for his students was absolute – and all of us were certainly his students, even if the orchestra wasn't technically a U of T class. I don't teach music now, but Errol's death has made me reflect upon how I steer my classes; being a professor maybe isn't that different from conducting. I'm not afraid to let unreserved passion for what matters lead the way. Errol blasted away any doubt about that. He was so important to my upbringing. I miss him terribly.
~ Levi McLaughlin, associate professor, Department of Philosophy and Religious Studies, North Carolina State University.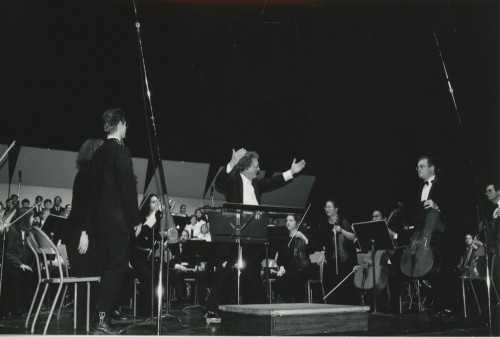 Errol was a talented and passionate musician, a great teacher, and a wonderful person. It was great to play for him in the Hart House Orchestra – he gave his all at every rehearsal and concert. He challenged and inspired us to rehearse and perform well together, conducting the orchestra in so many memorable and moving concerts over the years.
In addition to the concerts, a rehearsal that took place shortly after Pierre Elliott Trudeau had passed away stands out in memory. As the orchestra trickled into the Great Hall at Hart House, we saw Errol placing a single sheet of music on each stand. After we had settled into our chairs, Errol, silent until this point, raised his baton and said only this: "O Canada". What followed was the most passionately led and performed rendition of our national anthem that I have experienced.
Errol wasn't afraid to wear his heart on his sleeve. His passion for music and the strength he drew from it was palpable – I am so glad to have had the privilege of knowing him.
~ Andrew Ogilvie, Hart House Orchestra violinist (1995-present)
My first meeting with Errol Gay occurred at Roy Thomson Hall when I was directing a project for the TSO. I remember Errol explaining (in his role then as TSO librarian) the mechanism of orchestral rentals; in opera if one used only a single selection, one was obligated to rent the entire score. I mention this anecdote because it set a pattern. From that time on, I never had an encounter with Errol where I didn't learn something. His storehouse of knowledge and the generosity with which he shared it astounded me. Encouraged by his wife, the dynamic Ann Cooper Gay, Errol and I were commissioned to write an opera for the Canadian Children's Opera Company: A Dickens of a Christmas (December 2005), and we went on to co-create Laura's Cow: the Legend of Laura Secord (June 2012) and Alice in Wonderland (May 2015). In our working sessions (Errol composing at the piano, me fine-tuning the libretto at the dining room table), we often talked of non-musical subjects. His understanding of the world and his compassion for those who struggled in it were uplifting. Without effort or even consciousness, our working relationship bloomed into one of the most meaningful friendships of my life.
~ Michael Patrick Albano, librettist; associate professor and resident stage director at UofT Opera
The world has lost an incredible musician, composer, and a beautiful heart. Errol, along with Ann Cooper Gay, believed in me when I was an 11-year-old kid who liked playing the clarinet and singing. Actually, I didn't even know I liked singing until I met Ann (Mrs. Gay) in Grade 7 at Winona Drive Senior Public School. I had taken some piano lessons, but I had had no other musical training, apart from my elementary school band (itinerant) program...until one day when Ann told me (yes, told me) that I would be joining the High Park Girls' Choir, and the rest, as they say, is history.
I can't begin to imagine how my life would be now if it hadn't been for Ann and Errol's relentless encouragement, guidance and second-to-none musical education. Errol was an incredible composer and his beautiful melodies will never leave my mind.
~ Michele Jacot plays clarinet, flute and saxophone. A conductor and teacher, she is the artistic director of Toronto's Wychwood Clarinet Choir [from Facebook].
As a conductor Errol was colourful, dramatic and passionate. His love of jazz and creative music would trickle into our warmups. I distinctly remember a game he would play where we would start on a major chord, and then he would voice lead with each part to create rich jazz harmonies. He didn't treat us like children – he treated us like musicians. This changed my life; I realized at an early age that this was what I wanted to do.
When I work with groups of singers today, I do not aim for a perfect performance. It is more important that we feel something together as we sing. This feeling is not created by the conductor, but by the belief that everyone is truly involved in that moment, creating something. I learned this from Errol Gay, and a generation of musicians he taught did too.
~ Alex Samaras is a singer and educator in Toronto. At age ten he joined the High Park Boys' Choir in its inaugural season and followed Ann and Errol to sing for the CCOC Youth Chorus through his high school years.
Errol Gay was a melting pot of knowledge and art, each element inextricable from the other. He was kind, caring and witty. He was the kind of person you could make nerdy jokes with and not only would he understand them, but he would answer with a pun. He displayed the same intellect in his music, writing beautiful pieces full of allusions that you would only notice if you had the same encyclopedic musical knowledge as he did – this was his way of winking at his listeners. You could trust him 'not to write crap' (inside joke).
I am so grateful to have known Errol from a very young age, and I could write a book about my memories and experiences with him. He very much helped form the person and musician I am today, and I will always cherish and pass on what I learned from him.
~ Kristina Bijelic is a singer and violinist who met Errol when she was a child in the High Park Choirs, and was later in the CCOC.
I'm both happy and very sad that Errol Gay died on Friday. I'm happy because his long battle with ALS is over. I'm sad because we have lost another local musical hero and a lovely person. … He always valued the music and the enjoyment of making it more than personal ambition or honours. He was as loving and supportive with his family as he was with colleagues, students, little choristers and friends. And he knew how to laugh.
Our loss is Heaven's gain.
~ John Terauds founder of the blog Musical Toronto (now Ludwig van Toronto); music critic for the Toronto Star (2005-2012); organist, choir director and music teacher.