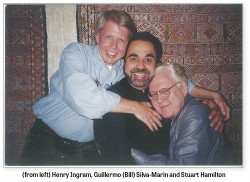 "Darling, there's a market for everything!" Whether in reference to an obscure Massenet opera or his specially designed outfits from Northbound Leather, Stuart more than proved the point during his 87 years on planet Earth.
Hello Bohème! was my official introduction to Stuart Hamilton. I had of course heard of him but had never experienced the force of his personality firsthand. Stuart had dreamed up a potted version of the Puccini masterpiece for Theatre in the Dell, one of Toronto's then-flourishing cabaret hotspots. We're talking 1973, dimly lit second-floor rooms, cheap wine and suspect Italian food. Roxolana Roslak and Michael Burgess and Lynn Blaser and Avo Kittask were the two pairs of lovers. The remainder of the cast was me…filling in for the chorus, sugar daddy Alcindoro, Parpignol and the children's chorus. Stuart, though, was the big star. He had been hailed as a comedian and pianist in Beyond the Fringe and his name is what drew in the crowds. Night after night for over five months, he'd sit at the rickety old spinet playing a tune or two from La Bohème, the phone on the piano would ring and he'd answer with a lilting "Hello… Bohème… you're going to see Bohème? Darling, you'll love it…!" And away we'd go on his guided tour through the life and death of poor doomed Mimi. Who knows…the surprisingly robust market for Hello Bohème! may have planted the seed for his big idea.
And that was Opera in Concert.
Stuart believed passionately in the wealth of talent to be found right here in Toronto and despaired that so many fine young singers felt they had to go to New York or Europe to get ahead. His other passion was French opera. So, why not a concert series showcasing rarely heard French opera performed by rarely heard Canadian singers? That first season (1974/75), Thomas' Hamlet, Massenet's Thaïs and Berlioz's Béatrice et Bénédict hit the boards of the Jane Mallett Theatre and the rest is history. What history does not reveal is that Stuart coached all the singers for free and never took a salary as founder, artistic director and pianist for Opera in Concert. As it turned out, the market for less familiar operatic fare – French and not-so-French! - was significant and soon enough the series was expanded to four operas, some performed with orchestra.
My partner Guillermo (Bill) Silva-Marin and I were in that first OIC season; Bill was Hamlet and I was Marcellus, the guy who sees the ghost and disappears never to be heard from again. The full story can be found in Stuart's memoir, Opening Windows: Confessions of a Canadian Vocal Coach. Over the years, Bill and I appeared for Opera in Concert numerous times and Stuart became a valued coach, mentor and, most importantly, a great friend.
Stuart was born in Regina at the dawn of the Great Depression, third son of a lawyer and his North Dakota-born wife, and brother to two sisters, Dorothy and Patricia. His first brush with fame came in 1939 when he was greatly applauded for his skating routine, performed to Rimsky-Korsakov's Flight of the Bumblebee. The ten-year-old's performance was notable for remarkable spins and his bumblebee costume. Growing up, the prairie boy practised piano, joined the high school drama club and listened fanatically to the Met's Saturday Afternoon at the Opera broadcast. By 1947, the call of neon and concrete had become too great and he moved to Toronto to seek his fortune. During his salad days, he was an usher at the Eaton Auditorium, conducted Broadway shows in Buffalo, gave recitals in New York and London, taught at the Hamilton Conservatory, toured with Lois Marshall and Maureen Forrester and occasionally conducted for June Kowalchuk's early version of Opera Hamilton.
The piano was Stuart's principal means of musical expression and he maintained a fractious relationship with those 88 keys right up until the end. His forte was French high romanticism and composers such as Mozart and Bach rather intimidated him. Nevertheless and because "Darling, I'll do anything to make a buck," he and a trio of his singer friends turned up on the Brunch with Bach series at Harbourfront. To his great surprise, The Globe and Mail critic praised his Bach style in lavish fashion and gave everybody a good review. Stuart's response was something on the order of "What does he know, I left out half the notes!"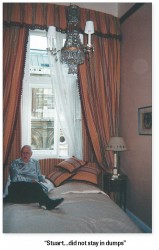 Never anybody's idea of a homebody, Stuart was a great traveller and he did not stay in dumps. "Leave me alone, I'm a rich millionaire" is another of the lines his close friends remember, a zinger he'd deliver whenever anyone questioned his fondness for the George V in Paris or invite buddies to dinner at La Tour d'Argent. During one memorable trip to San Juan, he checked into and out of three first rate hotels: El Convento, Normandie and the renowned Condado Beach Hotel. The Condado was particularly trying because each night he was serenaded by a choir of Puerto Rican frogs…coquis. They are thumb-sized little buggers, but Pavarotti had nothing on them when it came to volume. According to Stuart their cry was a piercing minor ninth (co-QUI) and it drove him mad!
Looking back at his multi-faceted career, one wonders how he found time to do it all and still keep up his daily coaching schedule, which over the years included a who's who of Canada's vocal elite…and some of the rest of us! Quizmaster of CBC's Saturday Afternoon at the Opera from 1982 till 2007, he also appeared regularly as a panelist, and occasional guest quizmaster, on the Met's broadcasts from Lincoln Center. He was the first music director of the Canadian Opera Company Ensemble, an in-demand lecturer and adjudicator for competitions such as the George London and Sullivan Foundation Awards, Mexico's Oralia Dominguez Competition, the CBC Young Performers' Competition and Bathroom Divas, while in his later years, countless young singers benefitted from his wise counsel as a recital adjudicator for the Royal Conservatory of Music and the University of Toronto's Faculty of Music. Stuart was appointed a member of the Order of Canada in 1984, won the Toronto Arts Award in 1989, received the Governor General's Commemorative Medal for the 125th Anniversary of Confederation in 1992, the first Ruby Award from Opera Canada in 2000 and the Beckmesser Award from the Los Angeles Opera in 2004. Dalhousie University awarded him an honourary doctorate in 2008 and he received the Queen Elizabeth II Diamond Jubilee Medal in 2012.
My last memories of Stuartissimo, as so many of us called him, were positive ones. Even though he became increasingly fragile due to the effects of prostate cancer, he was alert and energized when the subject was opera. I went over one Saturday afternoon last December and he wouldn't be interrupted…Manon Lescaut was on. After the opera, he made some incisive comments about the development of Puccini's genius, from the boyish Le Villi through to Manon Lescaut and the triumph of La Bohème; then he let me know that it was naptime. A couple of days later, Bill and I were invited for Christmas dinner, which he himself was determined to cook! This turned into a hilarious and somewhat chaotic affair featuring turkey, mashed potatoes and rutabagas; Dorothy later told me that they forgot to serve the coleslaw and Apple Betty.
And now he is gone.
Much will be written, many stories will be told and we will all cherish the memory of a man whose life was dedicated to music.
A Memorial for Stuart Hamilton will be held at the St. Lawrence Centre for the Arts on Sunday,March 5, 2017 at 3pm. Admission is free. Please call the St. Lawrence Centre Box Office at 416-366-7723 to reserve a seat. Those wishing to honour Stuart's memory are invited to make a contribution to the Stuart Hamilton Memorial Fund for Emerging Artists.
Henry Ingram, a reformed tenor, is Managing Director of Dean Artists Management and Director of the Concerts Division.