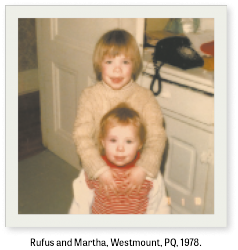 On the subject of his latest recording, Out of the Game, Rufus Wainwright has said, "In a lot of ways, while my mother was still alive, I was singing to her. She was my toughest critic and my biggest fan. With her not having been around for this album, there was a kind of release, a necessity to get to the next step."
"There's a famous saying that your mother gives birth to you twice — once when you're born and once again when she dies. So having a slightly tougher, wiser attitude on this record, I think I only could have done that after her passing ..."
Composer and singer-songwriter Rufus Wainwright is a musical chameleon with roots in both Canada and the USA. He's the son of Loudon Wainwright III and the late Kate McGarrigle — half of the musical sisters duo Kate and Anna McGarrigle.
Wainwright was born in New York State, grew up in Montreal, and has lived in London, New York and Los Angeles. His daughter, Viva, now two, lives with her mother, Lorca Cohen (daughter of Leonard Cohen), in Los Angeles. Wainwright and his partner Jorn Weisbrodt have a home in Toronto's Annex neighbourhood (Weisbrodt is the artistic director of Luminato) but Wainwright spends a huge amount of time touring internationally — he'll make two Ontario appearances before the end of the year — October 11 with the Toronto Symphony at Roy Thomson Hall, and November 2 at Ottawa's National Arts Centre.
Rufus Wainwright has recorded seven albums of original songs in a range of styles. Other projects (among many) include Shakespearean sonnets set to music for a theatre piece by Robert Wilson, soundtrack collaborations and an acclaimed show and recording in which he recreates Judy Garland's 1961 Carnegie Hall concert. He recently composed an opera, Prima Donna, which had its North American premiere at Luminato in 2011.
Wainwright's sister, Martha Wainwright, is also a singer and songwriter with a considerable career. Music was clearly the fabric of their childhood — raised among people for whom singing is as normal as breathing, immersed in a songwriting ethos with the power to move anyone, regardless of musical preferences, because it's personal in a universal kind of way. Singing to, for and about each other has remained a Wainwright/McGarrigle constant.
In June 2013, Nonesuch Records released Sing Me The Songs: Celebrating The Works Of Kate McGarrigle — two CDs of performances from benefit concerts in New York, London and Toronto which include Rufus and Martha Wainwright and a remarkable array of friends and family. Many, including Anna McGarrigle, elder sister Jane McGarrigle, Emmylou Harris, Teddy Thompson, Norah Jones, Sloan Wainwright and Joel Zifkin are in the feature documentary Sing Me The Songs That Say I Love You: A Concert For Kate McGarrigle, directed by Ian Larson (seen at Luminato and TIFF Go to the Movies in 2012). Proceeds from the CDs go to the Kate McGarrigle Foundation, which supports cancer care and sarcoma research.
Canadian performers across all genres often travel far away before finding themselves on a river that brings them back. Wainwright didn't sing Joni Mitchell's River at the June Massey Hall birthday tribute concert for Mitchell's upcoming 70th birthday, but the songs he performed — All I Want, A Case of You, Slouching Towards Bethlehem and Free Man In Paris — were each in some way about searching and longing. 
CONGRATULATIONS TO OUR WINNERS!
 "Rufus Wainwright with Orchestra" (TSO, Oct 11, 8pm) will feature Wainwright as both a composer and singer-songwriter. The concert will include music from Wainwright's opera Prima Donna, his orchestral setting of Five Shakespeare Sonnets and songs that reflect his extraordinary range of musical appetites (from Arlen to Berlioz), with Melody Moore, soprano, and Jayce Ogren, conductor. There's a pair of tickets for Kathleen O'Neil.  
Prima Donna – The Story of An Opera is a 90-minute documentary film by George Scott (Decca, 2010). This fascinating portrait of Wainwright, his musical history and career, includes interviews with Wainwright and family, Prima Donna collaborators and commentary by Renée Fleming. Why opera? A scene with Wainwright and his mother, sitting on her sofa, listening to an old record by Beniamino Gigli, might just hold a clue or two. Lucky Naomi Luker and Paul Sayer each win a copy.  
All Days Are Nights: Songs for Lulu is Rufus Wainwright's sixth album (DECCA RECORDS, 2010). Wainwright's first recording after the death of Kate McGarrigle is a departure from his usually more extravagant arrangements: these 12 original songs are for piano and voice. Three are settings of Shakespeare's sonnets 10, 20 and 43: The words "All Days Are Nights" are from the sonnet 43: "All days are nights to see till I see thee..." Loretta London and Sheri Katz each win a copy, along with a copy of Out of the Game, Wainwright's newest album of original pop music (Decca, 2012).