Violinist Jonathan Crow lives in Roncesvalles Village, Toronto, with his wife Molly Read and their two daughters – Lucy and Sabina. He's a proud Canadiens fan.
A native of Prince George, British Columbia, Crow attended high school in Victoria and graduated in Honours Performance from McGill University, at which time he joined the Montreal Symphony Orchestra as associate principal second violin. From 2002 to 2006 he was the concertmaster of the Montreal Symphony Orchestra, at the time the youngest concertmaster of a major North American orchestra. The 2011/12 concert season marked Crow's debut as concertmaster of the Toronto Symphony Orchestra, an appointment which provides him with the opportunity to play a Guarneri del Gesù 1738 violin – recently restored by Ric Heinl, and newly lent to the TSO for the concertmaster's use by Dr. and Mrs. Edward Pong. An avid chamber musician, Crow is a founding member of the New Orford String Quartet. A passionate and caring teacher, he juggles an extraordinary schedule to accommodate it all.
Suppose a friendly fellow traveller asks about your work? How might you reply? Hard to say – often if I'm travelling it's for a freelance chamber music show or a concerto. Some people seem very worried: "how can you make a living at that!" Luckily I can explain that I have a "real job" with the TSO.
Do you remember that childhood photo being taken? I don't actually remember when that photo was taken, but I certainly remember the dinner bell in the background – a good way to get kids in from street hockey for supper in Prince George! The photo makes me think of my parents - both avid gardeners, as you can (maybe) see from the plants also in the background. I'd love to know where my parents went shopping to pick up my concert shirts – I had a more extensive selection of button ups than I do now!
What is your absolute earliest memory of hearing music? My sister practising violin at night while I was falling asleep. I knew all the Suzuki tunes before I played them – my sister is six years older. She played violin and later viola, while my brother played trumpet and piano. The first CD I can remember buying was Itzhak Perlman playing Dvorak works for violin and piano
When did you first play the violin? I started at the age of six – there was a free Suzuki program in our school district at the time. I actually wanted to start on cello, but there wasn't a teacher available. Plus, three kids and a Volkswagen Rabbit ... surprised my parents didn't have me play the flute!
What do you remember about your first music teacher? I went through many teachers in Prince George – often people would come for a few years to teach and work there before moving on. I was lucky though to have many great people to work with!
First recollections of making music with others? I performed regularly with a few close friends at their church in Prince George. It was a very musical environment, and many of us continued into the profession. One of the advantages of playing a string instrument is getting the chance to perform with friends basically from day one. I can't actually remember a time playing the violin where I wasn't playing in Suzuki groups, string orchestra or ensembles of some sort. This is one of the things that kept me going in music – I didn't want to lose out on hanging out with all my friends!
What are your first memories of performing? Good question- perhaps playing for my grandparents in England when I visited them as a child? My grandmother loved the Mendelssohn concerto- wasn't quite at that level for many more years though. Beyond that It would have to be at the Prince George Music Festival. I don't remember the performance, but I'm pretty sure I got to go for ice cream after.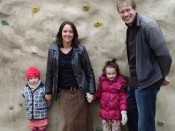 Where does music fit into your family life today? My wife is a cellist, my eldest daughter plays violin and my youngest has just started cello. Music is very important to us. Regardless of what career paths my children choose, I feel that music lessons are so useful in life to help with developing creativity and self-esteem.
The point at which you began to think of yourself as a career musician? I actually never had a clear moment where I decided that music was the career for me - I went to university doing both math and music, and only later found myself drifting in the direction of a career in the music field. It always seemed to make more sense to try out music first and see how it worked out rather than giving it up for a few years and trying to regain facility in the fingers.
Suppose an after-school club asked you to talk informally with a mixed group of children ten to 12 years old, as part of a series called "What people do" …
I'd tell them I get to play music for a living. Playing the violin gives me a chance to meet some of the most interesting people in the world and play music written by some of the most musically creative and talented people ever to have lived.
Advice for a young person already sure they were going to have a life in music of some kind? Be open-minded! There are so many ways to make a living in music, but not everyone will end up playing in a orchestra or teaching. Find your own opportunities!
UPCOMING engagements …
TSO – regular concerts as concertmaster
Sep 11 - Gallery 345: New Orford String Quartet
September 12 – Kitchener-Waterloo Chamber Music Society:
September 13 – Integral House: New Orford String Quartet
September 15 & 16 – Prince Edward County Music Festival New Orford String Quartet
Sep 30 – Mooredale Concerts: Stars of the TSO
Oct 10 – Beethoven Concert, Orchestra London
October 12 – Brandon: New Orford String Quartet
October 13 – Winnipeg: New Orford String Quartet
October 14 – Saskatoon New Orford String Quartet
Oct 26 – University of Western Ontario: New Orford String Quartet
Oct 28 - Mooredale Concerts: New Orford String Quartet
Nov 14-19 – TSO (Toronto, Montreal, Ottawa, Brockville) Beethoven Triple Concerto with André Laplante and Shauna Rolston
New recordings?
I just recently finished a recording of Schubert Works for Violin and Piano with Philip Chiu. The disc is on XXI-21 Records and will be released this fall. My latest release is on Bridge with the New Orford String Quartet – late works of Beethoven and Schubert