For the September Mystery Child Click Here
For the names our June contest winners and to see and the prizes they won, click here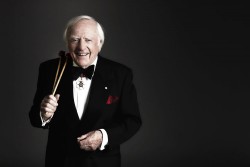 Vibraphonist, percussionist, composer Peter Appleyard was born in Cleethorpes, Lincolnshire, England, in 1928. At 84, a consummate performer for most of his life, Appleyard continues to tour this summer — indefatigably entertaining, with no signs of slowing down.Before discovering the vibraphone, he started out as a drummer playing in vaudeville and dance bands, was conscripted into the RAF where he spent 18 months playing with RAF bands, and took an 18-month contract in 1949 to play in Bermuda.
In 1951 he came to Toronto, for what was going to be a vacation in Canada, and he has remained to become one of our most celebrated jazz musicians and an Officer of the Order of Canada. A list of people with whom he has played or is playing or has influenced would simply be endless. Appleyard has released 22 albums, including two in 2012, and collaborated on dozens more. He has hosted CBC Radio shows and had his own television program, Peter Appleyard Presents, syndicated throughout North America.
When you look at your childhood photo today, what do you think about? Those were happy innocent times, prior to WWII, when the whole world, it seems, changed forever.
Your absolute earliest memories of hearing music? I was taken to see at a circus called Bertram and Mills. One of the acts was a guy with about 20 cigarettes in his mouth: the music they were playing was Smoke Gets In Your Eyes.
I was a choirboy at Old Clee Church, Grimsby.
There was radio, and records, I remember hearing Paul Robeson's Old Man River, Crosby, later Sinatra — the first record I ever bought myself was Nat Cole singing Sweet Lorraine.
What about making music? I remember messing about with the piano and drums at Clee Pier whilst father decorated the stage — the drummer was not around. And I played bugle and snare drum in the Boys Brigade.
Do you remember a time when you thought you would do something else? In those days to have a secondary education in high school, you had to pay for it, which my parents who were victims of the recession could not afford. So they obtained an apprenticeship for me, as a nautical instrument maker. The main work I did was as a compass adjuster — this had to be done routinely as they were not electronic compasses. But one day I was sent on an errand picking up some naval charts and I stopped off at a record store. In those days you could listen to records you were thinking of buying . So I was listening to a record and tapping away along with the drums and this fellow stuck his head around a corner and said "Hey … are you a drummer?" And I said "well … yes, I am!" And he said he was the bandleader of Felix Mendelssohn's Hawaiian Serenaders and he offered me a job. Seems their drummer had been caught with another woman by his wife, who took a hatchet to his drums … I'd been earning 7/6 a week as a compass adjuster and they were offering me 17 pounds a week to play the drums. We worked the vaudeville/variety circuit — these shows would have a comedian, and maybe some jugglers, but the main attraction was a band. Ours was a kind of Hawaiian-flavoured. We had a couple of dancers: hula girls. We were the first band ever to appear on British television, in 1946 … 
A longer version of Peter Appleyard's interview coming soon.