For our March Winners Click here
For our April's Child contest Click here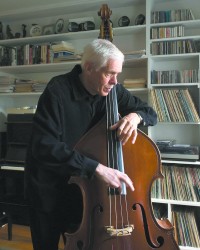 The Dave Young-Terry Promane Octet's new CD Octet: Volume One (released January 2013) has a Juno nomination for "Traditional Jazz Album of the Year." It is reviewed by Jim Galloway in our DisCoveries section, March 2013.
Bassist, arranger and teacher Dave Young was born and raised in Winnipeg. He attended Kelvin High School, and then the University of Manitoba. Young has been a member of The Edmonton Symphony, The Winnipeg Symphony and The Hamilton Philharmonic. He's collaborated over the years with an astounding "Who's Who" including the late Oscar Peterson (with whom he had a thirty-five year musical relationship), Lenny Breau, Clark Terry, Harry "Sweets" Edison, Zoot Simms, Joe Williams, Oliver Jones, Kenny Burrell, Cedar Walton, Hank Jones, Nat Adderly, Peter Appleyard, Gary Burton, Barney Kessell, Ed Bickert, Ranee Lee, Marcus Belgrave, Don Thompson, Kenny Burrell and James Moody.
Equally comfortable playing pretty much any kind of music, he wears his multiple awards and many fine recordings, his acute musical sensibilities and his life-long commitment to live music and jazz education like a comfy old jacket with lots of pockets. Dave Young is just all about the music – whatever the music is.
Today he lives in Wanless Park, Toronto, with partner Barbara Lewis, two cats Sharp and Flat, and a golden lab, Bailey. They spend much of their downtime repairing and maintaining a farm in Northumberland County north of Cobourg – 36 acres of pasture and cedar trees. "I did residential renovation work for 10 years in Toronto so still have the power tools to fix any problem at the farm. Music occupies a lot of my time: practising, arranging with Sibelius, teaching (U of T Jazz) and travelling to play …"
About that childhood photo … ?
I remember when I sang in the Winnipeg Boys Choir. I was also playing the piano a bit and was just starting to play the violin. I remember Mrs. Christie who was the choir director - very animated and patient with a bunch of young boys, approximately 10 years old. Singing was fun and sociable.
Anything you would like to tell that young fellow?
I'd tell him to enjoy himself in his youth and learn as much as possible in the early years.
Suppose a friendly fellow traveller asks about your work?
I would just say that I'm a musician, and play a wide range of music, which I have done over the years. Variety is the secret of musical development for me. Blues, folk, rock and roll, Broadway shows, jazz, avant-garde improv, classical orchestral music and polka bands all helped me develop a special way of expressing myself. Music is an international language. It allows you to communicate when verbal language doesn't.
Earliest musical memories?
I remember sitting under the piano and listening to my mother play classical pieces. I was quite young - maybe 2 or 3. I played and sang at home with my mother and father. My mother, Dorothy Young, was a classical pianist and teacher. She was quite artistic – an accomplished painter and an avid reader. My father, William Young, was a chartered accountant and a great singer - by ear. As a kid in Winnipeg he performed vaudeville -singing and dancing. My sister Sydney is also a very fine classical pianist. She graduated from Juilliard in NYC in the 60s.
I heard music live in our home and at concerts with my parents, and certainly on radio and TV which were important outlets in the 50's. Music at school was always interesting – concerts and music period. …
Early music making?
Piano was first, when I was about 8, followed by the violin, guitar, banjo and harmonica. My first teacher was my mother for piano, then Mr. Grymonpre for violin. I studied with him for 6 years and competed in the Kiwanis festival in Winnipeg - I was reasonably good. I first played the bass in my late teens at the suggestion of a bandleader who I was working with playing guitar. He said he was dropping the guitar from the group next week and if I wanted to keep playing in the dance band I should bring a bass next week. The other bass player left the group.
When did you begin to think of yourself as a career musician?
Not until I was in my late teens. I studied accounting as part of my Bachelor of Commerce degree and worked for a public accounting firm in Toronto when I arrived here in 1967.
Suppose an after-school club asked you to talk after school with a group of children.
How might you explain what you do for a living?
I say that I'm a performing musician who plays all over the world, and explain that I didn't decide to do this. The role of musician evolved over a number of years
What advice, if any, might you offer to a young person who was already sure they were going to have a life in music of some kind?
Be as versatile as possible but try to specialize in one area of music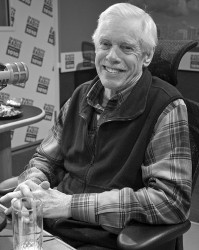 UPCOMING…
You'll can hear Dave Young at
The Salty Dog Bar & Grill (Mar 12)
The Rex Hotel Jazz Bar (Mar 20)
Mezetta Café (Mar 27)
Chalkers Pub (Mar 31)
Ichricki Sushi Restaurant (Apr 6)
Koerner Hall (Apr 13).
Visit daveyoung.ca, and under gig calendar you will find all the details!
The Dave Young-Terry Promane Octet new CD Octet: Volume One is reviewed by Jim Galloway in this month's DISCoveries section.