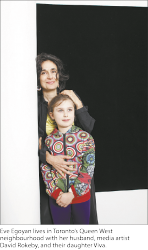 Pianist Eve Egoyan is best known as an interpreter of new music for piano who has performed premieres of many works by Canadian and international composers as a solo recitalist in Canada, England, France, Germany, Portugal, Japan and the US. She has released eight critically acclaimed solo CDs: seven are of works by contemporary composers and one is of works by Erik Satie. Egoyan is both soloist and executive producer on these discs. Egoyan is also an improvising musician, and has collaborated on a wide range of dance projects, interdisciplinary performances, film work and sound installations. The recipient of numerous commissions and awards, Egoyan is a Fellow of the Royal Society of Canada (FRSC) and is one of 50 Canadian performers and conductors designated as "CMC ambassador" by the Canadian Music Centre.
Egoyan was born and grew up in Victoria, BC. After graduating from the University of Victoria she studied in Berlin, then London (England), eventually returning to Canada where she completed an M.Mus. at the University of Toronto with Patricia Parr.
About your childhood photo ...?
I certainly remember almost living on that beach as a child, loving the beach, the ocean — I'm missing it now.
Anything you would like say to that little person?
Can I play with you? What do you enjoy most about the beach?
Earliest memories of hearing music?
My mother was very self-conscious about her voice, its intonation. She never sang. My father was spontaneously musical, able to pick out tunes on various instruments. There was always classical music played in the house and I was often taken to hear the Victoria Symphony Orchestra. Art, in all its various forms, was important to both my parents who were painters. Listening to and loving classical concert music was a huge part of my general upbringing.
Other musicians in your childhood family?
Not that I know of. I really don't know my family's story beyond my grandparents due to the tragic history of Armenia and Armenians. Certainly there were and are artists, artisans and craftspeople in my family.
When and why did you first play the piano?
Piano was my first instrument. We didn't have a piano in the house. Our neighbour, however, Mrs. Kerley, had a piano. I bugged her to teach me. We had a gentle, unspoken exchange — piano lessons for companionship. After a while I finally convinced my parents that I wanted formal piano lessons. Eventually I also studied violin and flute, briefly. I wanted to be a conductor.
First music teachers?
I am still very much in touch with my first piano teacher, Mrs. Brayshaw. She was able to invite my vibrant imaginative world into the discipline of lessons.
Where does music fit into your family life today?
We listen to a wide range of music. Listening to music most of the day through practising makes my ears a little weary. I do love sharing time at the piano with Viva, gently teaching her/improvising/playing duets. We also select concerts to go to as a family. It is interesting to bring my daughter up in a city which holds music of so many different cultures and so much diversity. 
Longer Version Coming soon to TheWholeNote.com