For the 2012 Mystery Child Contest Click Here
For the names our November contest winners and to see and the prizes they won, click here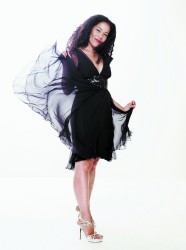 People either know who Molly Johnson is, or they don't, and the latter may come to a surprise to some of her fans.
A funny thing often happens if someone asks "so who is Molly Johnson?" There's this thunderstruck pause, followed by: "Well! She's a (pause) singer! She's a fabulous (pause) singer!" Then without stopping for breath they're likely to say: "But she's also ..." and they will go on to tell you something else about her. "Mother-singer-songwriter-artist-philanthropist-radio broadcaster" proposes her official online biography, and pretty much everyone who knows Johnson's work knows from one area knows about another as well.
The little girl with the trademark grin in last month's rocking horse photo has rocked and smiled her way into the hearts, minds and musical hungering of audiences in little intimate bars, grand and elegant nightclubs, great big concert halls and packed music festivals across Canada and France. Her career already embraces five decades, starting with a debut at the age of four in a Mirvish production of Porgy and Bess, and includes running wild in Kensington Market and on Queen Street, simultaneously sort of punk and glam, exploring and making musical scenes. On a trajectory that shows no sign of stopping, Johnson's music is animated by everything from ballet, music theatre and cabaret repertoire, to dicso, punky art rock, pop-jazz, singer-songwriter collaborations, and the several bands in her experience. The music she sings today is significantly blues and jazz: smoky and emotionally informed in ways that only come from living broadly. But while her more recent and recordings are increasingly rooted in older jazz repertoire, you can't pin down Molly Johnson for style.
Johnson grew up in Toronto with a black father and a white activist mother. Her ingrained need to set things right, but doing it her own way is reflected in her work with numerous charitable organisations that support health, education and human rights. Johnson herself started the Kumbaya Foundation and Festival in 1992 and ten years later, plans are underway to "power up to focus on the global battle against the HIV/AIDS pandemic by bringing together Canadians for an evening of music and words" in 2013.
In 2008 Johnson was honoured by being named an Officer of The Order Of Canada. She won a 2009 Juno Award for Best Vocal Jazz Album with her record Lucky, and holds a National Jazz Award for Best Female Vocalist.
Fans of Molly Johnson might go right on by her downtown house without noticing her hanging out on the porch with her two teenaged sons, her partner and her dog, or laughing uproariously in the laneway with a neighbourhood acquaintance—maybe even in her housecoat and slippers. But not on Saturday and Sunday mornings — that's when you can hear Johnson's unmistakable voice on CBC Radio 2 (6am-9am) sharing stories and music by and about ordinary and extraordinary Canadians.
Molly Johnson seems to have both those bases covered herself.