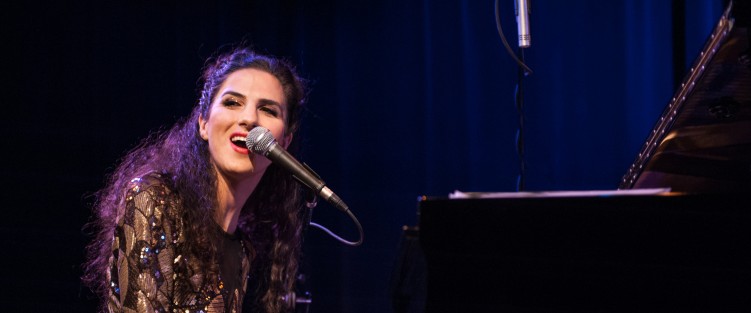 "Humber at 50: A Celebration Through Music" took place on the evening of January 17 at the RCM's Koerner Hall, just under 20 kilometres east of Humber College's Lakeshore Campus, which houses their Creative and Performing Arts school.
The choice to host the event at Koerner Hall was wise, for multiple reasons. The first: Koerner, with a capacity of 1135, was almost completely full, with current Humber students, faculty, staff and alumni comprising a significant portion of the audience. The second: from each level of Koerner's lobby, attendees had a clear view of the CN Tower, which was lit up in Humber's blue and gold colours. Not immediately visible, but equally illuminated, was the Toronto sign at Nathan Phillips Square, which was visited during the day by Mayor Tory for a photo op with the Humber Hawk, the college's mascot.
Although the event was a celebration – through music – of the 50th anniversary of Humber College as a whole, it also served as a de facto celebration of Humber's music program, which was established in 1972, following the founding of the college by a mere five years. This predates the beginning of jazz courses at the University of Toronto, which were first introduced in the 1979/1980 academic year. With the exception of special guest artist Kurt Elling – who, in fairness, has worked and performed with Humber students in the past, as part of the school's annual artist-in-residence initiative – the evening's performers were all faculty and alumni of the music program. Moreover, eight of the program's 14 pieces were either arranged or composed by faculty and alumni.
The proceedings were emceed by Garvia Bailey, host of JAZZFM.91's Good Morning, Toronto, and the performances were structured in roughly chronological stylistic order. The first half of the concert was played by the Humber Faculty Big Band, led by Denny Christianson, the director of the music program, and began with Arlen and Mercer's 1942 hit That Old Black Magic. Arranged by trombonist Al Kay – who was in attendance, although unable to play, due to an injury – the song featured trumpeter John MacLeod, who was amongst Humber's early graduates in the mid 1970s, and Ted Quinlan, head of the Guitar Department. Next up was Duke Ellington's Fantazm, arranged by John LaBarbera, with an excellent performance by Pat LaBarbera, whose soprano sax was balanced and exciting both in his treatment of the melody and in his solo, and by Nancy Walker, whose self-possessed, evocative playing was particularly well-suited to the eerie solo piano section in the arrangement's middle section.
Following the beautiful 3/4 Calendula – composed by, and featuring, tenor saxophonist Kirk MacDonald – special guest vocalist Kurt Elling joined the big band for the remaining four songs of the set, beginning with Mike Abene's decidedly Lydian treatment of Joe Jackson's Steppin' Out. Elling is a confident, natural performer, whose easy command of the stage drew an enthusiastic response from the crowd when he started singing the standard I Can't Give You Anything But Love, which featured a bluesy, muted cornet solo from MacLeod, and an athletic guitar solo from Quinlan. I Like The Sunrise – another Abene arrangement, with lyrics by Elling – paired Elling with Brian O'Kane, in a winning turn on flugelhorn. The set ended with Tutti for Cootie, a swinging, medium-tempo piece that switched between minor and major, and served as a showcase for the talents of bassist Kieran Overs and drummer Larnell Lewis.
Elling – Grammy-winning, DownBeat Critics' Poll-topping, Obama Administration White House-performing – is a star, and maintains a far-reaching international tour schedule. It is a testament to the calibre of the Humber Faculty Big Band, and to Elling himself, that his appearance in the first set felt like a real collaboration, and never, as can sometimes be the case in such situations, like a hired gun going through the motions. As mentioned above, Elling has a history with the program, and both he and the band exemplified a dedication to excellence, a generosity of spirit, and an engaging sense of fun that set the tone for the rest of the evening.
After a brief intermission, the second half of the concert commenced with Rik Emmett (of Triumph and later solo fame) and Dave Dunlop performing their instrumental piece Red Hot. Emmett and Dunlop have been frequent collaborators, and the two have performed as the duo Strung-Out Troubadours since their eponymous debut album was released in 2006. Emmett introduced the next song – Triumph's popular 1981 hit Magic Power – by opining, to ample cheers, that the Humber faculty has always stood for the "magic power of the music." Following Emmett and Dunlop, singer-pianist Laila Biali took the stage to perform her funky, odd-metre original Upside Down, with the help of Lewis, bassist Rich Brown and the horn section of Colleen Allen, Shirantha Beddage, Brian O'Kane and Kelsley Grant. Elling and Pat LaBarbera returned to the stage to join Biali for Randy Bachman's Undun, on which LaBarbera took, perhaps, his most compelling solo of the evening.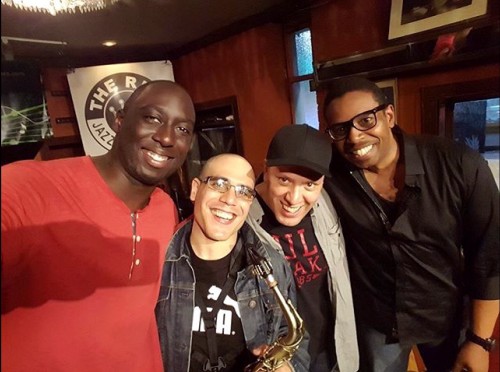 Rich Brown's rinsethealgorithm were up next, taking the stage to perform Brown's melancholy Promessa, on which the bandleader-bassist took a beautiful, compelling solo. Brown is a masterful player, with a rare combination of great tone, time, melodic sense, and tastefully deployed chops, and it is fitting that rinsethealgorithm – a band lovingly emulated by Toronto jazz students in practise rooms for well over ten years now – had a place of prominence on the bill. Forward Motion, their second song, showcased the remarkable talents of saxophonist Luis Deniz and pianist Jeremy Ledbetter, in addition to a thrilling drum solo by Larnell Lewis. Lewis – a recent Grammy winner with the American band Snarky Puppy, Humber alumnus, and current faculty member – is a joy to listen to, and, it should be noted, was on stage for 12 of the evening's 14 songs, sounding just as comfortable playing big band swing as he did playing rinsethealgorithm's fusion-forward repertoire.
It should be noted that Humber has four distinct music programs: a BMus in Jazz and Commercial Music, a Certificate in Jazz Performance, a Graduate Certificate in Music Business and a Graduate Certificate in Music Composition. Enrolled in these four programs are approximately 400 students, whose training, provided by "a faculty of 17 full-time and 80 part-time teachers," includes "performance, production, songwriting and composition in jazz, pop, R&B, Latin and world music." It is imperative for a good music program to foster both individual talents and to create a productive, healthy community in which these talents can thrive; the success of the former cannot, generally, exist without the health of the latter. In this regard, Humber seems to be performing admirably: as 2016 JUNO Award-winning alumna Allison Au puts it, Humber succeeded in providing her with "an incredible network of musical mentors and peers," and gave her "the tools and confidence to find [her] own voice in both composition and performance."
In addition to its postsecondary music program, Humber's School of Creative and Performing Arts operates the Community Music School, founded in 1980, and "originally established to offer children and youth an alternative form of music education to traditional classical lessons." The Community Music School is a rarity in the Canadian educational landscape; while analogous programs exist within the classical world, such as the RCM's Phil and Eli Taylor Performance Academy for Young Artists, pre-college mentorship opportunities for students interested in jazz and commercial music – beyond, of course, private lessons – are somewhat limited. These opportunities are typically found in high school band programs, or in ensembles associated with music festivals, such as the National Youth Jazz Combo and the Conn-Selmer Centerstage Jazz Band (MusicFest Canada), or the TD Jazz Youth Summit at the Ottawa Jazz Festival. (The JAZZFM.91 Youth Big Band, a free weekly program for qualifying students, is also an important group.) But the Community Music School, which, for senior students, has weekly private lessons, faculty-guided small ensembles and instruction on improvisation, provides the kind of scaled-down college environment that prepares students for success in post-secondary music-program studies.
Programming an event like Humber at 50 is challenging, as administrators must balance artistic concerns with the necessity to showcase a representative cross-section of institutional talent. While the Humber Faculty Big Band played the full first set, the second-set acts – Rik Emmett, Laila Biali, and rinsethealgorithm – played two songs each before passing the baton, detracting (probably inevitably) from the concert's momentum. And yet, as the concert progressed, the importance of the programmatic variety became clear.
Neil Young's Heart of Gold was billed as the "Grand Finale" – a kind of built-in encore, as Bailey reminded the audience during the standing ovation that followed – and with Biali, Elling, Brown, Lewis, Emmett and the horn section of LaBarbera, Allen and Beddage, it served as an intergenerational, genre-fusing representation of the music program as a whole. While the description may seem like a cliché, the Humber music program really does give every indication that its strength lies in its diversity: by giving students both a solid grounding in tradition and the encouragement to create new works, the school has created a strong community of musicians who are doing great things.
As the concert drew to a close, it became clear that there was another important benefit of hosting the celebration at Koerner Hall: the central location, amongst older institutions such as the Royal Ontario Museum, the University of Toronto, and the Royal Conservatory itself, served as an apt reminder that Humber College – at a comparatively young 50 years – has achieved remarkable success in a relatively short amount of time.
Colin Story is a jazz guitarist, writer and teacher based in Toronto. He can be reached at colinstory.com, on Instagram and on Twitter.