New York-based Canadian composer, Zosha Di Castri spoke to me via Zoom May 9, ten days before her piece, In the Half-light, receives its world premiere performance under the baton of Toronto Symphony Orchestra Music Director Gustavo Gimeno.
Given the fact that the magazine goes into circulation the day of the concert, most readers will be reading this after that first performance is over. So our plan is to post the full length conversation after the event. But here's a worthwhile snippet – Di Castri touching on some of the things that made this a particularly gratifying collaboration (something not to be taken for granted, especially in an orchestral context).
"The TSO approached me quite a while ago for this project," Di Castri says. "As far back as 2019 I think. At that time I was living in Paris and they said would you be interested in writing something for the orchestra and Barbara [Hannigan] for our 100th season and I was immediately super-excited because if someone said is there any singer you could dream you would ever work with it would be her. So it just seemed so amazing that this opportunity would come up. We had met a while ago, in summer 2014, I think, in Santa Fe in a program called Creative Dialogues organized in part by the Sibelius Academy, kind of a Finnish/US partnership – composers and performers along with guest mentors for the people developing pieces. And Barbara was one of my mentors and conducted my piece which was a short chamber piece. So I had gotten to know her a bit there and was excited that she had proposed my name to the TSO as somebody who might be right for this project."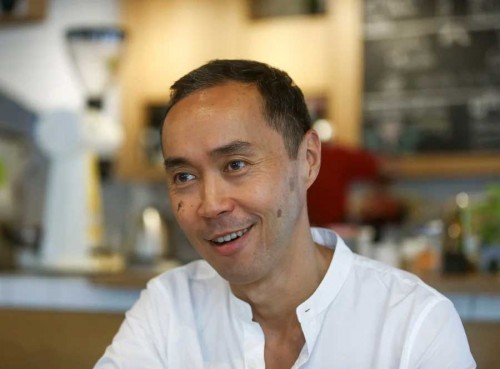 The text of "In the Half-light" is a series of seven short poems by Malaysian-born novelist and opinion writer Tash Aw, all relating, as the title does, to the liminal moment between night and day. The extent of Aw's active involvement in the project as it developed was as pivotal as it was unusual.
"The actual writing and connecting with Tash happened a bit later," Di Castri says. "Barbara and I had had a few exchanges about writing for her voice – helpful tips about what works and doesn't, things to think about in advance." The two of them started talking about text over the winter and summer of 2021. "We had these vague themes we were talking about for inspiration, And I said there's this author I met in Paris, Tash Aw, who I think would be a really good person to work with. I was a Fellow at the Institute for Ideas and Imagination in Paris in 2018/19, and Tash was a fellow Fellow. He writes a lot on themes like migration and being uprooted. He emigrated from Malaysia to the UK and then France so that experience is very much something he has lived and gone through himself. And Barbara was talking about periods in her life as a touring artist where she didn't even have a home base; as she said 'I had a storage unit in Paris where I would go and get gowns and shoes before going to the airport, and I had my furniture there but I was touring so much it didn't make sense to have a flat.'"
Unusually, Aw's libretto was original to the project, not an adapted pre-existing text. "That was something I had to ask Toronto Symphony – kind of beg them – I said you know this is kind of important and the right thing for this piece, and they were willing to support the creation of the libretto. That was something special."
They found themselves thinking a lot, DiCastri says, about the way people relate to the changing of spaces and location. "It's something everyone can relate to on some level, but in such different ways – the perspective of refugees, for example. And somehow as I was writing this piece the situation in Ukraine made Tash's text come to life in different ways for me."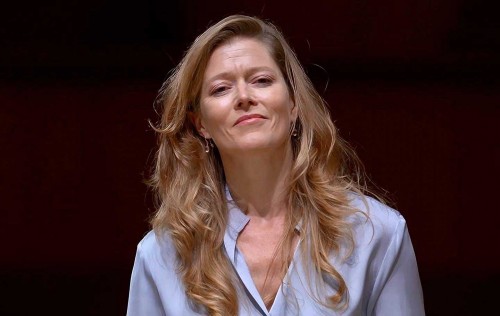 After Aw came into the project in the summer of 2021, "we had some Zoom meetings and some really beautiful correspondences," Di Castri says. "One of these was a prompt that Aw put out to us for stories relating to the idea of home, comfortable or disturbing." One of the things Hannigan remembered was, when she moved from Holland to France, putting her things in storage in Paris. "When she went to get her shoes or whatever, realizing there were people in the storage unit next to her, and she could only see their feet because the wall was not completely closed, and she could smell food and realized oh, these people are living here. And there are glimpses of that story right in the text – the iron wall is not yet down, and later only our feet remain, unfixed, still, to the earth – and things like that are really special because Tash took this beautiful memory of hers, and worked it in. But mainly for her to know. Because every person has a metal door of their own. I think that's the power of Tash's text – that it's abstract enough that you can attach your own meaning to it."
So it really was a full three-way collaboration?
"Yeah, and one of the more satisfying I have ever had. It felt like an equal partnership, feeding off each others' ideas in a really productive way, and then as the writing [of the score] happened, even closer with Barbara. I'd send her movements as I finished them and she would send feedback and I would make changes as we went. We are still doing that. She texted me this morning! That's been really wonderful for me; as a conductor/singer she really knows how to make sure her voice comes through, so that's been a good learning experience for me as well."
David Perlman can be reached at publisher@thewholenote.com