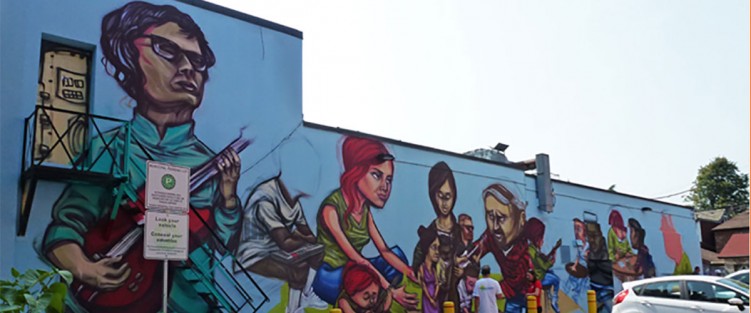 On February 18, 2022 a post in my Facebook feed stopped my scrolling in its tracks. The Tranzac Club announcement exclaimed, "Please welcome Matthew Fava, our new (and first) Executive Director!"
Accompanying it was a photo of Fava, mic in hand, in a black T-shirt emblazoned with "ann southam is my hero" in a lowercase sans-serif font. Fava starts at the Tranzac on March 3, the post continued, "leading our operations, budgeting and implementation of our strategic plan, programming and staff management."
Part of my initial surprise was due to the fact that I'd only known Fava as the personable Director of the Ontario Region at the Canadian Music Centre (CMC) for over a decade. From that position he encouraged and nurtured numerous creative music projects and communities in our province.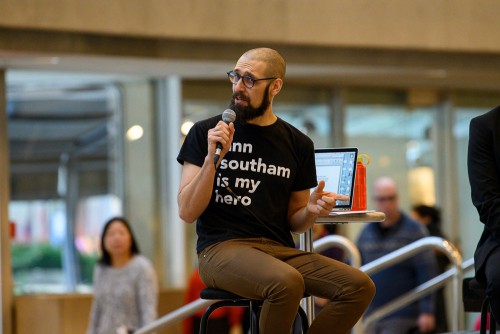 I was among those who benefited from his musical curiosity and collegiality. In July 2015, I knocked on his door to pitch an article about my novel arrangement of a James Tenney work for the CMC's Ontario Region publication. (Having Never Written a Note for Kacapi was published in the Spring 2016 issue of Notations.) Fava has also facilitated two Evergreen Club Contemporary Gamelan series of composers' and performers' workshops, projects I tackled as an ECCG member.
During his decade-long tenure at the CMC he facilitated many more workshops and programs which typically had collaborative, multi-disciplinary and intergenerational earmarks.
At the same time Fava also served as a founding organizer of the Toronto Creative Music Lab (2015-2019). It presented annual international workshops for early-career musicians with an emphasis on less-hierarchical models of composer-performer collaborations, and anti-oppression training as a component of artistic virtuosity. He connected more musical communities while serving on the boards of The Music Gallery and Contact Contemporary Music, and between 2013 and 2018 as a core organizer of the Intersection Festival held in Yonge-Dundas Square.
In addition to his 15 years of activism on Toronto's non-profit music scene, Fava also made time to play music with others. Most recently it's been with the improvisational bands Moonwood and Stargoon.
Musical Heroes
Intrigued by Fava's imminent move from the national CMC to the downtown Toronto community-focused Tranzac, I set up a Zoom call. I began by asking about his "ann southam is my hero" T-shirt.
[For readers who may be unfamiliar with the career of the distinguished Toronto classical music composer Ann Southam (1937-2010), as well as being a CMC associate composer, she co-founded Winnipeg's concert series Music Inter Alia (1977-1991). Southam was also a prominent feminist artist who in 1981 was a key figure in launching the Association of Canadian Women Composers, "blazing a trail for women composers in a notoriously sexist field." (The Globe and Mail)]
Was he planning to take his musical hero to the Tranzac from the CMC, the latter a place she was closely associated with? Fava laughed. "Oh yes, she certainly donated generously and consistently to the CMC's Ontario Region. Unfortunately I arrived at the CMC the year after she passed away, so I didn't know her in my official CMC capacity. Yet Ann's music informed my personal musical listening, for example, as reflected in Centrediscs albums by Christina Petrowska-Quilico, Eve Egoyan and others. Her music has been a helpful guide in my education in the Canadian composition scene and in understanding the CMC. And when I heard her electronic music … oh my God, I adore her electronic music! So yes, she's a musical hero of mine. Before long I started to appreciate the fact that she was a hero for other folks as well who didn't quite know what Canadian composition was."
As for the T-shirt, "I came from community radio where I was a jeans and T-shirt person. I chose to have the Ann-slogan shirt made for a Toronto Symphony Orchestra lobby interview when I found out that the orchestra was allowed to dress down."

The Tranzac
I changed my tack from the CMC to his new role as Tranzac's first executive director.
"One distinguishing feature is that unlike many other community arts organizations the Tranzac Club has owned its building on Brunswick Ave. since 1971," stated Fava. "Formed initially by Australia and New Zealand communities in Toronto, 2021 was going to be the Tranzac's 50th anniversary. Sadly the celebrations had to be postponed until after the pandemic. An interesting sidebar is that another of our assets, our onsite parking lot, is leased to the Toronto Parking Authority, generating revenue which helps with the bottom line."
Looking at its primary physical assets, the Tranzac boasts three venues: Main Hall, Southern Cross Lounge and Tiki Lounge. Their capacity ranges from intimate to small-medium size. Inevitably, over the years, these welcoming casual spaces were getting long in the tooth.
Last December, the Tranzac launched a GoFundMe campaign to pay for renovations, called Help the TRANZAC Rebuild: Bar Renovations! The campaign page states that the Tranzac "took the opportunity of closed doors to embark on some long overdue renovations, and in the process, we discovered that our bar infrastructure needed to be completely overhauled."
Up-to-date infrastructure which helps generate bar sales is key to the continued financial health and functioning of this not-for-profit. "Prior to the pandemic, bar sales accounted for more than half of our revenue. Like pretty much every performing arts venue, our two bars are an essential part of our business. And they're also one of the reasons you love coming back." The GoFundMe has attracted strong support from the community with 66% of its goal being raised as of this writing.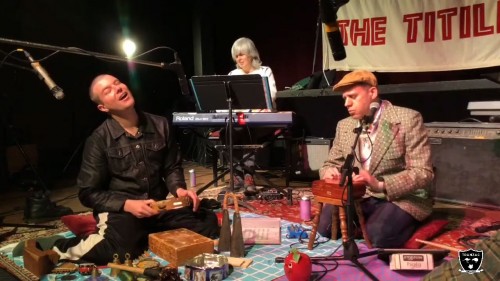 Tranzac Programming Strategies and Highlights
Hybrid performances: like many other venues faced with mandated pandemic closures, partial and complete, the Tranzac turned to livestreaming. More recently it has begun to explore a hybrid in-person plus livestream production model. For example, the February 12, 2022 concert with the Titillators – Ryan Driver (streetsweeper bristle bass and compositions), Thom Gill (whistling and synth), Tania Gill (synth), Phil Melanson and Nick Fraser (percussion) – was broadcast live on YouTube and also attended by a small studio audience.
Hybrid music shows (in-person as well as on YouTube) will continue, at least for the next month and perhaps longer. As an example, the series Bluegrass Thursdays restarts with Strangetooth, followed by Masaru on March 3. The bands CHANDRA, New Chance and Motorists take the stage March 5, while Porchcouch and Meredith Moon and the Layrite Boys play on March 6.
In-person performances: after nearly two years, the Tranzac officially reopened for in-person shows at 50% capacity on Tuesday, March 1 with the improvisation-centred new band Pukeylips. Check the website for all its COVID policy details. And for fans of Against the Grain Theatre's cheeky Opera Pub, who have been waiting for ages for the announcement of the return of its fun monthly events, starting April 7 they'll be able once more to enjoy Opera Pub night with a pint at the Main Hall's newly refurbed bar.
That's merely the tip of the iceberg. I just checked the Tranzac calendar and see only five days in all of March which are dark; some evenings sport three separate concerts. Scrolling through the calendar to the fall reveals consistently dense listings suggesting a deeply engaged music community. That engagement extends to leading Toronto experimental music event producer Tad Michalak. Under his Burn Down the Capital moniker, he is presenting a double album release in the Main Hall featuring Picastro, plus Fortunato Durutti Marinetti on March 26.
Residencies: Holy Oak Family Singers, the Toronto band which adds its bespoke spin to the North American vernacular songbook, is in the process of organizing a monthly residency in the Southern Cross Lounge, dates TBA. A new Tranzac initiative (for which it received a project grant) – the Queer Music Series – is tentatively pencilled in to launch this spring. Several other series are also in the works.
Circling Back
I asked Fava about the blooming of community support at the Tranzac amid the crushing difficulties surrounding music performance, especially for venues, during the last two years.
"Even though this is just the beginning of my arrival at the Tranzac, one significant story that already caught my attention is that they've survived the extreme uncertainties of the pandemic. And a big part of that success is the massive rallying of support of music community members volunteering to work in the Club. This included generous donations and in-kind work in order to make some of the necessary changes internally to the building. The $51,000 GoFundMe goal, which we're well on our way to meeting, is also a really impressive performance.
"Taken together, these successes, I feel, are really important to the community the Tranzac serves and a deep source of inspiration for me. It's yet another compelling reason I felt excited about taking on this work."
Andrew Timar is a Toronto musician and music writer. He can be contacted at worldmusic@thewholenote.com.