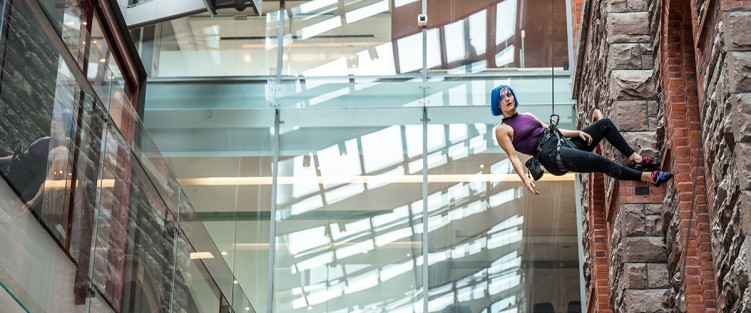 What happens when you combine a cornucopia of talented musicians with a decidedly off-the-wall idea? A magnificent new work presented by Tapestry Opera, titled Gould's Wall, featuring the talents of director Philip Akin, writer Liza Balkan and composer Brian Current.
Brian Current dreamed for years of creating a project using a wall in the Atrium, the enclosed space that joins the Royal Conservatory of Music (RCM) and Koerner Hall in Toronto. It took a conversation with librettist Liza Balkan (followed by a few years of writing and workshopping) to create the work, and the alchemical processes of director Philip Akin to animate it into being.
Gould's Wall tells the story of a young artist as she struggles to develop her career. For Balkan, the building itself was the inspiration. The presence of pianist, composer, broadcaster Glenn Gould is everywhere. His photograph is on the walls. The namesake Glenn Gould School resides here. "The desire for mastery in music, the constant practising and the revelling in music and the vibrancy of it – it seemed that wall, what lives around it, through it, in it, behind it, is connected to pursuing excellence," Balkan says.
I had the opportunity to sit in on an early rehearsal of the work. As I arrived, Akin was leading the cast and crew through a physical warm-up. It ended. He turned and welcomed me. I heard bits of text and music as the company blocked their scenes. There were three levels of platforms to approximate the multiple levels of the windows in the RCM's wall. There was a piano, the conductor, a second conductor and, at a long table along one wall, most of the artistic and technical crew from lighting to librettist.
Lauren Pearl who plays the lead, Louise, clambered into climbing gear. (Throughout the piece, Pearl's Louise climbs the red-brick wall several times, a feat that must be accomplished while singing.) Meanwhile, Roger Honeywell, who plays Gould, sat stretched out, head angled and fingers twirling, inhabiting the essence of his character. "Tut tuts", sung by the cast, could be heard, fashioned after Gould's way of verbalizing as he worked. And there was Akin, crafting movement through space with a call to the actors to bring in their whole selves to the moment. I was smitten by the sounds, the movement and the process.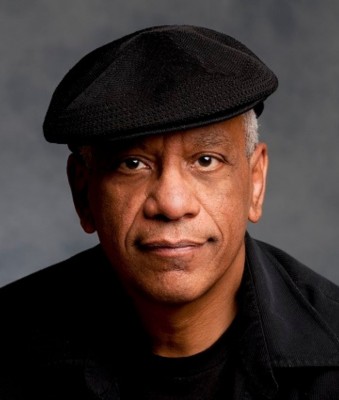 Says Akin, "Singers in opera are used to just being told what to do, how to sing it. I refuse to work that way. I give a clue, the inspiration, the breadcrumb trail and say, bring your best self to this. It gets amazing results. Artists gain power and know that their contributions are valuable. It is actually more interesting to me than sticking to the boundaries of opera or musical theatre."
To that end, the artist's climb can be lateral learning or a deepening of process as well as a vertical climb.
The Space
The location itself presents a significant additional artistic challenge. For the five performances, the Atrium will house the 15-piece Glenn Gould School's New Music Ensemble, multiple pianos, a catwalk and harnessed performers leaning out of the wall's windows to sing to each other on multiple levels.
The artistic wall can, however, evoke challenges beyond the physical, particularly for Black artists and audiences.
"We need to speak of this," says Akin. As the founder of Obsidian Theatre, Canada's first and perhaps only theatre that specializes in work by Black writers, he has significant experience with the vagaries of Canada's performance industry. "You also have to break down some walls, to be able to acknowledge who else is in a rehearsal hall full of predominantly white people. I have not seen another Black person working in the building (RCM/Koerner Hall), not even a janitor. However, everywhere I work is a Black space. I bring this to the table. By inhabiting the space that does not include some, we bring them to the table."
Michael Hidetoshi Mori, artistic director and Jaime Martino, executive director of Tapestry Opera, are also engaged with broadening what opera is, who does it and who hears it. Additional specificities to the concept of artistic struggle for excellence have been woven into the production process. Tapestry Opera's Women in Musical Leadership program ensures that women conductors are mentored and included in the process. Jennifer Tung and Juliane Gallant are assistant conductors on this production. Akin has brought in Sheree Spencer as assistant director and award-winning set and costume designer Rachel Forges – two Black artists. "We have to bring others along," he says.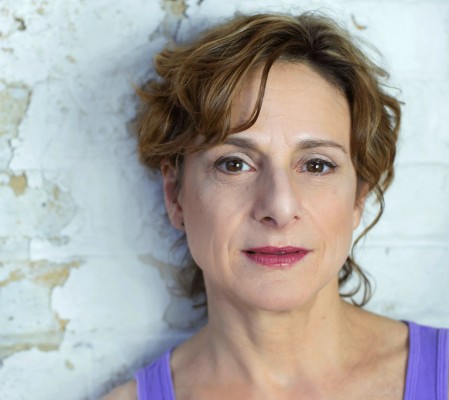 Finding an Artistic Compass
Gould continues to serve as a guide for many musicians, not all in a traditional way. Says Balkan, "There are those who can inspire, be a muse, and support a climber. Gould's work can directly be that for some. It can also be something to stand on, to launch from. It can be a spiritual/practical mentoring – through memory/essence/naming." Gould once spoke at a graduation ceremony at the Conservatory, Balkan says. "After an extraordinarily long speech about art and listening, and silence and creation and finding your own voice, he said, 'If I could give you anything, it would be to remind you not to rely on the advice of others.'" The quote is included in Balkan's libretto.
Akin has a less elliptical experience of mentorship to draw on, both as mentor and mentee. As a young theatre student at Ryerson, he was recommended by theatre journalist Herbert Whittaker for a part in the Shaw Festival's production of Caesar and Cleopatra. At that time, there was little work for Black artists. He auditioned, won his first part and was working six months after graduating from Ryerson's theatre program. To later receive the Herbert Whittaker Award in 2019 for his contributions to Canadian theatre was deeply meaningful.
His version of mentorship, particularly for Black artists, he refers to as "radicalization." He gives an example: "You are a dark skin, black woman, you have strong ideas. You know, the task is not just 50% more difficult. You have to prepare for that. It is not the same as being twice as good to get half as far. You need to be determined. You need to be strong. You need to call out. You need to go and do whatever you have to do to make your art happen. And you know you're not going to get the same kind of respect because you're not a child. You grew up in this country. You know that dark skin, Black women have it tough. Right? So, is that mentorship? I guess you can call it that. In my head, I think of it as radicalization. It's about trying to find fearless artists because I think there's too much accommodation going on."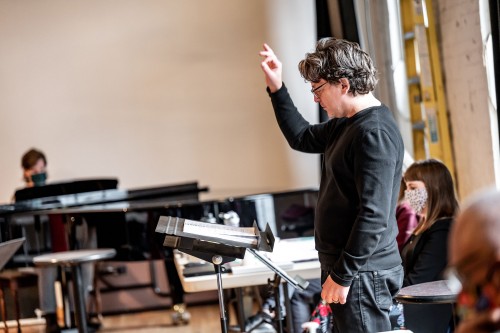 Movement and Magic
In addition to writing, acting, directing and many other talents, librettist Liza Balkan is also a dancer, she brings the essence of motion, of movement to the text. "I feel the rhythm, in the language; working on something like this project where so much of the dialogue is inspired by and informed by Gould's work, [I am] constantly hearing a sort of contrapuntal musical play – rhythm, speed and rests," she tells me.
How it all turns out remains to be seen. The show was originally scheduled for mid-January and has been postponed due to Ontario's lockdown. In light of this new scenario, the idea of movement is even more poignant. Philip Akin's martial arts influenced direction that ensures connection between performers working on multiple physical planes, is now translated into working with time as well. And to land us firmly in the present, Brian Current conductor and prime instigator of this enormous undertaking, will be on site, swaying and guiding each step of the musical journey.
"I believe art is a freaking mystery," Akin says. "So things happen serendipitously and my reaction when presented with a brick wall, a cast and crew, a libretto is, 'Let's go! Let's make magic!'"
Gloria Blizzard is a non-fiction writer, poet and penner of songs, whose wordsmithing has appeared in numerous literary publications, magazines and sound recordings. She is currently completing her first full-length book, a collection of essays, and can be reached at www.gloriablizzard.com.