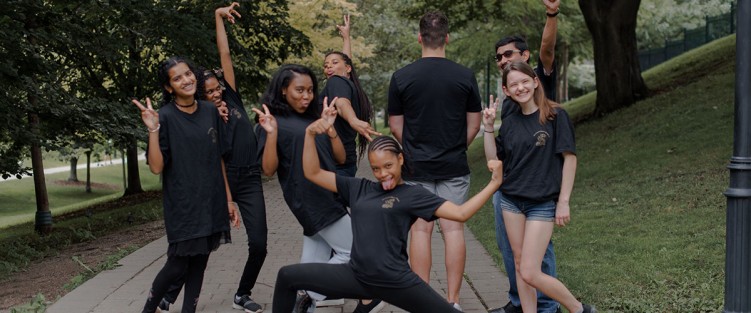 Nineteen-year-old opera student Charlotte Siegel is getting frustrated as she sings an aria from Mozart's The Marriage of Figaro over and over again in a cramped rehearsal studio at the University of Toronto. She wants to impress her new teacher and is concentrating hard on getting every element right. But the more she tries, the more her body tenses and the notes get stuck in her throat.
"[Singing] is not a gentle thing," says her teacher, Frédérique Vézina. "It's like jumping off a cliff – you have to just let go."
Siegel takes a deep breath. She turns off her brain and lets her instincts take over. The song's energy pumps from the ground to her face; every part of her vibrates like a pitchfork.The pounding pulse of the music takes over her being, annihilating her worries. The moment shimmers. Times like these, when the "controlled scream" of opera whisks her right out of herself, make all the effort worthwhile. "It's the most luxurious feeling in the world," says the soprano.
Learning to immerse herself in the moment has benefitted Siegel in both music and life. But it hasn't been easy. Like many musicians, Siegel tends towards perfectionism, over-analyzing situations and undercutting actions.
Letting go is another of many life lessons that music and her mentors have taught her: learning to communicate and collaborate have bolstered her confidence both in singing and in general. "I question who I would be if I hadn't had those experiences," says Siegel.
Regent Park School of Music
Siegel's instruction in music began at Toronto's Regent Park School of Music (RPSM), which offers highly subsidized music lessons for children living in the mostly lower-income and racialized communities of Regent Park and Jane-Finch. From the age of nine, when she began studying voice, Siegel says, she was transfixed by the transformative power of music. She could be upset or frustrated or tired – but the moment she started singing everything else faded away.
Later, when her classically trained teacher introduced her to opera, Siegel learned to absorb her character's perspective into her own skin. "I always try to imagine what the person I'm trying to portray was going through in that moment, and breathe it in and fully become it," she says. These excursions into the minds of others have broadened her vision. "Everyone wants to be transformed, to go outside of themselves," says Siegel.
As Siegel honed her voice at Regent Park School of Music, her overall confidence bloomed in tandem. As a young child, Siegel says, she was "bubbly but also self-contained. I lived in my own world happily for a really long time," she recalls. Music, where she could comfortably express her feelings, drew her out of her shell. "That's helped me…communicate with people," she says.
Of course there were times when the magic went missing, and that's when mentors like Zorana Sadiq jumped in. During one practice session, Siegel recalls how sadness over some now-forgotten incident seeped into the exercise. The uncharacteristic quiver in her voice affected Sadiq so profoundly that she baked her struggling pupil a batch of cupcakes to console her. Siegel remembers how touched she was by the gesture. "It makes you feel seen," she says, "and like someone cares about you." The former RPSM grad remains close with many of her former instructors, who have become a "second family."
Performing also boosted Siegel's morale. From the age of nine, the young girl was belting out solos in front of large crowds, and these stints in the spotlight have, for the most part, immunized her against stage fright. Her growing technical expertise in turn fuelled a sense of competence that extended into other domains. "Feeling like you're getting better at something is …a really big part of becoming more confident," she says.
But perhaps her greatest gift from RPSM, she says, was the school's cultivation of her speaking voice. In their youth groups, students worked actively at exchanging opinions and taking a stance on social issues. "That's the biggest thing that music gave to me as a youth," Siegel says.
When she embarked on her music studies at the University of Toronto in 2013, though, Siegel was initially more bent on conforming than crusading. The only Black person in a sea of white faces, she recalls spending hours every weekend ironing out her thick, curly tresses in order to blend in with her straight-haired peers. Her classmates called her "Michelle Obama" (who sported a similar sleek bob). Siegel didn't mind then, she says.
But her whole world view shifted on its axis the day George Floyd, an unarmed Black Minneapolis man, was murdered by police officer Derek Chauvin in May 2020. "I feel like a completely different person after that moment," she says. While the former self-described "people pleaser" once ignored minor racial slurs, her tolerance ground to zero after that watershed event. "Things that you let slide before, there's just not a place for them anymore," she says. Siegel the songwriter poured her grief into a composition, The Dream, about a world without prejudice, performing it online with Pacific Opera Victoria.
But she did more than just dream. The pandemic gave her space to reassess her priorities. She had always wanted to give back to her old music school, and, in the fall of 2020, began co-leading their youth group, facilitating delicate discussions on both personal issues and current events. She was a natural. "The best part was seeing some kids start out quite shy then open up a little bit."
Marigold
Revisiting Regent Park School of Music catalyzed another, more far-reaching opportunity for their former protégé. After a visit there, staff connected Siegel to two other classically trained, like-minded musicians, Khadija Mbowe and Kevin Mulligan. Two years ago, the trio co-founded Marigold, an initiative to make community-based music education (both classical and other genres), accessible to racialized youth from a wide spectrum of socioeconomic backgrounds, with the goal of helping to build stronger, more resilient communities. "It is important to show youth that people who look like you do this kind of music," says Siegel, who serves as the program's managing director.
Marigold's namesake brilliant orange flower, Siegel explains, sprouts up anywhere but only thrives in a particular type of soil. Marigold strives to supply each participant with their own uniquely enriching environment tailored to make them thrive.
Co-founding Marigold was another leap of faith for Siegel. "What do I know about running a non-profit?" she wondered. But the bolder, braver Siegel forged ahead. "I believe in it," she told herself. "So let's figure it out." (Marigold has already secured Ontario Arts Council funding, as well as a Pillar Sponsorship from the University of Toronto.)
The program unfolds in two steps. The Summer Music Intensive, staffed by professional musicians, targets the tools of music, including composition, and culminates in a collective showcase partially written by the youth. Afterwards, the participants are individually matched to compatible mentors who meet with them weekly to flesh out their aspirations, offer resources and accompany them on outings to shows and other venues.
Marigold's philosophy, including its championship of accessibility, echoes that of Siegel's own alma mater. Both RPSM and Marigold inspire students to dig deep and take stock of their innermost feelings. Monthly meetings at Marigold begin with a check-in, when every participant gets the chance to tell whatever is on their mind. "[We're] making sure they feel heard and valued," says Siegel. Marigold's egalitarian staff-student relationships are also modelled on RPSM. Mentors act as cheerleaders and advocates for their charges, providing a safe space for mentees to learn to trust their instincts as they explore their lives' directions. "It's not 'Do what I say,'" says Siegel. "It's believing in yourself."
Like RPSM, Marigold hopes to build a sense of belonging and community through participants' intense, shared adventure in music. Regardless of their aspirations, everyone benefits from the connections woven by exposure to the medium. "You're not alone, we have shared experiences," Siegel says. "That's what the arts have to offer."
Ultimately, Siegel hopes that participants' immersion in Marigold will empower them, whatever life path they find themselves on. The discipline instilled through practice, the chance to experiment with new possibilities and the opportunity to play games and have fun all contribute to a heightened sense of agency, says Siegel. "I'm one of those people who believe you can do anything you want," says Siegel. "We're just hoping to show that."
It seems that Siegel and her team are succeeding. Members are already forging a community. "They just love coming in to chat and hang out and reconnect with the group." Recently, one trainee was elated when she received a scholarship to Branksome Hall, the high school of her dreams. "She never would have thought of applying there before," says Siegel. But the interviewing and résumé skills gleaned from Marigold, along with a renewed confidence in herself, helped to clinch the coveted spot. "I am just so proud of what we have been able to do in a year," says Siegel.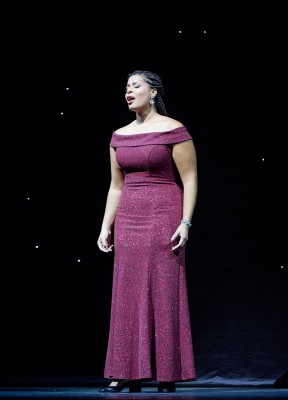 Siegel too is flourishing. Last August she was admitted into the Canadian Opera Company's Ensemble Studio, a training program combining elite level mentorship with challenging performance opportunities, onstage and in recital. "I do feel quite supported," she says. Today Siegel takes vocal classes as well as master workshops in breath work, diction and acting. She's also preparing for her upcoming debuts in Fantasma and The Magic Flute. "And that I'm very, very excited about," says Siegel.
Siegel continues to hone her musical craft, absorbing life lessons along the way: a life coach at the Canadian Opera Company has recently helped her recognize that she is happiest when balancing hard work with reparative self-care and family time, Siegel says. This discovery has been liberating "because if you are a full person outside of music, then you need not dread making the inevitable musical mistake." This knowledge continues to bust Siegel out of the bonds of perfectionism and propels her towards a freer future.
Charlotte Siegel has come a long way from the hesitant 19-year-old teetering on top of the metaphorical cliff. She's become a risk-taker, taking the plunge, finding new possibilities outside her comfort zone. It's never easy. "It's a scary feeling right before you go," says Siegel. But the euphoria of jumping and surviving more than makes up for the anxiety. "You do something and you don't die," says Siegel. "Yeah, it's addicting."
Upcoming COC performances by Charlotte Siegel:
Fantasma (she plays Léa's mother, Manon) March 9,10,12,13 (2022)
The Magic Flute (she plays Second Lady) May 6,8,11,14,17,19,21 (2022)
To learn more about Marigold, see marigoldmusicprogram.com.
Vivien Fellegi is a former family physician now working as a freelance journalist.