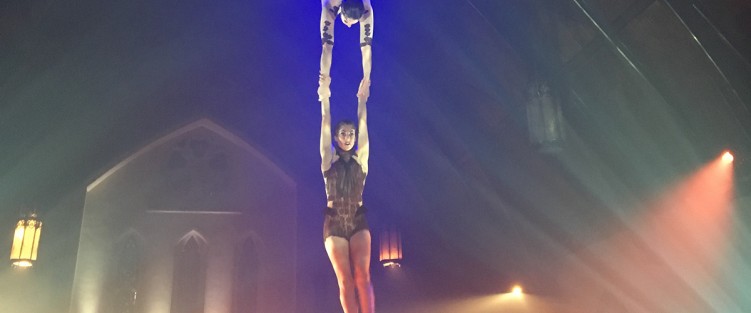 It's March 25, 2019 as I write this here at Trinity-St. Paul's Centre for Faith, Justice and the Arts. That puts us right in the middle of Lent (the lead-up to Easter celebrations). We just struck St. Matthew's Passion for Tafelmusik (which occurred on the same day as our meditative Compline service) and then headed straight into the University of Toronto's student concerts. By the end of the week we'll be onto Trio Arkel. And that's just the sanctuary, one of ten available spaces in this large urban church.
Church. A place of faith. First and foremost, Trinity-St. Paul's is that: a United Church, built 130 years ago for the gathering of a congregation of Christian worship. However, the intervening decades have seen this definition of its purpose adjust, with usage patterns and the will of the congregation, into something far more inclusive. Inclusive of different worship forms and inclusive of community in the broadest sense. On any given day you will see seniors exercising, children arriving for daycare, dance and music lessons, language classes and 12-step groups meeting, and professional arts organizations performing. It is a messy mélange of all the best things of community. And more and more T-SP (along with others) is serving as a model for faith buildings across Canada.
So, dear readers of The WholeNote magazine, why does this matter to you? Because the new models being built in these faith communities are providing new spaces for the arts and allowing for broad spectrum partnerships that could deepen our community's relationship to the arts.
In 2013, Alan Brown of WolfBrown in the United States released a paper that talked about the increasing desire to create art rather than just witness it – to participate. He broke arts participation down into five "modalities": inventive, interpretive, curatorial, observational and ambient (WolfBrown, A Fresh Look at Arts Participation, 2013). He argued that we deepen our relationship with the arts when we engage at all of these levels, acting as both practitioner and patron.
Our new hybrid faith-arts, community-centre spaces offer the opportunity to be inventive and observational in one venue, without the excessive costs of a full-scale theatre to hinder these explorations. The best centres create a dynamic in which audiences are allowed to feel a sense of ownership and the comfort of a home away from home. Unlike many large-scale recital halls, these are not "high art" places, even when the art being produced in them often is. The intimate scale of the work at Trinity-St. Paul's, for example, can best be seen post-show in the lobby where artists pass through on the way to retrieve their things. There is a natural collapsing of distance, an ability to imagine oneself as being fully a part of the success of that venture, a part of a journey of art creation.
What We Know (and Don't Know) About Canadian Arts Audiences
In a 2013 blog on the culturedays.ca website, titled What We Know (and Don't Know) About Canadian Arts Audiences, Shannon Litzenberger quotes a National Endowment for the Arts (US) Periodic Survey of Public Participation in the Arts as saying "we are rapidly introducing new or blended forms … expanding beyond purpose-built arts facilities, moving into bookstores, community centres, schools, places of worship and especially the home." These models aren't particularly new; who hasn't heard of the infamous Trinity Sessions by the Cowboy Junkies at Holy Trinity Anglican, after all? What is new, however, is that aging congregations, and the weight of often historical buildings, are putting the model of faith buildings as multi-disciplinary hubs under threat. Regeneration Works (a project of the National Trust for Canada and Faith & the Common Good) estimates that 9000 faith buildings will close in Canada in the next ten years. How many of these buildings currently house rehearsals, workshops or performances?
There is an opportunity here, to preserve these unique architectural spaces, creating new venues for the arts that can work in collaboration with community activation. Many models are being developed around Canada, but here are just a couple to consider.
After the congregation at Dominion-Chalmers United Church in Ottawa had shrunk to a point where it couldn't maintain the building, Carleton University offered to purchase it. The new arts and education centre (yet to be named) will still house the faith community, but will also have Carleton University's department of music, the Ottawa Symphony Orchestra, Ottawa Children's Theatre and other amateur and professional practitioners. This can only strengthen the learning environment and provide a built-in future audience. Carleton is invested in this concept of a hybrid culture, creating a more nuanced educational experience that will also involve adult learner lecture series. Check out more on the project at https://carleton.ca/dcuc.
Meanwhile, in Montreal, St. Jax Anglican Church has just announced a partnership with La Monastère as the resident circus company. La Monastère describes themselves as a cabaret circus, interested in creating fully immersive events in St. Jax's sanctuary in which the seating has been removed to allow for large-scale public gatherings and events. With a bar, full lighting and sound system and the gorgeous architecture of the church, the venue is proving to be divine (excuse the pun) for La Monastère. The sense of height and daring inherent in the circus arts seems to be enhanced by the curved architectural features of this Anglican church, creating a experience that is both intimate and death-defying. The Anglican congregation continues to worship there and the team at St. Jax is looking to expand its mission by bringing more co-users into its community hub embrace. As they curate their own particular hub they are considering a gym (possibly circus-based), co-working and café spaces, as viable options that would enhance their mission.
While both of these models have favoured the church remaining resident, on the East Coast there are models in which arts groups have fully purchased the faith building, creating wholly new venues centred on the arts. These include the Highland Arts Theatre Centre in Sydney, Nova Scotia and the Indian River Music Festival, in Prince Edward Island. The Indian River Music Festival has expanded its programming to encompass the entire summer, with musicians of all different genres from across Canada, including, this summer, Polaris Prize winner, Jeremy Dutcher. As well, a sensitive glass addition to the historically designated site allows room for audiences to gather pre- and post-show, without damaging the historic structure.
Regeneration Works continues to work on models like these across the country, inspired by what has been created and looking to the future of hybrid faith-arts centres. In Winnipeg and Kingston, mighty Vancouver and tiny little whistle-stop Kingsbridge, communities are embracing these civic assets and asking them to reoccupy a place in the broader public life. If you're interested in seeing more models that are being tested, head on over to www.faithcommongood.org/places_of_faith to learn more; or consider joining us for a workshop in Kingston on June 1 at the Spire of Sydenham, another fantastic "arts in a faith building" project. Also feel free to join us on social media, and keep an eye out for our upcoming survey of how faith buildings are serving the broader not-for-profit community. We look forward to hearing about co-use projects from all over Canada via this two-year study.
As I finish writing this, a toddler has just chased the resident cat down the hallway and Dancing with Parkinsons is setting up for their weekly therapy/dance class/community gathering. In the sanctuary, a few tourists have come off the street and asked to pray, and rather unusually,the space was available. Someone tunes the piano for tonight while they pray. I cannot help but feel that this is a glorious use for this old place of sanctuary.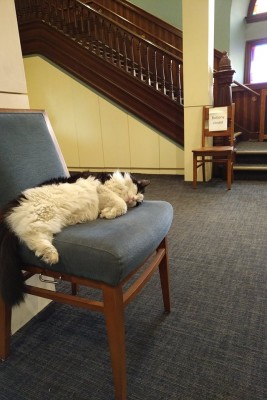 Kendra Fry is the general manager of Trinity-St. Paul's Centre for Faith, Justice and the Arts and an associate of Regeneration Works: Places of Faith, a project of the National Trust for Canada and Faith & the Common Good. She is passionate about building places where communities can grow and thrive.