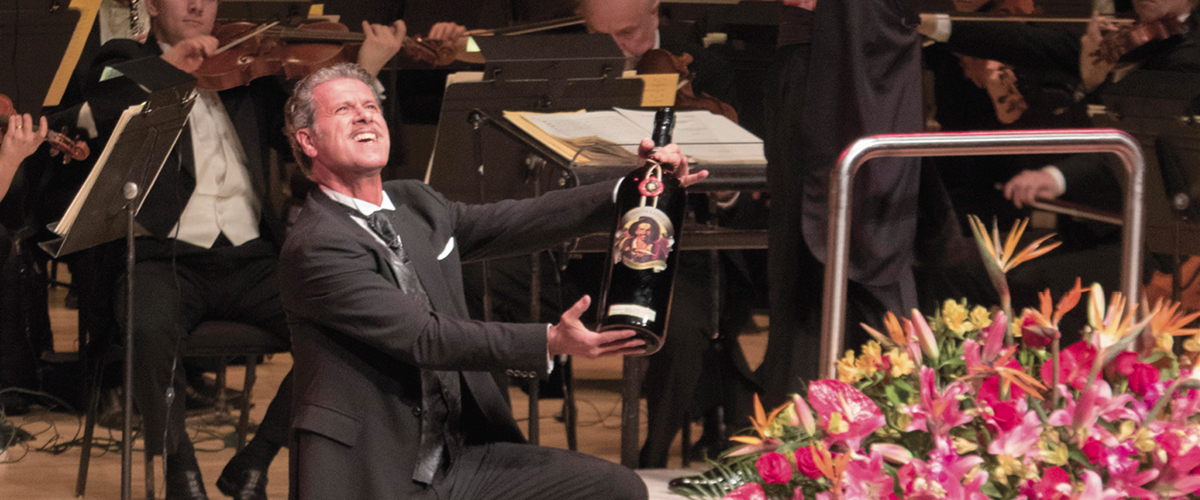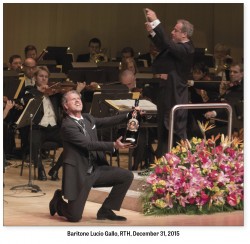 Twenty-two winters ago, Toronto-based impresarios Attila and Marion Glatz took the plunge. The previous year they had acted on a hunch and rented the George Weston Recital Hall in North York for a New Year's Day performance of "Salute to Vienna" (the "salute" of the title being a nod to the Vienna Philharmonic's New Year's Concert from the Golden Hall in Vienna's Musikverein, these days, broadcast to over 90 countries all over the world and watched by more than 50 million viewers).
The cautionary wise had told the Glatzes they were crazy - that attempting to get Torontonians to go out to such a thing on New Year's Day was folly. Short version, they sold out the Weston that very first year.
"Just a fluke," the pundits continued to warn. "Take our word for it. We know the city. After the last Handelian 'Amen' has subsided, the musical Night falls Silent around here, except for drinking songs and increasingly raucous rounds of Auld Lang Syne followed by hungover remorse and resolution writing. Nothing happens till around the tenth of January, after which it's serious musical business again."
Being cautious incrementalists and prudent business people, the Glatzes listened to the advice and immediately switched the event from the 1100-seat Weston to 2,500-seat Roy Thomson Hall for the following year. They sold that one out too, as they have done pretty much ever since. Tickets for this year's iteration are scarce as hens' teeth, as the saying goes – it's easier to get tickets to Hamilton (Hamilton Place in Hamilton, Ontario, that is, where the same cast will perform "Salute" a day later).
Flagship and Fleet: Now in its 23rd year, the RTH "Salute to Vienna" is arguably still their flagship event (although the on-the-ground team organizing the January 1 Lincoln Center version might argue differently). In any case, the sheer size of the fleet is now as impressive as the flagship. This year, "Salute" will be staged in 24 North American cities over the first few days of January, seven of them Canadian, and six in Florida alone, according to Andrea Warren, affable VP Marketing and Project Development for Attila Glatz Concert Productions, Inc. Around one third of the Florida attendees are Canadian Snowbirds, Warren tells me, as indeed the Glatzes themselves tend to be these days! Nor is "Salute to Vienna" the only show on the Glatz book. At RTH it has, for the past eight years, been paired with a New Year's Eve operatic extravaganza titled "Bravissimo," which starts at 7pm and offers the guarantee that you will be out by 10.
And the Glatz name crops up all over the calendar as presenter or co-presenter of a wide range of potential crowd-pleasing concerts and touring shows. For example, if you type the word Glatz into our "Ask Ludwig" listings search engine at thewholenote.com, for the period October 2016 to January 2017, it yields twelve results, ranging from an October 28 RTH performance titled "Magnificat" by the touring KlangVerwaltung Orchestra and Chorgemeinschaft Neubeuern Chorus, to Sony Centre film presentations with live accompaniment ("Amadeus Live" in October and "E.T. The Extra-Terrestrial Live in Concert" in late December to the aforementioned upcoming performances of "Salute to Vienna" and "Bravissimo."
Bravissimo! Of all these, it was "Bravissimo" that was top of Warren's agenda when we chatted on November 24 (US Thanksgiving). Speaking by phone from the organization's Toronto headquarters, she confided that the south-of-the-border Thanksgiving holiday was proving to be "a lovely reprieve," from the chaos of coordination among the various casts and cities involved in this year's round of "Salutes."
As mentioned, "Bravissimo" is the New Year's Eve prequel to "Salute" (albeit featuring an entirely different cast of soloists, a different conductor, and very different repertoire from "Salute's" Viennese diet of light opera and operetta). It tends to be an operatic highlight reel – overtures, choruses, arias, duets, etc – usually featuring four soloists. They've played with the formula from year to year, sometimes matching rising "name" local soloists with Glatz favourites from Europe, sometimes bringing in a purely European cast of soloists. This year it's the latter, but with, as Warren puts it, "a fun twist. We're bringing two sets of operatic couples, on and off stage, to kick up the realism in opera's larger-than-life emotions."
The "real life" couples are Donata D'Annunzio Lombardi, soprano, Diletta Rizzo Marin, mezzo soprano, Leonardo Caimi, tenor, and Lucio Gallo, baritone. Fittingly enough, it's the tenor and the soprano (Caimi and Lombardi) who are real-life partners, as are the mezzo and the baritone (Marin and Gallo). Judging from the announced repertoire, audiences will be regaled with everything from the tender to the tortured to the titillating, ranging through arias, duets, trios, quartets, choruses, overtures and preludes, by Mozart, Puccini, Bizet, Leoncavallo, Verdi, Puccini, Wagner, Offenbach, Mascagni, Bellini…you get the picture. Rest assured, you won't have to attend a pre-concert chat to figure out whether you're enjoying yourself (although host for the evening, opera buff Rick Phillips, would be fully capable of delivering one!). Both the chorus and orchestra for the evening, although hired individually for the event (rather than as pre-existing ensembles), will be comprised of seasoned local musical specialists in the repertoire on display.
Baritone Lucio Gallo, a returnee from last year's event, Warren informs me, is probably the main reason for this year's formula. "He brought the house down last year," Warren says, "with a larger-than-life rendition of the quack doctor in Donizetti's L'elisir d'amore, singing "Udite, udite, o rustici," strutting across the stage with an enormous bottle of his famous cure-all (in fact, a bottle of cheap Bordeaux), touting it to the village people as a cure for everything from asthma to wrinkles to loneliness."
It might be a bit rash to tout "Bravissimo" as a New Year's Eve "cure-all" since it will likely precede most of the evening's hangovers. But very likely a good time will be had by all!
New Year's Concert 2017
The Vienna Philharmonic and Gustavo Dudamel
At the top of this story I mentioned that the Glatzes' "Salute to Vienna" paid homage to the Vienna Philharmonic's New Year's gala concert from the Golden Hall in Vienna's Musikverein.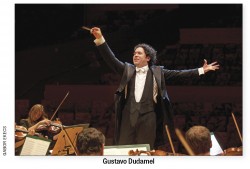 Just announced, the 2017 Vienna New Year's Concert will be conducted by Venezuelan-born, 35-year old El Sistema-trained and Los Angeles-based Gustavo Dudamel, the youngest ever conductor to lead the event. It will be his debut at this event, but by no means his first outing with the Vienna Phil, with whom he has appeared as a regular guest conductor, starting as far back as 2007. (He is also in his 18th season as music director of the entire El Sistema project, and continues to lead the Simón Bolívar Symphony Orchestra in Venezuela.)
At first glance, Dudamel and the light-opera-fuelled, Golden Hall New Year's Day event seem an odd match. As the release about the event pointed out, Dudamel has through the years carried a social force mandate with him wherever he goes: guest-conducting youth orchestras, encouraging socially motivated music projects, or ensuring that young people from disadvantaged communities have access to his concerts. His response to recent events in Venezuela may have somewhat diminished the glow, but entering his eighth season as music director of the LA Phil (and with a contract extended to the end of 2021-22), he has nevertheless been instrumental in dramatically expanding the scope of its community outreach programs, including most notably through the creation of Youth Orchestra Los Angeles (YOLA), and related local educational initiatives, which bring music to children in underserved communities of Los Angeles.
With the Vienna Philharmonic regarding the New Year's Concert as "a musical greeting to the world that is offered in a spirit of hope, of friendship and of peace at the start of the New Year," it will be interesting to hear (and see) what happens when the spirit of Dudamel and the spirit of Vienna meet.
The live recording of the 2017 New Year's Concert will be available (via Sony) on CD and as a download (international release on January 9), as well as on DVD and Blu-ray (January 27), on vinyl (March 3) and as a digital long-form video (February 17).
David Perlman can be reached at publisher@thewholenote.com.