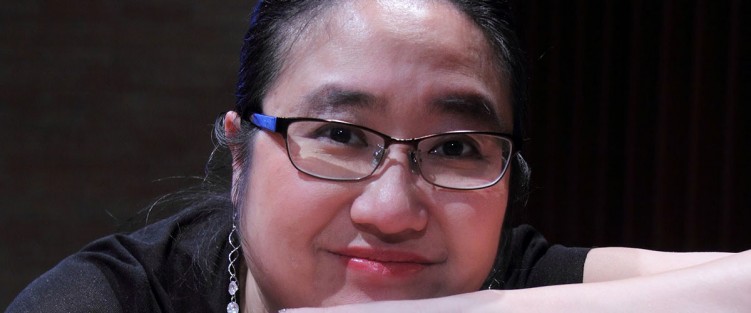 A fascinating yet seemingly ordinary scenario forms the basis for a tension-filled new opera by composer Rodney Sharman and librettist Atom Egoyan. The last time these two creators collaborated was for their opera Elsewhereless in 1998, which received over 35 performances both across Canada and the Netherlands. The new work, commissioned by Continuum, is titled Show Room, and a concert presentation will be performed at the Music Gallery on March 18 and 19. The story reveals a complex relationship between a mother, her son, the mother's clothing, and a woman who runs a haute couture business. The instrumentation consists of soprano, mezzo-soprano, baritone, two soprano recorders, alto and tenor recorders, an alto and tenor sackbut (a Renaissance- and Baroque-era trombone), percussion, piano, toy piano, violin, cello and double bass.
I recently spoke with Jennifer Tung, conductor of the production, to find out what to expect from Show Room. She explained that in this opera, unlike many where a lot of action takes place quickly, the dramatic aspects of the story are stretched out slowly over time. Musically, Sharman makes use of microtonality in the score to create textures that also shift very slowly. "Text is repeated many times, which helps create the tension," she explained. "In the libretto, as the relationships between the characters build, you think the story is going in one direction, but then it doesn't end up there. Because Rodney knows the singers, he was able to write vocal lines specifically harnessed for the strengths of each individual voice."
Tung also commented on the unique way Sharman combines early instruments with contemporary harmonies and the specific way he writes out the degrees of the microtonal shifts. "For example, he indicates how many steps or changes the player needs to take to go from B to B-flat, which on the piano is only one step, but with the recorder, sackbut, or a string instrument, it's possible to make four or six steps between these two notes."
In a video interview available in Continuum's web series Press Play, Sharman says: "I'm able to move from major to minor keys in a strange and twisted way that reflects the twisted situation in this opera. There are places in the text where I simply stop and dwell on a word, on the beauty of the voices, or on the unusual timbres that are created." In the same interview, Egoyan explains that the "characters are pushed to extremes and react in a perverse way, perversions that are rooted in emotion that creates a sense of need, fear, desire and yearning."
Tung comes to the project after extensive training, initially receiving degrees from the Eastman School of Music in singing performance and collaborative piano or vocal coaching. Over time, she has revived an earlier passion she had for conducting, even though when younger she was discouraged from pursuing that route because of the difficulty women had in developing conducting careers.
She initially received mentoring from Maestro Denis Mastromonaco, conductor of the Mississauga Symphony Orchestra, learning "on the job." She took on the role of conductor of the Mississauga Youth Symphony and was subsequently selected to be a participant in Tapestry Opera's Women in Musical Leadership (WML) three-year program, designed to help women and non-binary conductors and music directors develop their skills. After conducting Brian Current's Gould's Wall this past summer, she was invited by Continuum's artistic director Ryan Scott to take on this project. After a few years of COVID delays, the project is now ready to be rehearsed and premiered under Tung's expert musical direction.
Soundstreams Presents the Music of Steve Reich
Soundstreams is celebrating the 86th birthday of American composer Steve Reich (b. October 3, 1936) with a concert in the George Weston Recital Hall on March 25 that will include a performance of Reich's iconic work Drumming and the Canadian premiere of Reich's more recent piece Reich/Richter. The latter was written to be performed with German visual artist Gerhard Richter and Corinna Belz's film Moving Picture (946-3) and received more than one hundred performances at The Shed in New York in 2019.
It has been close to seven years since Soundstreams last presented the music of Reich, when Music for 18 Musicians and Tehillim were performed at Massey Hall. Drumming, dating from 1970-71, goes back even further than that, being first performed in Toronto at a New Music Concerts event in February of 1976. Composed for nine percussionists, two female singers, whistler and piccolo, the percussion players begin on four pairs of tuned bongo drums in Part One, change to marimbas with the addition of the singers in Part Two, move to glockenspiels in Part Three (with the whistler and piccolo), and finally in Part Four, a full ensemble. The piece is continuous without any pause or break, and takes 58 minutes to perform.
Drumming is known for its use of repeating melodic patterns that shift into becoming one or more beats out of phase with each other that over time build up a hypnotic spell of sound. I remember well that 1976 performance in U of T's Walter Hall with the members of the Nexus percussion ensemble performing. When the piece finished, the audience spontaneously rose to its feet with one singular movement in a standing ovation, a rarity in those days at new music events.
For this 2023 performance, Nexus will once again be on hand to spin the audience through this mesmerizing world of musical bliss along with TorQ Percussion Quartet. Nexus members Bob Becker and Russell Hartenberger were key participants in the original composing and performing of the piece as members of the Steve Reich Ensemble and have created the website drumming@50.com. Full of videos, articles, conversations and historical documentation, this site is a treasure trove of all things Drumming.
As Hartenberger states on the website: "For me, the gradual process of learning about Drumming was also the beginning of the gradual process of learning about rhythm." He recounts the story of how Reich composed the piece while working interactively with the percussionists of his ensemble. Learning by rote was an essential part of the process, one that Hartenberger claims is essential for learning how to play this demanding piece. I'm sure that the piece will sound as fresh, adventurous and spellbinding as it did when it was initially performed.
Wendalyn Bartley is a Toronto-based composer and electro-vocal sound artist. sounddreaming!@gmail.com.