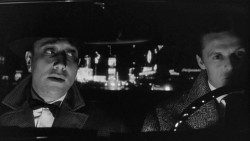 To celebrate the centennial of the birth of French director Jean-Pierre Melville, TIFF Bell Lightbox is screening 12 of his feature films and one short between June 29 and August 19.
Most of Melville's films dwell in the shadowy world of men who live close to death – gangsters, cops, French Resistance fighters. They usually unfold in B&W, methodically, in stories told like a procedural. His characters often drive around in big American cars, finned gas guzzlers from the late 1950s and early 1960s, and Melville likes to shoot them externally through the front window and internally from the back seat. He's fond of long looks filled with unspoken words, and of scenes of dancing girls in clubs. But even fonder of jazz, which he uses extensively in the films I was able to preview for the TIFF retrospective.
Melville himself stars in Two Men in Manhattan (July 9), as a journalist for Agence France Press dispatched by his employer to investigate the disappearance of a French delegate to the United Nations. Released in 1959 (but more importantly, shot in Manhattan in November and December 1958), this noirish B-movie looks terrific, the authentic footage of NYC exquisitely beautiful and time-capsule worthy. The journalist turns to an alcoholic photographer pal (Pierre Grasset) for help in the case – he's got photos of the diplomat with three different women (possible mistresses) – and the duo set out to cherchez la femme. One of these women is a jazz singer with a light, dusky voice (played by Glenda Leigh), who they meet during a recording session of Street in Manhattan at Capitol Records. (Leigh was still active in Florida as recently as 2013.)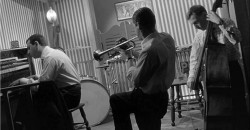 The evocative score is by Christian Chevallier and Martial Solal (who also wrote the score for Godard's Breathless, Melville's Léon Morin, Priest and Bertolucci's The Dreamers). From the opening trumpet underneath footage of Times Square, you know immediately that you're in New York in the 1950s. The trumpet theme recurs periodically as the city is unveiled from the UN to Greenwich Village, including contemporaneous marquees of movies featuring the likes of Jeff Chandler and Esther Williams. But it's images of Times Square and 42nd Street that jump out like time-lapse photography. Two Men in Manhattan may not have the gravitas of Army of Shadows, the elegance of Bob le flambeur (July 7) or the gangster demi-monde of Le Doulos (July 29), Le Deuxième Souffle (July 25) and The Red Circle (July 28), but it's a jewel in its own right and not to be missed on the big screen.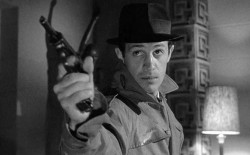 Army of Shadows (June 30; July 30) is an unmissable portrait of a handful of French Resistance fighters (Lino Ventura and Simone Signoret star) inexorably doomed in the early days of the movement; Léon Morin, Priest (July 16) also takes place during the German Occupation which serves as backdrop to its erotically charged tale of a lapsed Catholic-turned-Communist widow (Emmanuelle Riva, fresh from Hiroshima, mon amour) and the intellectually engaged priest (Jean-Paul Belmondo, fresh from Breathless) who rekindles her faith.
The series opened with a 35mm print of Le Samouraï (June 29; August 19), a film that influenced John Woo and Jim Jarmusch among others. Its ultra-cool hitman is played by the magisterial Alain Delon, his screen presence at its peak. The jazz-based score, filled with foreboding that mirrors the psyche of its protagonist, is by François de Roubaix. In Melville's last film, Un Flic, Delon is a cop who plays piano for his mistress (Catherine Deneuve), the girlfriend of his prey (Richard Crenna, whose craggy face can't be dubbed the way his voice is). Michel Colombier's score was his first for Melville (who never used any composer more than twice) but followed in the jazz footsteps of most of its predecessors since Eddie Barclay and Jo Boyer's memorable work in Bob le flambeur.
TIFF's retrospective on the work of Jean-Pierre Melville runs until August 19 at the TIFF Bell Lightbox. For more information, visit http://www.tiff.net/#series=army-of-shadows-the-films-of-jean-pierre-melville.
Paul Ennis is the managing editor of The WholeNote.