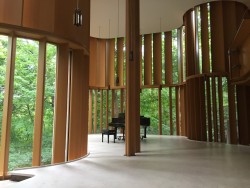 All my life I've vacillated between mathematics and music," James Stewart says in Integral Man, a film by Joseph Clement premiering in this year's Hot Docs film festival. "Mathematics unfolds over a period of time and tells a story. So does music." And so does Clement's film, which documents its extraordinary subject so vividly.
Stewart was a professor at McMaster University when two of his students encouraged him to write a book since his classroom explanation of calculus was so much more helpful than the textbook the course prescribed. He took up their suggestion and 13 hours a day, 364 days a year and seven years later, he had written what became the best-selling calculus textbook in history. With the proceeds he decided to build a house that would reflect his aesthetics and also serve as a place to host concerts, a venue for charitable and arts organizations to raise money.
"When you move through the house, it also tells a story," he says. Stewart's own story includes the fact that he was an accomplished violinist, concertmaster of the McMaster Orchestra and member of the Hamilton Philharmonic string section. Along with others he began the Hamilton Pride movement in the 1970s and continued to champion LGBTQ rights throughout his life.
He spent almost a decade from conception to completion with his architects, Brigitte Shim and Howard Sutcliffe, before he moved into the five-storey structure (built into the side of a ravine overlooking the Don Valley) in 2009. It's an extraordinary edifice, world famous, and Integral Man documents it from its imposing central staircase to its striking infinity pool. Since Clement didn't begin filming until 2012, in order to tell a fully fleshed-out story, he incorporated Edward Burtynsky's striking footage and photographs of the demolition and creation of Integral House into Integral Man.
The imaginative design filled with curves and glass reflected Stewart's personality: the rational, ordered, precise classical side and the dreamer, dynamic, irreverent side open to almost anything; these two sides to his character had to be reconciled in the house. As the camera follows him through the house Stewart explains how he wanted curves and a performing space but gave the architects free reign. Suddenly we come upon a dinner party which is followed by a private concert; a typical evening. It was the love of music that brought the famous (Philip Glass and Steve Reich, for example) and the rising stars - Pocket Concerts' Rory McLeod and the magnetic young violinist Blake Pouliot each appeared through Stewart's fondness for the National Youth Orchestra of Canada - to the house on Roxborough Drive.
"The house is fundamentally like being in a landscape," says Stewart. "Your relationship to nature changes. It's dynamic, like space in motion. The house moves away and above and beyond you." Stewart believed curvature to be essential and that the exceptional natural light in the house was a mirror image of the way the nearby forest receives light.
Midway through filming (which began in 2012), Stewart was diagnosed with multiple myeloma. As his condition worsened he planned for his funeral and his legacy, deciding in the process to host his own wake. We see him seated in the front row delighting in Measha Brueggergosman singing Strauss' Four Last Songs (with piano accompaniment arranged specifically for the wake) a few weeks before he died in December 2014 at 73.
Two chance meetings with Brigitte Shim in 2009 and 2011 changed the course of Clement's life and led to his directorial feature debut with Integral Man. Clement told me that Integral House represents a risk-taking endeavour that he considers to be very un-Canadian in its boldness. "It represents a vision, a passion and a willingness to go above and beyond the expected," he said. "It represents the highest form of contribution one can make to philanthropy in a totally involved and engaged way."
When Stewart's illness was diagnosed, it wasn't difficult to continue, Clement said. "When I approached Jim about the future of the film, Jim being an incredibly pragmatic individual, insisted that the filming continue and that his death would be integral to the story."
The spacious electronica score by Dan Goldman and Shaun Brodie complements the images without intruding. Accomplished musicians, they've played with Arcade Fire, the New Pornographers, Broken Social Scene and many others. Clement said that it was a back-and-forth process between editing the film and developing the music. "It was a fairly symbiotic relationship."
Not unlike the relationship between the Integral Man and his Integral House.
Integral Man plays July 7 to 13 at the Hot Docs Ted Rogers Cinema.
Paul Ennis is the managing editor of The WholeNote.