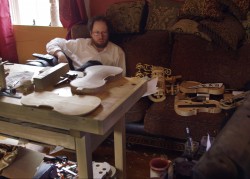 There are at least 20 films with a significant musical component in this year's Hot Docs International Documentary Festival, which runs at various Toronto venues from April 27 to May 7 (hotdocs.ca). There are must-see movies and others of more than passing interest among the several I've already seen; many promising titles are tucked away among the 230 in the 2017 lineup.
My review of Integral Man, Joseph Clement's vivid portrait of the late mathematics professor, LGBT activist and orchestral violinist, James Stewart, can be found in the May issue of The WholeNote. Stewart's unique Toronto home, Integral House, built into the side of a ravine with royalties from his best-selling calculus textbook, is integral to the documentary, as is footage of Measha Brueggergosman singing Strauss' Four Last Songs in the house for Stewart and his guests at his own living wake.
Long Strange Trip, Amir Bar-Lev's four-hour rich exploration of The Grateful Dead, presents a definitive picture of the iconic band including its cultural and musical origins (from Jerry Garcia's early connection to the Beat Generation of the 1950s to Ken Kesey's Acid Tests of the 1960s). There are many nuggets to chew on: one in particular from Joe Smith, the Warner Brothers executive in charge of The Dead and a fount of key information. He recalled that the film crew whom he hired to document the band's 1974 European tour were continually being given drinks by the band members; he said that he would never accept a drink from The Dead (because more often than not they would be laced with LSD; one of the band's central tenets was to have fun). Needless to say there was no film of that tour.
Stefan Avalos' Strad Style chronicles the improbable but triumphant story of a reclusive Ohio violin-maker, Daniel Houck, whose confidence that he can produce a copy of "Il Canone," the Guarneri violin built in 1742 that Niccolò Paganini played, carries him through an eight-month journey that threatens to be derailed more than once. A violin aficionado who loves listening to old masters like Oistrakh and Heifetz and idolizes Amati, Guarneri and Stradivari – all from Cremona, Italy – Houck suffers from bipolar disorder but functions with medication. He befriends Razvan Stoica on Facebook when he discovers the Romanian-born violinist has won the Strad Prize at a Salzburg festival and offers to make him the Canone replica. There is magic stuff here.
The Genius and the Opera Star, Vanessa Stockley's no-holds-barred depiction of the love between a 92-year-old former opera singer, Ruth Berk, and her 55-year-old daughter, Jessica, proves convincingly that parental love goes both ways. Living in a cramped Greenwich Village apartment that's often occupied by the daughter's empathetic boyfriend, their days are marked as much by Ruth's singing along to Sinatra records as by Jessica's complaining. The vintage home movies and tapes add another layer.
Raise Your Arms and Twist, Documentary of NMB48 takes you deeper than you may ever want to go inside the bizarre phenomenon of the Japanese pop idol groups. NMB, from Osaka, is at the top of the charts, with nine of their first ten songs Number One hits. Dozens of teenage girls dressed like dolls in short skirts are coached and choreographed to appeal to their thousands of adoring fans; management is all-knowing and all-pervasive, down to the handshake events in which fans get approximately ten seconds of intimate conversation with an idol. One singer after shaking 3000 hands in a nine-hour session said: "It gives me energy; it's like spending the whole time with your friends."
The Road Forward chronicles decades of Indigenous activism in Canada through song, print and struggle. The Native Voice newspaper (since 1946) and the Native Brotherhood (which began in 1931 in BC's fishing villages) both fought for Native rights. Archival footage is amplified by several Indigenous performers who carry on an oral tradition that reaches out inclusively beyond the personal.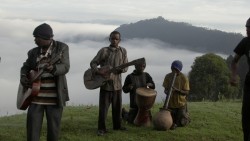 Daniel Roher's Ghosts of Our Forest follows a 24-year-old Ugandan Batwa (pygmy), who has formed the Batwa Music Club to perform the spiritual and traditional music of his people, all of whom were forcibly removed from their ancestral homes in 1992.
Rumble: The Indians Who Rocked the World devotes its energies to ten Indigenous North American musicians who made considerable contributions to the musical life of the last century. Taking its cue from Link Wray's influential 1958 guitar instrumental, Rumble, Catherine Bainbridge's doc includes blues great Charley Patton, songbird Mildred Bailey, Jimi Hendrix, Robbie Robertson, Buffy Sainte-Marie and more. Bainbridge is best-known for Reel Injun, her examination of the movies' treatment of Indigenous people.
La Chana is a portrait of a Catalan flamenco legend and her triumphant return to the stage after years out of the limelight.
Chavela recounts the story of the legendary Mexican chanteuse, who defied sexual convention and challenged macho cultural norms with her music and her love affairs.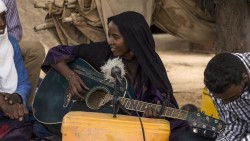 A Story of Sahel Sounds follows Oregonian Chris Kirkley as he travels to Niger in search of musicians he's never met to be part of his Sahel Sounds project. The soundtrack looks to be a keeper.
Give Me Future uncovers the ingenuity with which Cubans share banned music while ostensibly focusing on a concert in Havana by Major Lazer in front of half a million people.
A poor African-American family in North Philadelphia opens up their basement music studio to the neighbourhood in Quest, an in-depth portrait filmed over the course of ten years.
Resurrecting Hassan studies a family of blind Montreal buskers who fall under the spell of a Russian mystic who they hope will resurrect their sighted son/brother, a drowning victim. The heartfelt passion of the wife/mother's singing reflects more than the grief over her loss.
Tony Palmer, this year's recipient of Hot Docs' Outstanding Achievement Award, has made more than 100 documentaries. Six of the seven being shown here have a musical component. Palmer had unlimited access to Leonard Cohen for Bird on a Wire, an intimate look at Cohen's 1972 overseas tour; it's essential viewing. All My Loving, Palmer's second film, was facilitated by his friendship with John Lennon. Conceived as a means of getting performers like Jimi Hendrix, Cream, Eric Burdon and The Who onto the BBC, when it finally aired in 1968, its effect was transformative. All You Need Is Love (Ep.14 The Beatles) is taken from Palmer's 17-part 1976 historical series; The Beatles and World War II (2016) combines war footage with covers of Beatles songs. Margot, Palmer's film about England's greatest ballet dancer Margot Fonteyn, would strain credulity as fiction given her tragic life history. The Harvest of Sorrow (1998) is a compulsively watchable portrait of Sergei Rachmaninoff, much of it told by the composer's own words spoken to great effect by Sir John Gielgud. Archival footage, talking heads and modern performances (pianists Mikhail Pletnev and Valentina Igoshina; Valery Gergiev and the Mariinsky Orchestra) combine to produce an insightful portrait of one of the most popular figures of the 20th century.
Paul Ennis is the managing editor of The WholeNote.