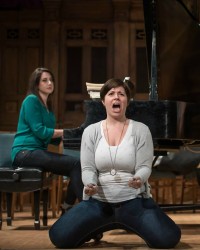 Opera is no stranger to onstage ridiculousness—but it isn't always as slyly self-aware as this.
Following its inaugural show of the same name in July 2015, Loose TEA Music Theatre is back with a new installment of opera improv series Whose Opera is it Anyway?!. Inspired by the popular improv comedy TV show Whose Line is it Anyway?, Loose TEA's production strings together improv comedy games into an opera of sorts, where professionals from the local opera community are forced to put their vocal and theatrical talents to comedic, and unexpected, use.
The show, which is organized by Loose TEA's artistic director Alaina Viau and coached by Carly Heffernen of Second City, takes place on Friday, June 16, at Bad Dog Theatre in Toronto. The cast itself is a promising cross-section of local opera singers, including Jeff Boyd, Amanda Cogan, Adanya Dunn, Gillian Grossman, Rachel Krehm, Jonathan MacArthur, Erin Stone and Lindsay Sutherland-Boal. Schmopera's Greg Finney will host and Natasha Fransblow will accompany at the piano.
Loose TEA isn't the only group experimenting with musical manifestations of improv comedy, either. Also in town this month from London's West End is Showstopper!, an improvised musical comedy running at the Panasonic Theatre until June 25. The show features a troupe of musical comedians billed as 'The Showstoppers', who, similar to Whose Line, use audience suggestions to create an on-the-spot performance of musical theatre. While the show has toured extensively in the UK, this Mirvish-hosted run is the group's North American debut.
Whether these shows represent a growing trend or simply coincidental offshoots into music theatre's less serious side remains to be seen. And though it's of course impossible to say exactly what these shows will offer, the mix of operatic and musical tropes with improv comedy is an interesting one, which pokes fun at the melodrama of music theatre while offering something more casual, spontaneous and light-spirited than your average Verdi or Wagner. A bit of a collision of worlds, perhaps, but one that makes sense—and one worth watching.
Loose TEA Music Theatre's Whose Opera is it Anyway?! takes place at Bad Dog Theatre in Toronto on Friday, June 16 at 9:30pm, and is a 19+ show. Tickets are $12; for details visit http://baddogtheatre.com/whose-opera-is-it-anyway. Showstopper! runs until June 25 at the Panasonic Theatre; more info at https://www.mirvish.com/shows/showstopper.
Sara Constant is a Toronto-based flutist and musicologist, and is digital media editor at The WholeNote. She can be contacted at editorial@thewholenote.com.