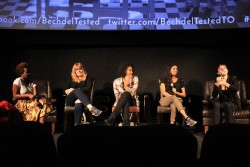 When it comes to how we treat women in the music industry, we can do better.
The classical music scene is no exception—in fact, in many cases it lags further behind than most. In a world where the Met programming an opera by a female-identifying composer makes international headlines, and where audiences still start scandals around the kinds of dresses Yuja Wang wears to her concerts, there is a long way to go before women in music have the platform, and the community, they need to succeed.
Erica Shiner certainly thinks so. She comes from a communications background but has long been an advocate for women in the music scene—and at the upcoming event in her film series Bechdel Tested, she's using cinema as a springboard for starting feminist discussion within our music community. The concept for the series is simple: based on the Bechdel Test—a test named after cartoonist Alison Bechdel that requires a work of fiction to feature at least two female characters who have a conversation about something other than a man—each edition of Bechdel Tested screens a women-centric film, alongside a panel discussion about the larger structural issues referenced in that film.
Hosted on Sunday, April 23 at the Revue Cinema on Roncesvalles (where Shiner is a member of the board) and co-presented with Toronto Women in Music, "Bechdel Tested: Women in Music" is the series' sixth installment. This month's event will feature panelists Robyn Phillips of Vallens, rapper Michie Mee, and Tao-Ming Lao of Billions Corporation, moderated by Aliya Pabani of arts and culture podcast The Imposter, and will screen 1954 film Carmen Jones.
"I wanted to use cinema as a vehicle to foster and support feminist community and networking for women in different industries," says Shiner, who started the series one year ago. "I love the concept of the Bechdel Test, and I thought the brilliance of that concept would translate well into a series that does more than just screen movies that pass the test."

"A lot of film programming is catered toward cinephiles, and that's fine, but I wanted to create an experience where cinema is a platform for women in all sorts of different fields," she adds. "Each event brings together a different type of audience, whether it's those who work in the particular industry, people interested in the film we're screening, or just those interested in building feminist community."
Shiner points out that in the music industry, where many women work in the public eye, toxic gendered frameworks can be especially ubiquitous, and especially insidious. "Music is an industry that's much less insular than others, in the sense that nearly everyone actively consumes music of some sort," she says. "So the ways that women are both represented and repressed within the industry are very visible to everyone. You look at Kesha's legal issues after being assaulted by her manager, the Ike and Tina Turner story, Amy Winehouse, Whitney Houston, Nannerl Mozart, Fanny Mendelssohn—these women were either ignored or devoured by the music world. You have a lot of really prominent women in the spotlight, but an absolute dearth of women behind the scenes. It's inevitable that this dynamic will create a culture of gendered exploitation. At every Bechdel Tested panel we want to look at these structural issues and brainstorm solutions."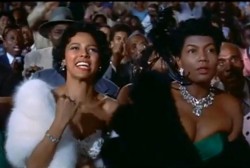 The film, Carmen Jones, is a 1954 movie version of Oscar Hammerstein II's Broadway musical of the same name, and is an adaptation of Bizet's opera Carmen set in the 1940s American south. Dorothy Dandridge, who plays the role of Carmen, was nominated for an Oscar—the first African-American woman to receive a nomination—for her performance in the film.
"Representation, not just of women but of POC and the LGBTQ community, is paramount to what we are doing with this series," says Shiner. "I always prioritize WOC when we are selecting panelists but we weren't paying enough attention to this in terms of our film selections. Our last four films all had white women leads, and so it was a necessity that we found a film that featured a WOC, and when I discovered Carmen Jones I was shocked that I'd never heard of it before. [...] There's really no reason other than so many decades of racism that this film isn't a well-known classic. I'm so glad that I found it and we have the opportunity to screen it."
The screening this month is one in a string of Bechdel Tested events, each of which highlights the work of women in a different profession. And for Shiner, it's proven a powerful way of using her connection with the Revue to reach out to women from an array of communities across Toronto.
"As with all of our events, more than anything I want to provide our audience with a sense of belonging and empowerment," she says. "Women are frustrated and alienated by the sexism that pervades nearly every profession out there. We want to bring women together to inspire them to carry on and to strengthen their resolve to push for the changes we all need to grow and thrive in our respective fields."
It's a worthy goal—and a film worth watching in the process.
"Bechdel Tested: Women in Music" takes place at the Revue Cinema on April 23 at 7pm. For details and ticket information, visit the event's Facebook page at https://www.facebook.com/events/1235168683199338/.
Sara Constant is a Toronto-based flutist and musicologist, and is digital media editor at The WholeNote. She can be contacted at editorial@thewholenote.com.
Update, April 17, 11am EST: This article previously contained errors regarding the nature of Shiner's connection to film and to the Revue, and has been updated to correct this.