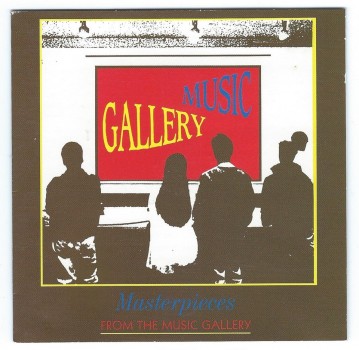 Two weeks ago on January 28, armed with a folder of carefully selected memorabilia of my own, I walked into the Music Gallery's new location at 918 Bathurst for what was referred to as a "90s Archive Jam!" Hosted by Joe Strutt and Fahmid Nibesh, the jam was basically a call for materials – a request for members of the experimental music community to gather and share their memories (and physical memorabilia) of what the Music Gallery was like in the 90s. Linked thematically to an ongoing "History Series" at the Music Gallery (focusing on the history of experimental music-making in Toronto), the jam helped shine a spotlight on an important time in Toronto's musical past – a past in which the Music Gallery itself has played no small part.
Joe Strutt: Citizen Music Archivist
Toronto musician Joe Strutt's career has shifted markedly over the past few years. Making music has been mostly sidelined in favour of his work as a "citizen archivist": running Track Could Bend, a monthly concert series of "improvised music and weird rock offshoots," and maintaining his long-running music blog, Mechanical Forest Sound.
Over the past nine years, Strutt has methodically logged a myriad Toronto concerts by mostly local musicians. At last count he's posted well over 4,000 concert entries, many with live audio recordings attached – a staggering number of events in anyone's book. Consequently, his blog has grown to become a valuable archive of the local music scene.
I called Strutt last week, asking how it all began. He told me his blog "was initially a personal aid memoire and not consciously an archiving project of the creative music scene in Toronto." It has nevertheless eventually grown into an incredible archive of local musical culture – what Strutt calls "an investigation of a wide range of artists, [and] reflections on concerts as shared experiences – as acts of citizenship."
Strutt is also behind a series of "Toronto Experimental Music Wikipedia Jams," the first of which was held at the Tranzac Club's Tiki Room on a balmy Saturday afternoon in November 2016.
The idea first occurred to Strutt when he went online to search for a Wikipedia entry on the CCMC, Toronto's venerable "free music orchestra" that formed in 1974 and established the Music Gallery. There wasn't one.
To set about addressing that omission, he pitched his first Wiki Jam to redress the issue to saxophonist Glen Hall, the co-founder of the 416 Creative Improvisers Festival. "Glen was enthusiastic about it," reported Strutt. I was among the roomful of eager participants who showed up at the Tiki Room and weighed in on the subject.
At home after that session, Strutt says that he "basically bashed out the Wiki text. Then other people improved it, adding rigour by providing links and formatting tweaks. The next time I checked, I was surprised to see my sketchy footnotes properly cited and formatted by a retired engineer from Australia!" The finished Wikipedia page CCMC (band) stands as a tangible testament to Strutt's initiative and perseverance.
"Then in February 2017 I organised another Wiki Jam for the Wavelength concert series and festival," says Strutt. This is what the Wavelength Music Arts Projects Wikipedia entry looks like, a year later.
"In preparation for the Music Gallery's recent 90s Archive Jam! some of us took a field trip to York U's archives to lay our hands on the old MG tapes," Strutt explains. "We sat down and happily spent hours listening to recordings of live concerts."
Why the interest in rediscovering and archiving the history of the Music Gallery now? "One of the reasons is that the Music Gallery is institutionally strong right now," says Strutt. "It therefore has the luxury to address its past, and not just dwell in survival mode."
Strutt summed up his view on his archive jams. "For me it's about engaging with the community, sharing our stories. These events bring those who were first-hand participants together with younger folks who want to participate in that living community."
Archive Jams at the Music Gallery
I asked Music Gallery artistic director David Dacks, in a phone call, about the ongoing History Series and how the 90s Archive Jam! came about. "One of the pillars of our strategic plan is to re-examine our archives and legacy," he says. "York University's archives contain our audio archives and images prior to 1999, but everything since has been a bit more haphazardly collected in binders, CDRs and, lately, through archived links. So I invited Joe Strutt, who serves on the MG's Artistic Advisory Council, to host a 90s archive jam in order to generate material and conversations. In turn he invited musician Fahmid Nibesh to split the hosting duties."
"The 90s Archive Jam! was not actually part of our History Series," Dacks clarifies, "but a more relaxed event in which MG participants could share their stories and original documents. During the event I experienced several aha moments. For example, I was fascinated to hear Alan Davis speak of his nine years of extensive world music programing at the Music Gallery, which included the appearances of some significant artists."
What will happen to the 90s material collected during the jam? "University of Toronto graduate student Mairead Murphy has been working diligently for months to archive concert audio recordings and pertinent paper documents on our HD," Dacks explains. "It's a race against time: CDRs have never been the most robust technology. She is also assisting us as we set up a presence on Bandcamp: Live at the Music Gallery. Initially we plan to upload six live concert titles from 2014 to the present and build from there."
The History Series
The History Series itself continues with two upcoming events exploring the documentation of Toronto's creative music. First is a discussion of Creative Music on Campus Radio on Thursday, February 15 at the Map Room, Hart House, University of Toronto, co-presented by the Music Gallery and CIUT-FM.
Dacks explains how non-mainstream music and radio art were boosted by the emergence of FM radio in the 1960s. "Combined with the advent of late night programming, radio opened up countless hours of experimental programming possibilities for stations large and small," he says. "Campus radio was…especially important in fostering community and paying royalties to up-and-coming musicians creating jazz, new music and completely unclassifiable sounds." The wide-ranging conversation on February 15 will be hosted by Dacks (himself a 25-year veteran of CIUT), and features panelists Ron Gaskin, Sarah Peebles, Nilan Perera, Claudia McKoy and Luca Capone, all active in campus radio.
The series continues on Friday, April 6 with a panel on Creative Music Journalism, presented by the Music Gallery and Musicworks magazine. Dacks will talk to journalists about "the challenges and joys of describing abstract music." Panelists include Mark Miller (Globe and Mail), Carl Wilson (Slate, The Guardian, Globe and Mail), Katie Jensen (Polaris Music Prize podcast, IMPSTR), Jennie Punter (Musicworks, Toronto Star) and Jerry Pratt (Exclaim!).
"Evolving from occasional coverage of jazz and 'new' music in major newspapers during the 50s and 60s, experimental music found dedicated outlets in publications such as Coda and Musicworks by the 70s," notes Dacks. During the 80s and 90s, alternative media such as NOW Magazine, Eye Weekly, The WholeNote and Exclaim! placed creative music activities in a wider cultural context. And more recently, podcasting has carved out a new space merging what print and radio used to do: incorporating both journalism and radio production to promote creative music to ever-changing audiences.
In addition to bringing people together to tell personal stories and to generate paper and audio artifacts, these archiving efforts of Joe Strutt, the Music Gallery, and others are pointing to meaningful ways our music communities articulate their collective memories – and how we do the essential work of passing on our musical legacies to future generations.
The Music Gallery's 2018 History Series opens with "Creative Music on Campus Radio," on February 15, followed by "Creative Music Journalism," on April 6.
Andrew Timar is a Toronto musician and music writer. He can be contacted at worldmusic@thewholenote.com.