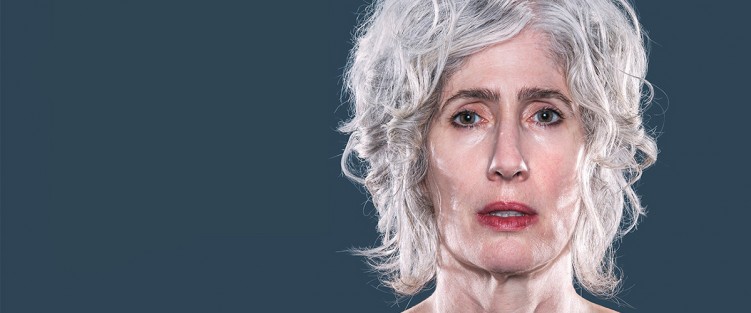 The Canadian Stage web page for upcoming song and dance show In This Body reads "conceived and sung by Fides Krucker." It's a testament to how Krucker, herself a vocalist, built this project – as a highly personal (and personalized) collection of music that reflects upon her own life experience. It also speaks volumes about Krucker herself – a singular creator and interpreter, who has spent her career discovering the capacity of her own body for storytelling.
As a concept, In This Body has been in the works since summer 2016, when Krucker suggested the idea to dancers Laurence Lemieux, Peggy Baker and Heidi Strauss – the latter two of whom have been her longtime collaborators. Since then, it has evolved into a 75-minute collection of pop songs arranged for Krucker's voice, instrumentalists Rob Clutton, Tania Gill and Germaine Liu, and the three dancers, running March 14 to 18 as part of Canadian Stage's 2018/19 VOICES3 vocal series. Exploring themes around relationships, love and womanhood and featurings songs from the likes of Feist, Joni Mitchell, k.d. lang and Serena Ryder, the show feels like a perfect microcosm of Krucker's body of work – a musical story that is at once intensely collaborative, and wholly her own.
The following interview has been condensed and edited.
WN: I love that the program note makes a point of stating "conceived and sung by". Can you speak about your role as a performer-slash-creator here? How did you create this idea?
FK: Periodically I've made semi-staged cabarets – I did one at Artword Artbar in 2002 or so, and then another one in the late 2000s at Theatre Passe Muraille. They were always a chance for me to gather a diverse cross-section of popular songs and re-interpret them – and they would often really speak to how I was feeling at that point in my life, with regards to whatever happened to be going on with my own development as a human being at the time. So this piece feels like it comes out of that thread of work.
Another thread of work that I do is contemporary opera, which I've done since the mid-80s. I was really cognizant of the fact that almost all of the operas that I've sung, in which I'm singing about the idea of love, for example, have been written by men. I thought, 'okay...where's the female opera?' And then I realized, maybe putting together this 15-song program in which 12 of them are by women (and only 3 by men) is, in a way, me making a type of 'opera'. It is a concert with dance – we're not giving ourselves characters or turning it into a story in any way – but it feels like it's got the emotional curves you find in opera.
It's mostly pop songs, but our arrangements are pretty out there for some of them. We spent a lot of time with them, taking them to whatever limits felt right to us to express what the individual story of each song is. That's where the 'conceiving' part came from.
WN: Your work refers in several ways to the performing body, and to "embodiment." Can you speak to some of other ways you've had to reckon with the concept of the body in this show?
FK: In my work as a singer, I think I've dealt with the voice how a performance artist might deal with their own body or material, because of the things I've asked my voice to do over time.
My interest has been how to play with all of the "unsocialized sounds" that a woman typically does not make. That's been the thrust of a lot of my career. That to me informs an idea of embodiment that's not the same as "measuring up" to an aesthetic ideal imposed by somebody else. And these songs allow me to do that from the inside out. I do feel like the way that these women [singer-songwriters] have put word and melody together feels like how I want to express those emotions, in a very first-degree way.
WN: You've spoken about the concept of this being a type of 'national songbook.' How did you come up with these songs, and how did they form a 'songbook' of this kind for you?
FK: The only way I can sing material – whether it's classical material or pop – is if it feels like when it gets into my body it belongs there. That sounds very simplistic, but it's like: does it fit in my mouth? Does it touch me? I say to my students, "You need to cry your way 45 times through a song before it's really yours." ...Or be excited through it, or let it get you riled up. I like to feel those physiological responses because I think that's where the song came from in the first place for the songwriter. So those are the songs that appeal to me – the ones that get under my skin in that way.
When I started thinking about this project, it was around the time when the allegations against Jian Ghomeshi came to light. I had been thinking about relationship a lot, and [at that time] we weren't quite talking about consent. That moment sort of opened the door to talking about consent in a more front-burner way in our society. So the songs that were interesting to me for this project were related to this idea of what I was raised to expect around the love story – and then what I discovered through my life's experience that was nothing like what I was raised to expect. And the norms we still think hold true in our culture, versus what's really happening.
[The music] is personal; it's personal to my voice. But the landscape is one that's been shared by many of us – and we're all speaking out about it in a different way now. And that to me is super, super exciting.
In This Body, presented as part of Canadian Stage's VOICES3 series, runs at the Berkeley Street Theatre March 14 to 18, 2018.