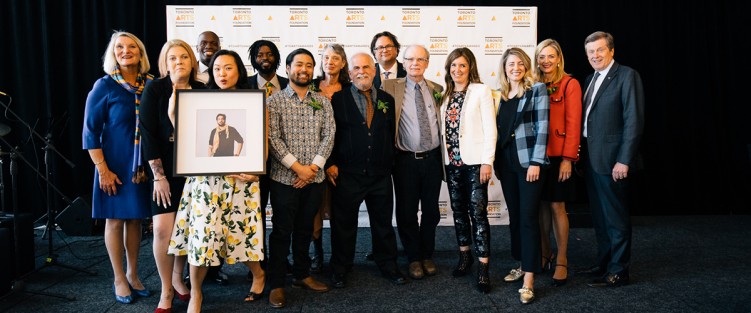 We are proud and happy to say that yesterday (May 16, 2018) The WholeNote was among the award winners at the annual Toronto Arts Foundation Mayor's Luncheon at the King Edward Hotel.
The WholeNote was awarded the Roy Thomson Hall Award of Recognition, in support of work within the local music community. Other TAF Award winners include RISE Edutainment (Arts for Youth Award), Ruth Howard of Jumblies Theatre (Celebration of Cultural Life Award), Jivesh Parasram (Emerging Artist Award), and Active Green + Ross and RBC (Toronto Arts and Business Award).
In accepting the RTH award on behalf of The WholeNote, publisher David Perlman spoke to the block by block city-building vision shared by TAF and The WholeNote, as follows:
"I want to acknowledge Allan Pulker, co-founder of TheWholeNote (or Pulse as it was originally known) 23 years ago. His unshakeable belief in the richness and variety of Toronto's grass-roots music scene is the reason The WholeNote exists. I also want to thank Sharna Searle who nominated us for this award. It took her three years to persuade us, mind you. We are more comfortable telling stories than being in them.
I can't name everyone else -- our eight-member core team; 30 to 40 writers every issue; a five-member listings team who come up with 400-500 live performance listings each month; the 20-25-person distribution team regularly carrying 30,000 free copies per issue to 800+ locations where a deeply loyal readership snatches them up.
To the finalists and other artists in this room, flag-bearers for countless others for whom the arts are necessary to feel fully alive, thank you for being passionate contributors to all our city's villages -- street by street , block by block. Thank you for giving us something to write about. And to the Toronto Arts Council and the TAF, the knowledge that you share our belief in a grass-roots music city makes this award very special.
Make no mistake, though: the grass-roots "music city" is at risk. Housing/land cost is displacing artists, along with the rest of the working poor, from our overheated downtown; small-scale live performance venues are disappearing one by one. Outside the downtown, the nurturing of block-by-block cultural life across our metropolis is a mighty challenge -- painfully slow because it is a process of planting not paving.
It's astonishing, thinking back, that the breakthrough technology that helped launch this magazine was … the fax machine! Now we must all adjust, almost daily, to the ongoing challenge of dizzying change with all its dangers and opportunities. What a story it promises to be."