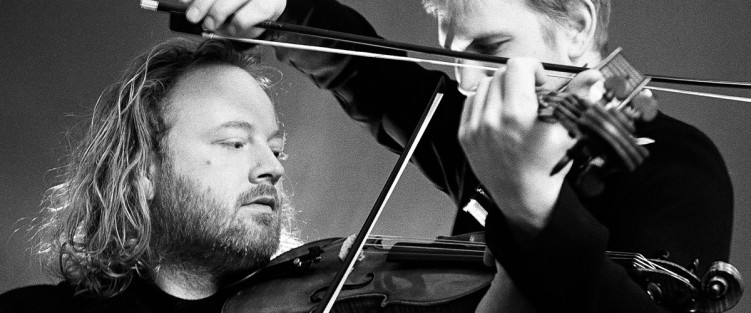 Sometimes, to really capture an accurate snapshot of a city's music-making, you need to look at what its professional musicians do on their days off.
Take Toronto violinist Edwin Huizinga, for example. Though perhaps most visible for his violin work for Tafelmusik baroque orchestra and Toronto folk band The Wooden Sky, Huizinga is a leader in what he calls Toronto's "indie chamber music scene." In other words, like many of the city's professional music-makers, when Huizinga isn't performing for other organizations, he self-presents his own concerts – smaller, community-grounded shows, the likes of which are vital to Toronto's cultural life.
Huizinga, along with violist Keith Hamm (principal violist of the Canadian Opera Company orchestra), is co-artistic director of Stereo Live – a chamber music series based out of Toronto's historic Campbell House that seeks to provide an alternative approach to rock, bluegrass, and classical chamber music, in an intimate and welcoming setting. Now in its fourth season, Stereo Live has earned a reputation for taking a fresh and innovative look at the programming of local chamber music.
On Monday, May 21, Huizinga and Hamm will present their final Stereo Live show of the 2017/18 season. Featuring violinist Mark Fewer and drinks from Grape Witches, the concert will pair classical music for strings with a selection of natural wines.
In a phone conversation this week, Huizinga talks about how he, Hamm and Grape Witches (wine importer Nicole Campbell and sommelier Krysta Oben) found resonances between indie chamber music and indie wine.
"Nicole and Krysta are friends of mine, and have been for some time," he says. "A couple of years ago, they reached out to me to be a 'classical DJ' for one of their wine evenings, and we started talking about how music – really amazing-calibre classical music – could be paired with really high-quality wines.
"[For this Stereo Live concert,] I sent the Grape Witches the program, and I gave them specific links of recordings that I loved – and we had a lot of conversations about how the music felt to them, and how they reacted to it," Huizinga explains. "We also talked a bit about the composers' history and where they grew up, and what was happening at the time culturally. It was a really interesting way to discuss that whole world with another kind of artist. And since they focus on natural wine, there are so many stories that they have about the old ways of producing wine – just like the stories we have in classical music."
The May 21 concert program features Mark Fewer in solo violin works by Ysaye, Schulhoff, and John Novacek/Atar Arad, as well as a performance by Fewer, Huizinga and Hamm of the Kodaly Serenade for two violins and viola.
"I can't believe that Mark Fewer is going to headline the event," says Huizinga. "He's one of my old teachers, and we have a long history of working together – and now, we work together a lot professionally, which is really nice. And it's kind of a celebration to have him here, because he doesn't perform solo very often in Toronto."
The concert will also feature two students from the Royal Conservatory's Glenn Gould School, in a performance of the second movement of Ravel's Sonata for Violin and Cello – a part of Huizinga's own initiative to support the city's emerging young performers.
"It's kind of a full circle story," says Huizinga. "I went to YAPA, when it was called that – the Royal Conservatory's Young Artists Performance Academy – and that's where I studied with Mark Fewer for five years. Which definitely changed my life, and is probably the only reason I'm still playing violin – and why I'm pursuing jazz and folk music and improvising, and all of that stuff, because he was a person and a teacher who really explored those kinds of things as well, and I've always really looked up to him for that. And so my goal for Stereo Live is to always have a young artist opening each show.
"There are so many hurdles with classical music – and one of them is that young artists never perform," he adds. "As a student, I performed maybe three times a year. And if you actually want to have a career in music – right now, I'm performing 160 concerts a year, or something like that. So now these kids are going to show up, and their parents are going to come too, possibly – and their parents might be inspired to help their kids continue to do what they want to do. And I haven't met this particular violin student yet, but if he's interested in continuing his studies in violin and looking for [direction or connections], a 5-minute conversation with Mark Fewer could change his life."
Ultimately, for Huizinga, it all comes down to cultivating a lively "small-scale" classical music scene – one that is innovating and inviting, and that inspires audiences and performers to engage with chamber music in new ways. And in his mind, continuing to devote time and effort to the "indie" side of classical music is the way to do it.
"I want these events to grow and continue in Toronto," he says. "I want these little pockets of organic, indie, community, whatever you want to call it, to grow – and to stay alive."
"Stereo Live presents: Mark Fewer" takes place May 21, 8pm at Campbell House, Toronto. More information can be found at https://www.facebook.com/events/2046580315382339/.