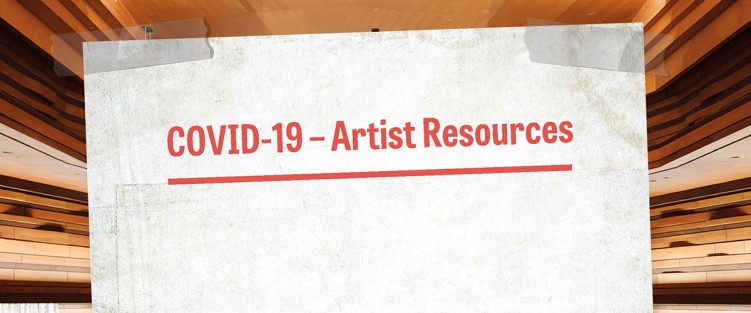 This list has last been updated on Thursday, April 13, at 12:00EST. We will try to continue updating this article as new information becomes available; if you have suggestions of new resources to add to this list, or of other ways that The WholeNote editorial team can help support the local music community during this time, please feel free to direct them to editorial@thewholenote.com.
In light of recent cancellations, closures, and quarantines around the world due to the ongoing novel coronavirus (COVID-19) pandemic, many folks are facing suddenly precarious financial and social circumstances. Arts organizations, freelancers, arts workers and other gig/temporary workers constitute a particularly hard-hit group—one that our team is trying our best to support.
There have been several resources circulating online and in the news about efforts to provide financial support to those who need it (including some incredible lists already compiled by other organizations and community groups). Our intent here is to amplify the work put in by those who created (and are creating) those resources and support systems, by sharing them directly with our readership—especially those resources that might particularly apply to musicians and other arts workers based in the area we serve.
Financial health in times of crisis is a multifaceted thing, and there are many ways in which this list falls short. Many of the 'official' resources provided here assume Canadian (or in some cases, United States) nationality or permanent residency. Others may not be applicable sources of support for all artists. And of course, at its best this list provides assistance with only a small sliver of the many things that contribute to personal well-being and security during uncertain times. Nonetheless, we hope it is helpful, and that you find it a useful source of information and support.
For official information on medical issues related to COVID-19 in Canada, please refer directly to official sources, such as the Government of Canada website.
Compilation Documents
These are large, compiled resource lists that provide an overview of resources for arts workers struggling with issues related to COVID-19.
*updated March 26, 2020: COVID-19 CANADA MEGA RESOURCE LIVING LIBRARY: Musicians & Music Industry Professionals
This 'living library' is a frequently-updated list of resources related to professional music-making in Canada and COVID-19.
One of the largest and most comprehensive resource lists for arts workers, this website provides information about financial advocacy groups, social equity initiatives, online support platforms, and many other useful tools. Many of the resources here are US-specific, but others are widely-applicable.
COVID-19 & Freelance Artists and Writers, CANUCK EDITION / CBC Resource List
A Canada-specific version of the COVID-19 & Freelance Artists resource list, available both in its original Google Doc form, as well in an article written in collaboration with the CBC, available here.
Opera.ca COVID-19 Resources for Artists
A resource list compiled by Opera.ca with a focus on financial support for Canada-based artists.
Financial/Advocacy Resources
These are organizations who routinely work to provide support and emergency funding for professional artists in Canada.
Financial Resources: Information from Government and Granting Bodies
This is where you can find information related to government and grant support.
*updated April 17, 2020: Government of Canada: Canada Emergency Response Benefit (CERB)
This program provides financial support to Canadians who have lost their job, are sick, quarantined, working reduced hours, or taking care of someone who is sick with COVID-19, as well as working parents who must stay home without pay to care for children who are sick or at home because of school and daycare closures. It applies to wage earners, as well as contract workers and self-employed individuals who would not otherwise be eligible for Employment Insurance (EI). Individuals are eligible for CERB if they are 15 years of age or older, live in Canada, have had an income of at least $5,000 in the last year and who currently earn less than $1000 monthly as a result of COVID-19 disruptions.
Government of Canada: COVID-19 Economic Response Plan
Government of Canada: COVID-19 Updates - Employment and Social Development Canada
Government of Canada: EI Support for Self-Employed Workers
*updated March 26, 2020: Toronto Arts Council TOArtist COVID-19 Response Fund
Small grants of up to $1000 for Toronto-based artists who have lost work due to COVID-19.
COVID-19 Updates from the Toronto Arts Council
COVID-19 Updates from the Ontario Arts Council
COVID-19 Updates from the Canada Council for the Arts
*updated April 23, 2020: Canada Council for the Arts - "Digital Originals" micro innovation grants for creating digital work or adapting work to a digital platform
Community-led Initiatives
These are initiatives for support led by individuals, organizations, and community groups.
A Facebook support/resource group for arts and freelance/gig workers in Canada.
Caremongering-TO: TO Community Response to COVID-19
A Facebook group for local/grassroots resources and support actions in Toronto.
For musicians to record lost income
A downloadable Google spreadsheet template for musicians to keep track of lost income due to COVID-19-related issues.
Glad Day Emergency Survival Fund for LGBTQ2S artists, performers & tip-based workers
Toronto-based Glad Day Bookshop has set up an emergency fund to help LGBTQ2S artists, performers & tip-based workers. This fund is not meant to help people recover lost income, but is an emergency resource for urgent aid in paying for necessities.
COVID-19 Black Emergency Support Fund
Black Lives Matter - Toronto has launched a fundraising campaign to create a GTA Black Community Emergency Support Fund for Black folks in the GTA who require support due to COVID-19-related concerns.
-
For those readers who do not require assistance, but would like to support arts workers and folks in otherwise precarious circumstances, please consider donating to one or more of the funds listed above. In addition, consider supporting the artists whose work you admire: now is a great time to donate to local arts organizations, buy artists' merchandise, and tune in to (and financially support) musicians' livestreams.
More locally: consider joining a community support effort. Offer help to those in your community or your neighbourhood, especially those who can't leave the house or are in otherwise precarious situations. Advocate for those facing more challenging circumstances than yourself. And be kind to one another. We will be trying to do the same.