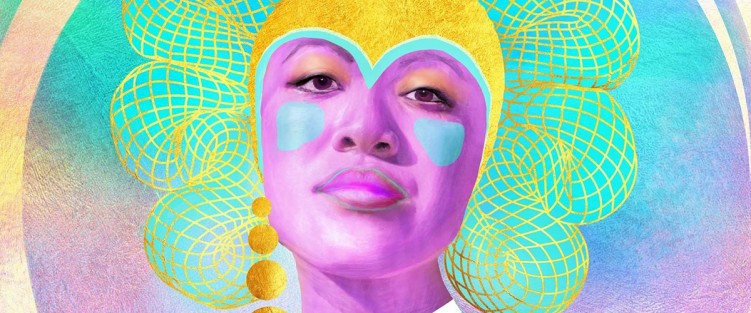 The third annual Women From Space Festival, a Toronto-based concert series, is returning this year, livestreamed on www.womenfromspace.com. Recently postponed due to ongoing COVID-19 restrictions, the festival is now taking place April 9-11, 2021.
Festival passes this year are free, but there will be a PayPal donation button set up during the livestream to contribute to next year's festival. The concerts will remain online for a week following the events. Access to the livestream will begin at 7:30pm each evening; the concert itself starts at 8pm (EST). The artists' roughly 30-minute-long sets will be pre-recorded, with live MCing in between.
Founded by Kayla Milmine and Bea Labikova to celebrate International Women's Day in 2019, the Women From Space Festival focuses on women-led experimental arts. The festival's directive is "to celebrate and create a space for women [...] working within and between various exploratory musical traditions," aiming to counteract underrepresentation and inspire a new generation of performing artists. Keeping with the festival's boundary-pushing nature, this year's virtual format is not your typical livestreamed concert, instead offering an innovative and exciting alternative to in-person performances: The Holobox Theatre, a miniature holographic stage hand-crafted by the festival and available for $10 plus shipping.
According to the WFS website, it's made of "recycled cardstock, pins, mini string lights and a reflective plastic sheet." They ship flat and must be assembled by the at-home concertgoer. A laptop, smartphone, or tablet is used as the projector. Everything you need besides your streaming device is included in the envelope, including different cosmic backgrounds to project the performances onto (or people who choose to do so can create their own!). The festival can be streamed online without ordering a holographic stage, but it is strongly recommended if viewers want to get the full experience.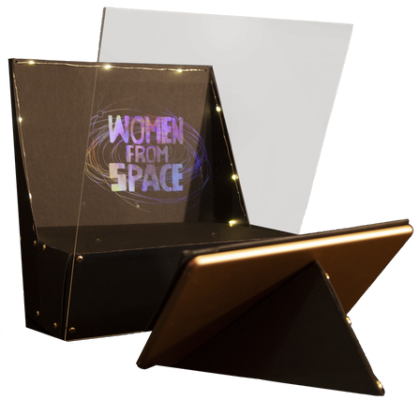 Performances are being pre-filmed against black backdrops from a single angle to maximize the three-dimensional effect the portable mini-theatres provide. The goal is to imitate the in-person concert experience at a miniscule scale. When I spoke with event organizers Milmine and Labikova, they stressed that The Holobox Theatre can be used for any type of visual media projection, though images with black backgrounds work best with this illusion. These small stages can be used for all types of creative projects—there are even apps that can artificially create black backdrops—so Holobox Theatre owners can also project their own creations into holospace.
Though it's a shame the festival cannot take place in-person this year (how we all miss live music), it is wonderful that people who might have otherwise been unable to attend can tune in from outside of the city. (Note: if you are in Canada outside of the GTA, ordering a Holobox Theatre will involve paying at least $13 in shipping fees—$16 if you order more than one. International festival attendees will have variable shipping fees, depending on the country. For international orders, it is best to order your Holobox at least two weeks before the festival starts; five days before if you are local.)
Women From Space's 2020 festival took place mere weeks before the lockdown began last March. They applied for the next round of grants right away to meet deadlines, but the decision to go ahead with the festival did not take place until later, amidst ever-changing pandemic protocols. In August it was already decided that the 2021 festival would take place online and feature a fully local lineup (with the exception of two artists from Montreal—Maya Kuroki and Tanya Iyer), while allowing for the chance of a small in-person audience. By late fall and the start of the pandemic's second wave, it became clear that this year's events would be taking place exclusively online.
From the performers' perspective, the organizers said, no one was expecting an in-person show: the online format was already anticipated. "Everyone adjusted their performances to video," Labikova said, reflecting on the months people had spent exploring the potential of virtual concerts. "There was no one who expected to have a live performance when we reached out to the artists," said Milmine. "They just assumed it would be online anyway. Nobody really questioned it at that point." Incorporating online offerings into future years will be dependent upon funding. "It is nice to know that that platform is there to explore and potentially use again," Milmine added.
This year offers an exciting lineup, including one dance performance per night:
April 9: Thanya Iyer + Anh Phung, Hannia Cheng, Britta B. + Pursuit Grooves, Denise Solleza + Madeline Ertel (co-presented with the Music Gallery)
The festival kicks off with a night full of collaborations co-presented with the Music Gallery's Emergents series, and it is intriguing to imagine what these performers will create in holographic space. Thanya Iyer, songwriter, and Anh Phung, flutist—one of the performers on Iyer's 2020 album KIND—will be performing together. As past collaborators, this set is bound to be both virtuosic and genre-bending. The first day of the festival will also feature a performance by Hannia Cheng, multidisciplinary artist and Tea Base co-founder (co-presented with Bricks & Glitter). Stay tuned for the release of their upcoming debut EP Linen & Denim.
Still on the first day, Britta B., poet, spoken word performer and educator, will be performing with Pursuit Grooves (Vanese Smith), electronic musician and visual artist (co-presented with Toronto Poetry Slam). And Denise Solleza, dance artist, will be performing with Madeleine Ertel, trumpeter, vocalist, composer and arranger.
April 10: Eve Egoyan, Anita Katakkar + Aki Takahashi, Laurel MacDonald, SlowPitchSound + Mairi Greig + Laura Barrett
The second day of the festival features internationally-acclaimed pianist Eve Egoyan, who constantly pushes the boundaries of her instrument and who, as described on her website, "works to improve gender equity in the contemporary music community." A prolific recording artist and performer with an extensive repertoire and 12 solo albums, Egoyan is one of 50 Canadian Music Centre Ambassadors, celebrated for her contributions to and continuous support of Canadian contemporary music.
Anita Katakkar, tabla player, and Aki Takahashi, traditional shamisen player, composer and folk singer, will be performing a set together. As artists who regularly push through genre boundaries in their collaborations, this is not a performance to miss. Rakkatak, Katakkar's solo tabla project, is releasing a single on Bandcamp off of an upcoming album on International Women's Day, March 8, 2021. Takahashi is the founder of the ten ten ensemble, which has released two CDs of original music and has performed with artists from a variety of other cultural backgrounds and traditions.
Laurel MacDonald's performance project Videovoce integrates live voice, live electronics and projected visuals. It will be interesting to see how her performance is adapted to the Holobox since she is also a video artist. "Sci-fi turntablist", composer and mentor SlowPitchSound (Cheldon Paterson) will be collaborating with Laura Barrett, singer, songwriter, composer and music teacher, in another exciting set. Dancer Mairi Greig will also be performing alongside them, making this a second night of interdisciplinary collaboration.

April 11: Sarah Thawer + Tara Davidson, Fides Krucker + Tania Gill, Maya Kuroki + Natasha Poon Woo, Kayla Milmine + Bea Labikova
This year's festival wraps up with a schedule likely equally well-suited to the holographic stage. Sarah Thawer, JUNO-Award nominated drummer, and Tara Davidson, multi-JUNO-Award nominated saxophonist, composer and bandleader, will be performing together, with the versatility of both artists making this pairing especially exciting. Singer, interdisciplinary creator, educator and writer Fides Krucker is joining forces with Tania Gill, jazz and improvisation-based pianist and composer, combining the worlds of contemporary opera and voice with contemporary jazz and creative music in what looks to be another wonderful set.
Maya Kuroki, musician, performer and visual artist, will be collaborating with dancer and dance educator Natasha Poon Woo. With a background in theatre and experimental rock, Kuroki has collaborated with dancers in the past, so this looks like another exciting program. And, appropriately, festival co-founders Kayla Milmine, soprano saxophonist and improviser, and Bea Labikova, saxophonist and improviser (and the visual artist behind the Women From Space festival artwork), will perform together, "weaving their distinctive approaches to the instrument into a single sonic fabric."
Women from Space 2021 runs online from April 9 to 11, 2021, and can be viewed as standard online video or via hologram illusion. Please visit www.womenfromspace.com for festival details, and www.holoboxtheatre.com for purchasing information for The Holobox Theatre.
Camille Kiku Belair is a Toronto-based classical guitarist, composer and writer. They are currently pursuing an MFA in Composition and Experimental Sound Practices at California Institute of the Arts.