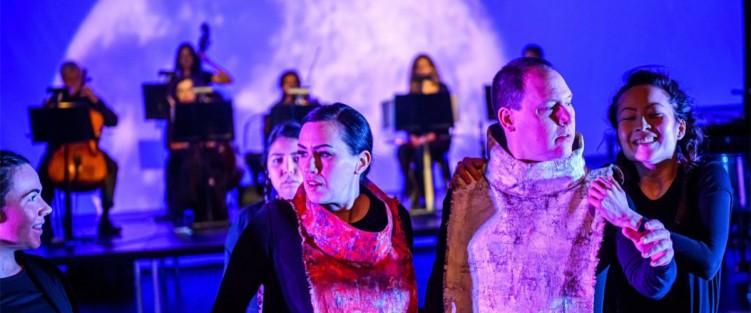 Toronto's Dora Mavor Moore Awards, given annually to celebrate outstanding achievements in theatre, opera and dance, are taking place on June 29, 2020 – not in person as is usually the case, but online on the Youtube channel of the Toronto Alliance of Performing Arts (TAPA).
Though this is the first time the awards ceremony has "gone virtual," it promises to be as much a highlight of the theatrical year as it usually is, with a pre-taped award ceremony followed by a live "dance party" for anyone who would like to attend – even an invitation to dress up for the occasion and share photos of your outfit with TAPA's social media channels. Unlike Broadway's Tony Awards, the Doras are not typically televised; this year, producers have promised added entertainment for the occasion, with the irreverent Rick Mercer slated to open the evening, a script by Diane Flacks, and other special guests and VIP presenters throughout the show.
At the heart of the event, though, is the work being celebrated. Looking at the list of Dora nominees is almost surreal: almost 15 weeks into an unexpected life of COVID-19 quarantine and "physical distancing," the list is full of reminders of the amazingly rich, diverse season of live performance that was forcibly shut down in March.
There isn't room here to cover all 88 shows nominated over the seven award divisions, but one general observation I will make is that innovation and risk-taking are highlighted throughout. This is particularly true of the Opera division, with four of the five operas nominated for Outstanding Production being new creations and another two premieres nominated in the Outstanding New Opera division.
Opera
Tapestry Opera's Jacqueline, Soundstreams/Luminato co-production Hell's Fury, The Hollywood Songbook, and the Tapestry/Opera on the Avalon co-production Shanawdithit are nominated in both categories. FAWN's exciting melding of opera and dance, Pandora, is the fourth new opera in the Outstanding Production category; the Outstanding New Opera category is rounded out by Loose Tea Music Theatre's Anne Frank opera Singing Only Softly and Soundstreams and Signal Theatre's Two Odysseys.
Also exciting is that two of these nominees are Indigenous works. Tapestry and Opera on the Avalon's May 2019 premiere Shanawdithit is centred on the story of the woman believed to be the last living member of the Beothuk Nation in what is now called Newfoundland. With a libretto by celebrated Algonquin playwright Yvette Nolan and a score by Newfoundlander Dean Burry, the whole was anchored in the person and beautiful voice of the Kwagiulth and Stó:lo First Nations, English, Irish and Scottish soprano Marion Newman, who is also nominated for Outstanding Performance.
Soundstreams and Signal Theatre's Two Odysseys: Pimooteewin/Gállábártnit, presented in November 2019, was even more groundbreaking: a double bill of the world's first operas sung and narrated in Indigenous languages Cree and Sámi. It is also nominated in multiple categories.
Musical Theatre
Leading the Musical Theatre division with eight nominations is the Musical Stage Company and Obsidian Theatre's glorious production of Tony Kushner and Jeanine Tesori's civil rights-era set musical Caroline, or Change in January and February 2020. Tied for the most nominations with Soulpepper's The Brothers Size, another powerful show chronicling the Black experience in America, Caroline, or Change proved to be a showcase for outstanding performers in a top-notch cast. R&B star Jully Black (whom I had the pleasure of interviewing earlier this year), in her musical theatre debut as the title character, is nominated for Outstanding Performance. Vanessa Sears, who played her daughter, Emmie, and Stewart Adam McKensy, who played the Bus and Dryer, are also both nominated for Outstanding Featured Performer. (As you can see, the Doras no longer have gender-specific award categories – a change they made in 2019.)
Another exciting, innovative show that just got in before the COVID-19 "shutdown" is Eclipse Theatre's location-specific Sunday in the Park with George, which made the audience feel as if we were in the middle of the Georges Seurat painting as it was being created. Among other nominations, Tess Benger, who brilliantly made the part of Dot her own, is nominated for Outstanding Performance. Crow's Theatre and Eclipse Theatre's Ghost Quartet, an exquisitely directed odd, eerie musical about four people whose stories transcend time and space, is also nominated for Outstanding Production, Outstanding Direction (Marie Farsi), and Outstanding Performance (Hailey Gillis).
On the more traditional side in the Outstanding Production category (though pushing boundaries in different ways) is the Mirvish production of Piaf/Dietrich by Daniel Große Boymann and Thomas Kahry, in a new adaptation by Erin Shields that explores the real-life friendship between Edith Piaf and Marlene Dietrich, as well as Young People's Theatre's (Neil Bartram and Brian Hill's) The Adventures of Pinocchio, a musical version of the classic fairy tale. The stars of both shows – Lousie Pitre (Piaf) and Jayne Lewis (Dietrich), and Connor Lucas (Pinocchio) – are also nominated for Outstanding Performance.
Dance
In the Dance division I am pleased to see that the highly talented young company Human Body Expression's timely and provocative show Resonance has been nominated for Outstanding Performance by an Ensemble.
Also on the evening's menu will be the Jon Kaplan People's Choice Award, named for the late, beloved theatre critic at NOW Magazine. Voting is open until June 21 at midnight. There is an added element of chance here, as voters can choose from any nominated show, or write in another show of their choice. You can cast your vote online at https://nowtoronto.com/doraawards.
There has been so much good theatre, opera and dance on offer this last season that I predict that the races in most of these award divisions are going to be tight – which will make the evening that much more exciting.
The 2019/20 Dora Awards will be presented online on Monday, June 29, 2020, from 7-9:30pm EDT:
- 7pm: use #Doras2020outfit on Twitter, Facebook or Instagram and post your outfit
- 7:30pm: Watch the Dora Awards on YouTube or via Facebook
- 8:30-9:30pm: Virtual Doras Dance Party
You can find a complete list of all the 2019/20 Dora nominees here.
Jennifer Parr is a Toronto-based director, dramaturge, fight director, and acting coach, brought up from a young age on a rich mix of musicals, Shakespeare and new Canadian plays.