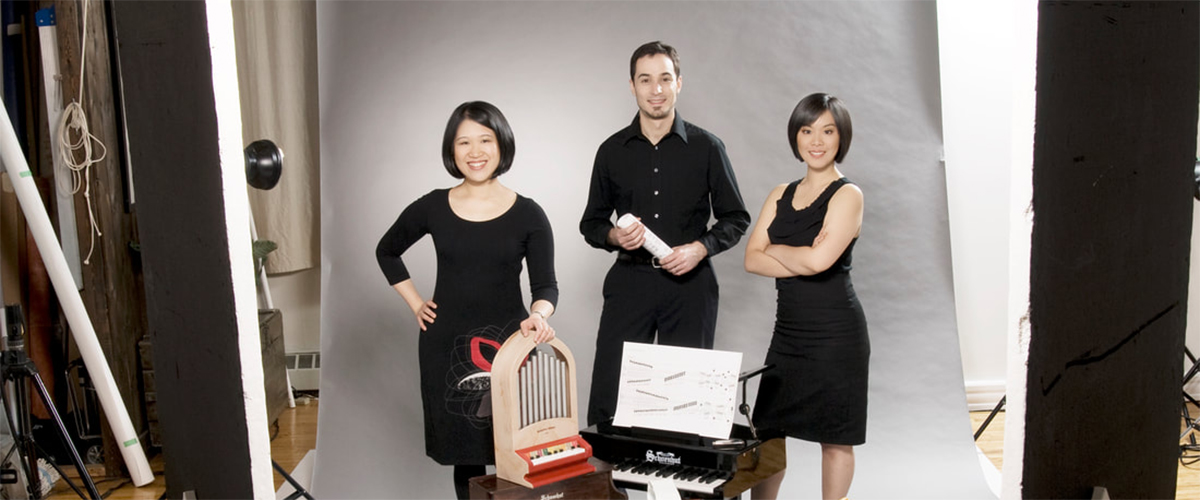 Over the last few weeks, The Piano Lunaire founder Adam Sherkin has been braving the cool autumn wind in order to rehearse with fellow pianist Stephen Runge – the two musicians recently managed to find a space suitable for playing fifteen feet apart, windows open, in advance of their next show, Lunaire Live III: The Blue Moon Gala.
The Piano Lunaire, a Toronto-based music presenter founded just two years ago this month, has already gained attention for their monthly concerts of contemporary piano repertoire, held on full-mooned nights. Coinciding with the second full moon to appear this month, The Piano Lunaire's third online concert will stream this Friday, October 30 from the studios of their performance partner, Yamaha Music Canada.
It's the second of two local piano-collective projects unveiled this month. The other is reTHINK, the debut album of junctQín keyboard collective released on October 23 by Redshift Records. Founded in 2009 by keyboardists Joseph Ferretti, Stephanie Chua and Elaine Lau, junctQín has commissioned and premiered over forty experimental works for keyboard instruments – including toy pianos and synthesizers – over the past ten years. reTHINK features some of their signature pieces from the last decade, such as Ravel's 1918 six-hands piano work Frontispiece, and Chess Suite, a 2011 duet for two toy pianos by Canadian composer Monica Pearce.
We caught up with members of both groups this week to discuss their founding visions and new projects this season.
Adam Sherkin, The Piano Lunaire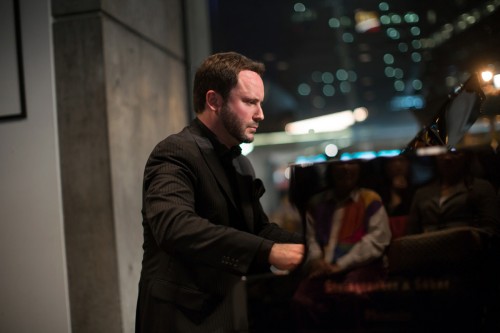 WN: Tell me about the birth of The Piano Lunaire.
AS: We came to this idea of doing small concerts on a regular basis, and I had always kind of had the moon in mind as a marker between shows. Where I was living at the time, I converted the main floor into a studio, and we christened it the "Brockton Nanostage." I figured I could have about thirty people in there with a piano at the time. So we went for it.
We had a good five or six pianists on our roster of artists and we did some wonderful things. A highlight was the Cold Moon in December: it was close enough to Christmas, so we did George Crumb's A Little Suite for Christmas, and we divided up the movements, four pianists sharing it.
I think that The Piano Lunaire came about because we had the mandate of doing short, exciting contemporary music shows that were piano-centric, but also had a social and networking component. It was very much a pilot project, and it's taken off.
This organization is not wedded to a particular venue. If anything, we want to branch out into the community, and if you can view the moon while you listen to the music, even better!
WN: What can we expect from your third online performance, Lunaire Live III: The Blue Moon Gala?
AS: I've been talking with my colleagues about how curating an online stream is so different from a live recital. People don't sit and listen in the same way, so I'm always looking for something to make the event exceptional.
The first movement of Rachmaninoff's two piano Symphonic Dances is being featured, which is the most memorable. Then we're doing John Adams' Hallelujah Junction, which has started to make its way onto film soundtracks recently [such as 2017's Call Me by Your Name]. I had heard it, but I had never worked on it before. I think it's the kind of repertoire that translates well. It's optimistic, uplifting and tonal, and we're all looking for nourishing comfort at the moment. I'm also mindful of not playing slow music all the time. To make an interesting program we also need dynamic and rhythmic elements, without being too in-your-face and edgy. It's representative of a golden period in Adams' writing – it's not like his early minimalism, but it has elements of that.
We're each playing a solo – Stephen's doing a wonderful piece by Mason Bates, a protégé of Adams, called White Lies for Lomax, and I'll be playing some solo Rachmaninoff.
And we're doing Saint-Saëns' Danse Macabre – for Halloween.
WN: The Gala features a world premiere of your own composition, Ink From the Shield. What will you explore in this piece?
AS: Ink From the Shield was originally conceived as a new work for a (solo!) piano program in 2013, entitled "Britten's America." It celebrated the short time Britten spent in North America during the Second World War. I was fascinated by Britten's arrival (by ship!) with Peter Pears to Montreal and his finishing his violin concerto in a mosquito-ridden summer lodge in St. Jovite, Quebec.
The piece is structured as five "postcards," taking extra musical inspiration from the places in Canada where the pair stayed: Montreal and St. Jovite, Quebec; Bala (in Muskoka); Toronto; and finally, Halifax. Eventually, I evolved this work into a two-piano structure and recreated music from improvisations (dating back to 2013) and feel it functions best in this two-piano setting. The "shield" in question here is the Canadian Shield: a nod to the music Britten penned on his North American journey.
WN: What does the future look like for The Piano Lunaire?
AS: The Piano Lunaire is a versatile and evolving organization. Forming a record label is certainly in our sights (ie. "Lunaire Records") and there are other plans in the works for delivering commercially viable products to the musical world via an online retail space. Our connections to the New York City musical network remain solid and we hope to continue to program online events in a hybrid (online and in-person) setting, beyond the scope of the pandemic, looking forward to a time – of course – when live performance will be feasible again.
Joseph Ferretti, Stephanie Chua and Elaine Lau, junctQín keyboard collective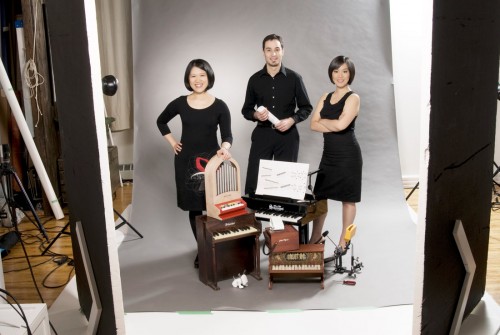 WN: junctQín has maintained a busy performance schedule for over a decade. How did you meet and why did you found the collective?
EL: Joe and I had worked together for some years as a piano duo (and also married); Stephanie and I met at the Glenn Gould School as graduate students some eight or so years before junctQín formed, so we had all known each other for a while. We decided to apply to present a workshop-performance in Waterloo with the spOtlight Festival run by the Ontario Arts Council in 2009. We got together to pursue a common interest in performing and programming music by local and emerging composers, as well as connecting with composers overseas who had already written pieces for toy piano and other non-traditional instruments.
SC: What brought us together was a mutual interest in pursuing – initially – these unusual works and making music together. I remember an early rehearsal of Thierry de Mey's Musique de tables, where we had to navigate his unique notation, and agree on the sounds and gestures. It was exhilarating to spend hours decoding this music together, and in front of a mirror so that we could be very exact with our movements. Not to mention sourcing materials and building tables that would have maximum resonance!
WN: Tell me about your new album, reTHINK. What was the impetus behind the recording?
SC: For many years, we put off making an audio-only recording, believing that one of junctQín's unique attributes is the visuals of a live performance (seeing the three of us physically perform on one piano, for example.) However, we realized that there were pieces in our repertoire that we went back to again and again. reTHINK showcases the works we have performed for almost a decade – both works we discovered, and works written for us. It's a snapshot of the ensemble in its first decade.
WN: How was the recording process? Were there any challenges with works like Tomi Räisänen's Insiders (2004), which requires the artists to play inside the piano?
EL: The recording process allowed for greater control of sound/balance on the tracks that included some non-traditional combinations. Working with our producer Earl McCluskie was great in that he was thoughtful about the various combinations of sounds that are inevitable with piano music for six hands.
With Räisänen's Insiders, it can be a challenge even in live concerts, as each piano can have a different setup of the crossbars, which can make the navigation of the piano's innards treacherous. During the recording process, the placement of the mics (and their sensitivity) provided an added challenge: setting objects down quietly but quickly, not breathing our cues too dramatically, shuffling music laid out on the inner frame carefully, or being aware of not making a big gesture when releasing a sound and bumping into something (like a mic!).
WN: How has junctQín navigated the past year, and are there any new collaborations that we can look forward to?
JF: We have been fortunate to have been able to continue some collaborations due to an awesome flexibility in the people we are working with. In one project, we've been recording things separately, and the resourceful composers are assimilating and drawing from the material in their own space and time.
SC: One collaboration we are particularly excited about is with composers Jason Doell and Rebecca Bruton and the Bozzini Quartet. The composers approached junctQín with the idea of writing for an expanded piano quintet that involves six-hands piano and a string quartet.
Another newly commissioned piece is by Toronto-based Dutch composer Lieke van der Voort. Autolysis, for piano six-hands, is a poignant work involving aspects of music theatre, speech and movement. Commissioned through a grant from TAC, the work was completed in early spring and we're making plans to record a music video.
--
The Piano Lunaire presents Lunaire Live III: The Blue Moon Gala online, Friday, October 30 at 8pm EDT. junctQín keyboard collective's debut album reTHINK is available online from Redshift Records.
Jane Coombs is a writer based in Toronto. She recently graduated from Cambridge and the Courtauld Institute.