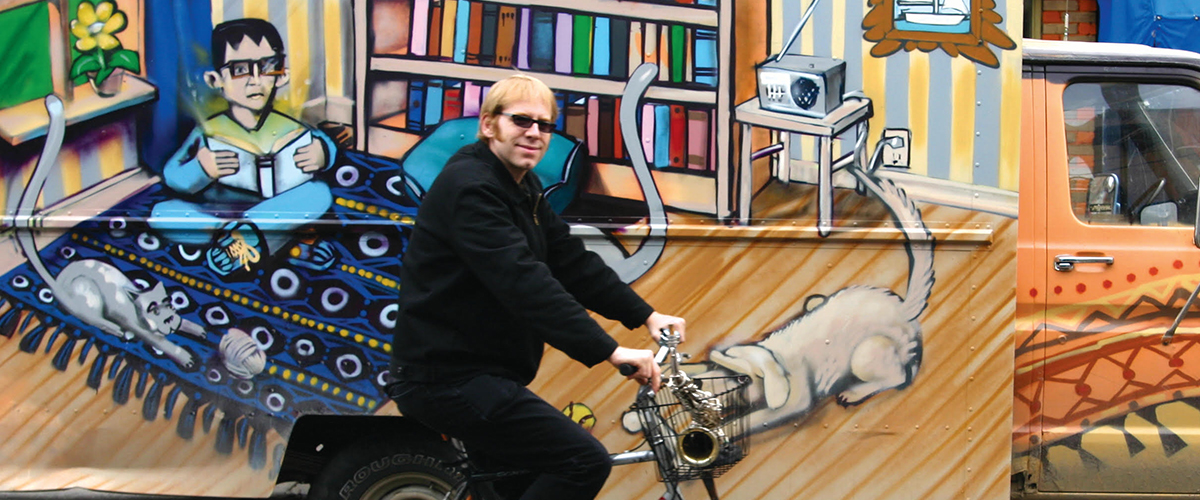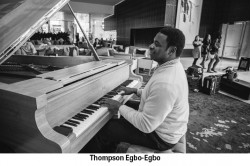 For further back than I can remember, Kensington Market has been a hub for multiculturalism, activism, tourism and other assorted -isms. The unique culture of Kensington is one which is, perhaps more than that of any other neighbourhood in Toronto, bursting with a collective love of art that is eclectic and loudly expressed. Buskers flock to Augusta Avenue. Drum circles echo through the Market from Bellevue Square. Paintings, murals, works by highly skilled graffiti artists, cover much of the landscape, including the walls outside of Poetry Jazz Café – one of the nine venues which will be showcasing almost non-stop jazz for the duration of the first-ever Kensington Market Jazz Festival (henceforth referred to as KMJF 2016).
KMJF 2016, originally the brainchild of Toronto-bred vocalist Molly Johnson, will reflect the values of the community in which it takes place; rather than featuring large, ethically dubious, multinational corporations – which have been emphatically rejected by the Kensington community in the past – as sponsors, the KMJF 2016 website lists as its friends small, local businesses, well-known individuals in the music scene, arts studios, as well as multiple charities and non-profits which will benefit from the festival.
Among these is the Archie Alleyne Scholarship Fund (AASF), which has, since its establishment in honour of Alleyne's 70th birthday in 2003, given financial assistance to particularly talented music students who have been primarily, but not exclusively, black. In this way, the AASF honours the late Alleyne (who himself grew up in the neighbourhood), not only musically, but politically, as he was outspoken on the subject of black representation in jazz. After all, despite the sea of white faces you might see in any given university jazz program, jazz has historically been a music of black creative innovation and black political resistance.
KMJF 2016, though it only lasts three days in only nine venues, will feature over 100 artists. (Three with particularly close ties to The Market are featured in their own words alongside this short article.)
Unfortunately, it is both physically impossible and financially impractical to attend over 100 concerts in three days (the best you can probably do is nine, or maybe 12 - and yes, you may take that as a challenge), but if you have enjoyed my recommendations before, I may be able to gently help push you in some of the right directions (not that there are really any wrong ones).
Two pianists. Neither of the pianists described below is one whose music I've experienced in person; they're players I've checked out only through their live and recorded material available online. I will be discovering them alongside all of you on that third weekend of September.
Andrew Craig, the pianist, multi-instrumentalist, singer, composer, radio broadcaster and alum of the York University music program, is one act which has me particularly psyched. In videos posted on his YouTube channel like I Love You Pip, Auntie Inez and Improvisation with Audience, Craig's idiosyncratic, exploratory style, as well as his acute awareness of how to read people and how the audience fits into the whole performance paradigm, are made apparent. It's these two qualities which I believe you'll find most endearing and exciting about Craig as a performer. His chops, though undeniably impressive, are an afterthought (as it should be). Craig can be heard at the clothing store, Tom's Place, at 4pm on Saturday, September 17 (no cover), or later in the same day at Trinity Common ($10).
Nigerian-born, Toronto-bred pianist Thompson Egbo-Egbo, playing at Tom's Place the day after Craig, arranges tunes very much in the Glasper-esque school of jazz infused with neo-soul and hip-hop elements. But his style also seems to reveal what I think is a strong background in classical music, developed not out of obligation but out of deep love. When you go to see Egbo-Egbo, don't expect the music to swing necessarily, but also don't expect it not to. If you must expect something, expect textural exploration, chords that you wouldn't expect to belong together belonging together, and to be in a bit of a trance.
Egbo-Egbo is someone I wanted to include here, partially because I find his music intriguing, but also because of The Egbo Arts Foundation (EAF), a charity which is similar in spirit to the AASF. The EAF makes music lessons available to kids who might not otherwise be able to afford them; in other words, making music more accessible to underprivileged and at-risk youth, with the understanding in mind that access to programs in the arts in general, and music in particular, helps to improve children's lives and is often absent from the impoverished neighbourhoods where they are most sorely needed. Needless to say, this is an admirable pursuit, and one which deserves our attention.
Of course, these are just two out of the 100-plus KMJF 2016 shows happening in Kensington Market between September 16 and 19. The full schedule for the festival is available at kensingtonjazz.com I look forward to exploring the Market at KMJF 2016 with all of you this September.
Bob Ben is The WholeNote's jazz listings editor. He can be reached at jazz@thewholenote.com.

What Molly Wants, Molly Gets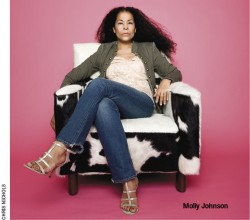 Half an hour with award-winning jazz vocalist,singer-songwriter, artist and philanthropist Molly Johnson in the ad hoc KMJF office above Kind Spirit Cannabis Clinic on Augusta Avenue is enough to convince me. She's going after this new project with the same gusto and determination as she poured into her Kumbaya Foundation and Festival in 1992, raising awareness and funds for people living with HIV/AIDS, and the kinds of causes since then that led in part to her becoming an Officer of the Order Of Canada in 2008.
The idea of this has been going on for about ten years, in my head. I've been thinking about it.
I was born at Bathurst and Dundas, and I've lived here three times. We have reached out to artists who have really put time and love and care into their own careers. They don't just come with their hand up, they come knowing they are going to help us build this. People who have a responsibility to their own craft. You show up with your CDs, you show up at the end of the day to pick things up.
Same with the venues. For the most part, we're in existing venues with soundmen and sound systems. I'm not reinventing the wheel. That's why it works. Because everybody's already here.
There will be shows throughout the day (Friday to Sunday), with only a handful of shows after 11pm. Right from the early stages I worked with the BIA, police and firefighters.
If it lasts it will be because it's something the community does, not something that gets done to it. In the long run it's as much about collecting stories, the history of this neighbourhood – heritage – as about the music itself. Right from the start we'll be collecting stories as we go. Just watch people with old roots (and new money) rediscovering this place over the course of the three days.
This is not something that starts by raising corporate or arts money for an idea, then doing whatever is possible based on a budget. It starts with doing it right. I paid for the office myself, just to make it go. It's been a lot of fun. In fact, we will have three merch tables outside. Artists will bring in CDs; the festival isn't taking in any money on CD sales. Artists get the door. T-shirt sales will go to charity – this year, the Archie Alleyne Scholarship Fund. The festival will be affiliated with an annex of the Boys and Girls Club. Yamaha, who are supplying the piano for Tom's Place, will be donating instruments to the Boys and Girls Club.
My own experience with Jazz festivals hasn't always been positive. I wanted to do something more considerate of local performers.
I love that it overlaps with TIFF and has been noticed by them. We will be mentioned in their magazine.
I want to show there's already an appetite for this. I want every show sold out. I want you to not be able to get in. That's my goal – sorry.
David Perlman
Richard Underhill - Shuffle demon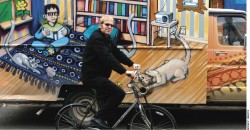 Kensington is the perfect spot. It's wonderful to have a concentration of great music and events in an area that is pedestrian friendly and has a real geographic focus for a festival. The Market has always been a hotbed of musical creativity and some of our most interesting artists from Bill Grove to Jane Siberry to Perry White have lived here. Why is it happening now? A few reasons, I think. First, Molly Johnson's desire to host an event that highlights local jazz talent and her connection to the Market make it a perfect fit. Second, the Market has evolved to a point where there are enough venues to make hosting a festival here an exciting prospect. Of course, how the increase in venues may contribute to unsustainable gentrification is the tightrope wire that the Market walks every day. But Kensington has always been a creative heart of the city and this festival should only enhance that notion. Having it concentrated on one weekend is a good idea. Have the Market come alive with music for a September weekend … a perfect festival concept.
I'm really happy that the Shuffle Demons are participating from the get-go. We have a long history with the Market. We hooked up with Ida Carnevali for a costumed spring parade in 1985, Perry White lived for many years in the Market and of course, bits of the market and market characters are part of the 1985 "Spadina Bus" YouTube video. I was lucky enough to become a resident with my wife Suzie 17 years ago and have found great inspiration from my fellow marketeers and from events like PSK (Pedestrian Sundays Kensington) and the Festival of Lights. In short, Kensington is a real community and as such a genuine magnet for culture and creativity.
Founding member of Toronto's outrageous Sun Ra-influenced Shuffle Demons and a Market resident for 17 years, Richard Underhill's in-from-the-outside soloing, warm alto sound and great writing skills make him one of Canada's most distinctive jazz performers. His acclaimed latest album, Kensington Suite, was nominated for a 2008 Juno Award, as his second album, Moment in Time, was in 2007. He has performed and recorded with a Who's Who of musicians, Canadian and beyond, but still finds time to lead the Kensington Horns Community Band, the improvising electronic groove ensemble Astrogroove, and, since 2003, to be musical director for the winter solstice Kensington Festival of Lights.
Sophia Perlman - Market born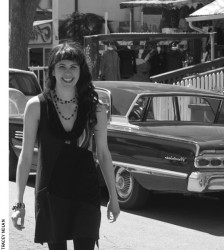 Growing up in the market often felt like living in the middle of a sort of permanent festival, with different music tumbling out of every doorway and a parade of every imaginable person going past your window. And it was especially exciting when someone in the community decided it was time to throw a party on purpose. People who couldn't agree on anything else seemed to be able to come together if it meant a parade, or music in the park or rolling out their awnings on a Sunday so the celebration could go on come freak rainstorm or unseasonable sun.
They were community events in the truest sense, and it was that community spirit that let us build traditions that were our own, without the input of big corporate sponsors. It's part of what built a vital, resourceful, resilient creative community here, and I love that KMJF is a festival in that tradition. I'm struck, looking at the lineup, by how many of the musicians have deep connections to the neighbourhood – as past and present residents or as artists who found a creative home here at various stages of their careers.
As a child, the market used to largely shut down at sunset, when the stores mostly closed and the shoppers all went home. Now there is no shortage of places to go and things to do and see after dark. I love the way the ticket model and concert schedule seem designed to encourage people to walk through the neighbourhood. Even if they come looking for some particular music that they want, they might go home with something new and exciting that they had never heard of. Or something old and wonderful that is completely new to them. That, to me, seems very much in the spirit of this wonderful, crazy, resilient community.
Born and raised in the heart of the Market, Sophia Perlman has become a fixture of the Ontario jazz and blues scene. Musicality, old-soul voice and skill as an improviser have made her a first-call featured singer with some of the top ensembles and musicians in the country. In addition to performing and touring with her own quartet and as part of the duo PerlHaze, with fellow vocalist/multi-instrumentalist Terra Hazelton, she is found performing regularly with numerous artists and ensembles, including Adrean Farrugia, the Toronto Jazz Orchestra, the Darcy Hepner Jazz Orchestra, the Toronto Rhythm Initiative, the Vipers, and Chuck Jackson's Big Bad Blues Band.