It is October, and summer – which clung on so tenaciously throughout September – is officially over. In many ways, this month is a hopeful one: after a perpetually hot, sticky and undignified period, the prospect of wearing a sweater and coat has become almost thrilling. In other ways, however, this month is frightening: the weather will get ever colder, the evenings ever darker, and, no matter how you're planning on voting, the federal election will bring a certain amount of anxiety (October 21: don't forget!). But regardless of the coming changes, rest assured that there are a number of standout shows coming your way, and multiple opportunities to hear excellent musicians in action.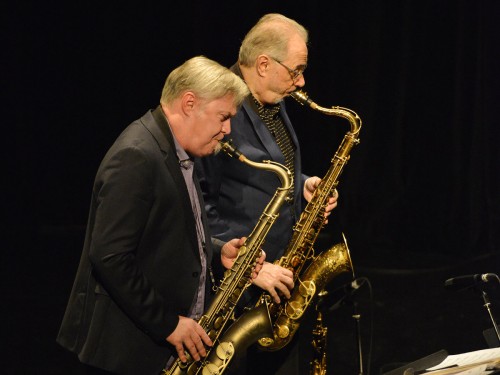 Coltrane Tribute at The Rex
On October 10, 11 and 12, saxophonists Kirk MacDonald and Pat LaBarbera present their annual John Coltrane Tribute at The Rex, with pianist Brian Dickinson, bassist Neil Swainson and drummer Joe LaBarbera. This yearly run of shows has become an institution unto itself, a tradition that serves to highlight the Toronto jazz scene's appreciation and respect for Coltrane's invaluable musical legacy. It is also an opportunity, of course, to delight in the prowess of MacDonald and Pat LaBarbera, both of whom are leading voices on the saxophone, as well as being conscientious stewards of the modern tenor tradition inaugurated by Coltrane. The rhythm section is equally impressive: Dickinson, Swainson and Joe LaBarbera bring their own set of experiences to Coltrane's music. (Though he and Pat are indeed brothers, Joe LaBarbera is the only non-Torontonian in the group; he is based in California, where is he a faculty member at the California Institute of the Arts, in Santa Clarita.) In addition to their careers as performers, MacDonald, Pat LaBarbera, Dickinson and Swainson are also faculty members at Humber College, and it is normal to see a large cohort of jazz students from Humber, U of T, and York at any show that they play.
The Coltrane shows are happening a bit later in the year than is usual – they typically take place around September 23, on Coltrane's birthday – but it's likely that they will still generate a strong back-to-school sensation, an inspiration to budding jazz musicians as well as an opportunity to experience a sense of musical community. Head down to The Rex to hear it all: masterful playing, the music of one of the 20th century's greatest musical innovators, and sporting-event-style cheering when students recognize the changes to Giant Steps being superimposed on a blues.
Rexcetera!
While the Coltrane Tribute will be a major highlight, The Rex's October schedule is replete with notable concerts. On October 23 and 24, pianist Florian Hoefner celebrates the release of his new album First Spring. Hoefner is one of Canada's most interesting young jazz pianists, and his path here has been somewhat unconventional. Originally from Germany, he went to school both in Berlin and in New York, where he obtained an MMus from the Manhattan School of Music. He is now a resident of St. John's, Newfoundland, and a faculty member at Memorial University. Featuring Toronto musicians Andrew Downing (bass) and Nick Fraser (drums), and released on the Canadian label Alma Records, First Spring speaks to Hoefner's ongoing engagement with the Canadian jazz scene. At The Rex, Hoefner will be playing with Downing and drummer Jim Doxas. Also at The Rex: vocalist Joanna Majoko brings her sextet on October 19, Chelsea McBride's large ensemble Socialist Night School plays on October 21 and Dayna Stephens' Pluto Juice – with Anthony Fung, Andrew Marzotto, and Rich Brown – plays on October 25 and 26.
Sam Kirmayer at the Bistro
On October 2, Montreal guitarist Sam Kirmayer will be stopping by Jazz Bistro as part of a cross-Canada tour to promote his recent organ trio album, High and Low, released on Vancouver's Cellar Music label. As on the album, Kirmayer will be joined by Montreal's Dave Laing on drums and the American keyboardist Ben Paterson on B3. Kirmayer is something of a traditionalist, and his playing resembles that of Grant Green and Wes Montgomery more than it does Pat Metheny, John Scofield or Kurt Rosenwinkel. His preferred instrument is a large-body archtop guitar, and he typically plays with minimal effects, a choice that lends itself well to the swinging, bluesy style that he favours. Kirmayer has made an apt choice in bandmates: Paterson has worked with Bobby Broom, Johnny O'Neal and Peter Bernstein, and is equally adept on piano as he is on organ. Laing – a McGill faculty member – has performed with a wide range of notable jazz artists, from Canadian luminaries such as Ed Bickert, Lorne Lofsky and Don Thompson, to international musicians such as Dave Liebman, Kenny Werner, and Sheila Jordan.
Burdock Beat Goes On
Burdock continues to be a venue at which jazz consistently intersects with indie music, to ongoing success. On October 12, the New York-based singer Emma Frank makes a stop at the Music Hall on tour in support of her recent release Come Back, with Aaron Parks, Franky Rousseau, Tommy Crane and Zack Lober. On October 29, Bernice – Toronto vocalist Robin Dann's pop, jazz and R&B-flavoured indie vehicle, which features Thom Gill, Felicity Williams, Phil Melanson and Dan Fortin – plays with Booty EP. Frank and Dann play different kinds of music, and have each developed an interesting, individual body of work. But the projects are aligned in the sense that they feature open, creative musicians with a high degree of formal jazz training playing intelligent vocal music with a distinctive indie sensibility. Also at Burdock: On October 21, guitarist Dan Pitt celebrates the release of his trio's debut album Fundamentally Flawed. Joined by bassist Alex Fournier and drummer Nick Fraser, Pitt's trio plays a brand of modern jazz rooted in an open, improvisatory practice that allows for a diverse range of influences – from classical to folk to metal – to make themselves heard.
Colin Story is a jazz guitarist, writer and teacher based in Toronto. He can be reached at www.colinstory.com, on Instagram and on Twitter.