And we're back. After The WholeNote's typical aestival hiatus – and our packed-to-the-margins summer issue, which featured information on a wide assortment of excellent festivals in the Greater Toronto Area – I'm happy to be writing this column for you again, doing my best to provide a preview of some of the most interesting musical events that will be occurring around town each month. It has been exactly 12 months since I first took over this column, and the timing seems appropriate; though it has been a few years since I finished grad school, September still feels like the spiritual beginning of the upcoming year. Though we know that the month brings with it waning heat, it also heralds the promise of much to come: the return of musical friends from sweaty summer touring; the reinstatement of all of your favourite regular gigs, artist-curated concert series, and post-secondary-student nights at The Rex; scarves. It is, in short, one of the most exciting times of the year to be a jazz fan in Toronto.
To begin: there are quite a few notable festivals taking place in September. To run any festival in Toronto is a difficult, labour-intensive process; earlier this year, I wrote about the TD Toronto Jazz Festival's shift to Yorkville, and the many challenges that artistic director Josh Grossman deals with on a regular basis in order to keep an established, decades-old, major-Canadian-banking-institution-sponsored festival ticking. The prospect of establishing a new festival – of working with local communities, of soliciting sponsor partnerships, of booking venues and talent and vendors and making sure that guests are happy and artists are hydrated and, oh my god, did no one think that we might need porta-potties?! – is a daunting undertaking indeed. But that is exactly what the Toronto Undergraduate Jazz Festival (TUJF) and the Kensington Market Jazz Festival (KMJF) have done.
The TUJF, which began in 2015 in the Distillery District, with 26 distinct undergraduate bands performing over the course of three days, has grown into a five-day affair, from September 3 to September 7. The bulk of the programming will take place on September 6 and 7 in Mel Lastman Square, with a kick-off performance by the Robi Botos Trio at Hugh's Room on September 3, and two days on September 4 and 5 at The Frog, a pub owned by the Firkin Group, located a convenient seven-minute walk from the Square. The TUJF will feature performances and master classes by a variety of local and not-so-local groups, including the aforementioned Robi Botos Trio, the Pat LaBabera Quartet and Donny McCaslin.
While the TUJF has emulated, to a certain degree, the large, primarily outdoor format of traditional Canadian jazz festivals, the KMJF has chosen a different approach. Taking place, as the name suggests, in Kensington Market, the KMJF does not have an expansive communal space like Mel Lastman Square to transform into festival grounds. Instead, under the guidance of the unsinkable Molly Johnson, they have opted for a more grassroots approach, working directly with pre-existing venues and other businesses throughout the Market to create a network of unique performance spaces. Last year, acts played at traditional venues, such as Poetry Jazz Café and Supermarket, at which it is possible to hear live music throughout the year; at Café Pamenar and Koi Koi Saké Bar, at which it is not typically possible to hear live music, but at which one can imagine performances taking place; at the men's clothing store Tom's Place, at which, presumably, no one has ever expected to hear live music. (Far from being an outlier, Tom's Place – and eponymous Tom's Place owner, Tom Mihalik – is a major festival sponsor. Mihalik is referred to as "the festival's patron saint" on the KMJF website. In 2018, the clothing store provided the location for the "Yamaha Grand Piano Room," which, considering the complications of moving a grand piano anywhere, let alone into a retail space in a busy neighbourhood in downtown Toronto, should be proof enough of Mihalik's commitment to the festival's artistic cause.) Performers for this year's festival, taking place from September 13 to 15, include Chelsea McBride's Socialist Night School, Jozsef Botos, Ethan Ardelli and Virginia MacDonald, to name but five of the well-over-100 established local musicians who will perform in more than 30 venues around this iconic market neighbourhood.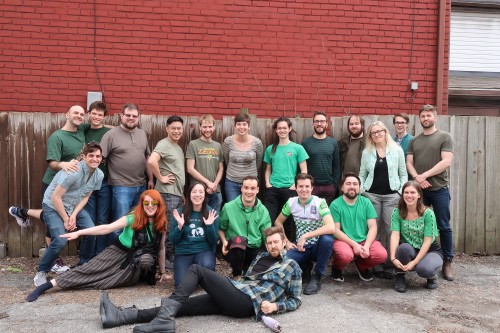 Outside of the Greater Toronto Area, the Guelph Jazz Festival (GJF) will celebrate its 25th birthday this year, continuing to fulfil its stated mission of inviting "listeners to be inspired by and engaged with creative music," from September 11 to 15. As this mission statement suggests, the focus of the GJF is on creative, improvised music that falls outside of either mainstream modern or neo-traditionalist jazz styles; this year's festival will include performances by Jen Shyu, Malcolm Goldstein and Rainer Wiens, the Brodie West Quintet and Ingrid Laubrock, Tom Rainey and Hank Roberts. As in past years, the GJF will also partner with Guelph University's International Institute for Critical Studies in Improvisation to convene a colloquium on improvisation and its social contexts. Some of this year's presentations will include Jesse Stewart's "Different Drums: Unorthodox and Unusual Percussion Instruments," Niel Scobie and Alyssa Woods' "Finding the Groove: A Workshop on Hip-hop Turntablism and Improvisation," and Lee Blalock's "Instr/Augmented Bodies: A Performative Artist Talk About Hybrid Bodies, Modes of Communication, and Modified Behaviours." 2019 will also mark a year of new artistic leadership for the GJF, with Scott Thomson assuming the role of artistic and general director, and Karen Ng taking on the role of assistant artistic and general director.
There are also a number of excellent non-festival performances happening in September. Head to Burdock on September 12 to catch saxophonist Matt Lagan, on September 19 to hear TuneTown (Kelly Jefferson, Artie Roth, Ernesto Cervini), and on the 21st to hear Mingjia Chen and Claire Lee. At The Rex, check out the return of Monday nights with University of Toronto Jazz Program students, Humber College's Annual Back-to-School Faculty Jam on September 19, and a full schedule of great music for the rest of the month.
MAINLY CLUBS, MOSTLY JAZZ QUICK PICKS
SEP 3 TO 7: Toronto Undergraduate Jazz Festival, various venues. The best of Toronto's undergraduate bands playing alongside established local and international artists, including saxophonists Pat LaBarbera and Donny McCaslin. tujazz.com
SEP 11 TO 15: Guelph Jazz Festival, various venues (Guelph). Canada's most important creative/improvised music festival, complete with top Canadian and international performers and a colloquium co-presented with Guelph University.
guelphjazzfestival.com
SEP 13 TO 15: Kensington Market Jazz Festival, various venues. The fourth annual installment of this exciting new festival, which sees traditional and non-traditional Market venues come together to create a network of performance spaces.
kensingtonjazz.com
MONDAYS, 6:30PM: University of Toronto Jazz Ensembles, The Rex. Catch up-and-coming students from the U of T Jazz's undergrad and grad programs performing in the comfortable confines of The Rex, in September and on most Mondays throughout the school year. therex.ca
Colin Story is a jazz guitarist, writer and teacher based in Toronto. He can be reached at www.colinstory.com, on Instagram and on Twitter.